Farsoon Europe, the Stuttgart-based subsidiary of Chinese 3D printer manufacturer Farsoon Technologies, has signed a development agreement with Rapid Manufacturing AG, a Swiss plastic 3D printing service provider, for the beta testing of Farsoon's new Flight technology. 
Farsoon has therefore installed its Flight-HT403P laser sintering 3D printer at Rapid Manufacturing's facility, which has been tested and optimized for the production of plastic components. 
"We are evolving our company in huge steps," stated Alain Stebler, CEO of Rapid Manufacturing AG.
"We are convinced that with the already 10-year-old FARSOON, we have found a reliable partner who helps us to offer high-quality parts at extremely attractive prices." 
Farsoon Flight technology
Farsoon's Flight technology was first introduced in February 2019. It is an additive manufacturing process designed to enhance the productivity of plastic laser sintering. Also known as Fiber Light Technology, the process replaces standard CO₂ laser technology with powerful fiber lasers instead. Fiber lasers are said to provide increased laser longevity and energy absorption which expands the range of processable materials for Farsoon's systems.
The higher power density from fiber lasers allows the powder to be fully sintered in a shorter amount of time as well."With flight technology we have greatly enhanced the capabilities of high-speed laser sintering to meet the needs of high-volume production," commented Dr. Xu Xiaoshu at the time, Founder and Chairman of Farsoon Technologies.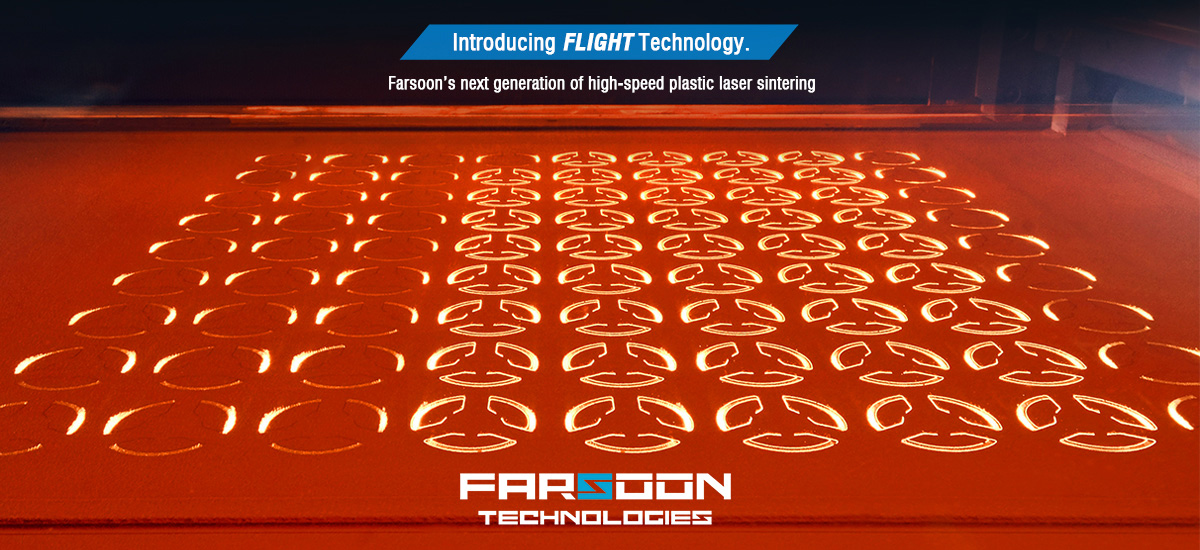 The Flight-enabled version of Farsoon's existing HT403P 3D printer utilizes the system's 400 x 400 x 540 mm³ build cylinder volume. However, it replaces the 100W CO₂ laser with a 500W fiber laser, which is able to transform black polyamide powder into plastic parts at speed. The Flight-HT403P is reportedly able to produce plastic components with good mechanical properties and high feature resolution demonstrating small wall thickness and low surface roughness. 
Farsoon installed the Flight-HT403P at Rapid Manufacturing in early October, which has already undergone initial testing by the company. Rapid Manufacturing has now begun using the system for producing plastic components for its customers. Dr. Dirk Simon, Managing Director of Farsoon Europe GmbH adds: "We are impressed by the strong will power to increase the competitiveness of laser sintering, which Rapid Manufacturing is systematically implementing with the installation of our machine."
Polymer and metal 3D printers
Farsoon has garnered over 25 years' worth of experience within the additive manufacturing industry. The company's machine portfolio consists of several machines for both polymer and metal processing. Each system is an open platform, giving users access to advanced parameters and third party material usage. 
Recently in early October, Farsoon launched a new 3D printer. expanding its collection of metal systems. Named the FS301M, it was developed to improve the user-experience of metal additive manufacturing. As with its Flight technology, the company will be looking to engage potential customers in an FS301M Beta program before the system reaches full commercial release.
The most recent polymer release from the company is the HT1001P Continuous Additive Manufacturing Solution (CAMS) which aims to outstrip the competition with a 1000 x 5000 x 450 mm build volume. In November 2018, Farsoon signed an agreement with Modellbau Kurz, a German model builder, for the machine's beta-testing. 
Subscribe to the 3D Printing Industry newsletter for the latest news in additive manufacturing. You can also stay connected by following us on Twitter and liking us on Facebook.
Looking for a career in additive manufacturing? Visit 3D Printing Jobs for a selection of roles in the industry. 
Featured image shows a 3D printed part made using Flight Technology. Photo via Farsoon Technologies.