Farsoon Technologies, a Chinese manufacturer of SLM and SLS 3D printers, has introduced its Flight Technology, an additive manufacturing process for enhancing the productivity of plastic laser sintering.
This technology, also known as Fiber Light Technology, leverages powerful fiber lasers instead of standard CO₂ lasers built into laser sintering systems. Fiber lasers are said to provide increased laser longevity and energy absorption which expands the range of processable materials for Farsoon's systems.
"The additive manufacturing world is evolving at an amazing pace," stated Dr. Xu Xiaoshu, Founder and Chairman of Farsoon Technologies.
"In order to meet the demands of existing and new customers who are looking to adopt this technology for manufacturing we need to match their requirements for productivity."
"With Flight Technology we have greatly enhanced the capabilities of high-speed laser sintering to meet the needs of high-volume production."
Flight Technology
Farsoon has over 25 years of experience in additive manufacturing. Recently, the company announced a partnership with international aerospace company Airbus to develop polymer additive manufacturing materials for civil aviation. In a recent interview with Chenlu Fang, Global Marketing Manager at Farsoon, 3D Printing Industry also learned of the secret behind the company's new additive manufacturing method for pure copper.
Its machine portfolio consists of several machines for both polymer and metal processing. Each system is open platform, giving users access to advanced parameters and third party material usage.
Working to better polymer additive manufacturing with its latest open platform 3D printer the HT1001P Continuous Additive Manufacturing Solution (CAMS) the company signed an agreement with Modellbau Kurz, a German model builder, in November 2018, for the machine's beta-testing.
Surpassing sintering speeds
Compared to CO₂ lasers, Flight Technology's fiber laser enables an improved energy distribution to the material, as well as a smaller laser spot size. The higher power density from this process allows the powder to be fully sintered in a shorter amount of time. Flight Technology also has a scanning speed of over 20m/s (66 ft/s) which improves sintering speeds, ultimately accelerating productivity.
As stipulated by Dr. Xiaoshu, the aim of this technique is to advance 3D printing for high volume production, a challenge faced by the industry as a whole. At Formnext 2018, German 3D printer OEM EOS revealed the development plans of its LaserProFusion technology. Though this technology won't be machine-ready for another few years, it too is tackling high speed, high volume production by 3D printing. Conversely, this method harness the power of a million diode lasers to achieve a high throughput.
Farsoon's Flight Technology will be offered for the company's upcoming 3D printers. At present, it is welcoming customers to the method's early adopter program.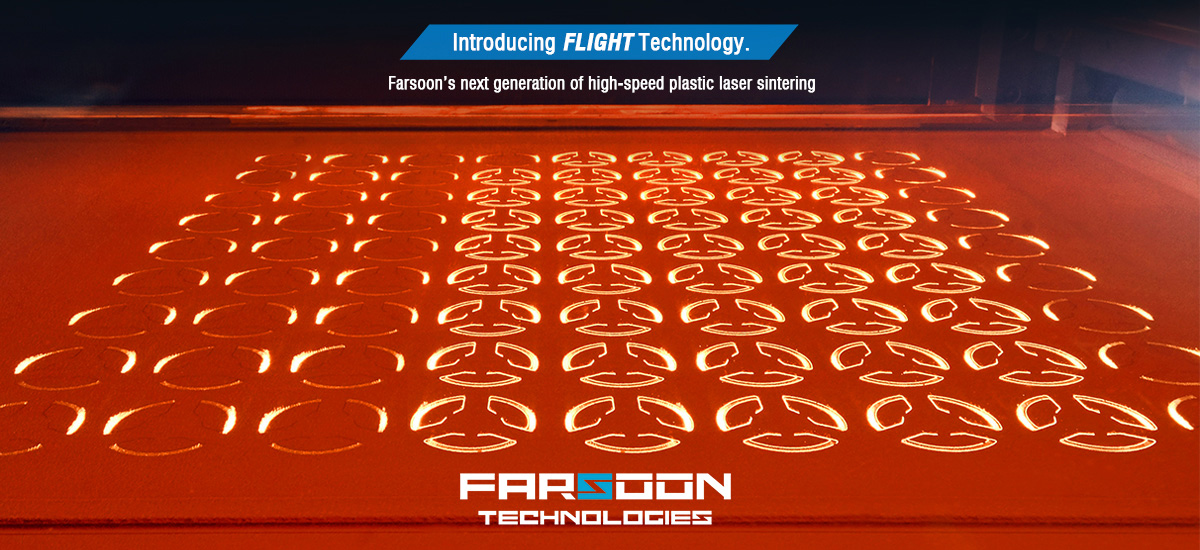 Farsoon Technologies, Arkema & Autodesk
Also at TCT Asia this week, Farsoon has announced a partnership with French chemical and materials company Arkema, and award winning software developer Autodesk. Together the partners will work to optimize the polymer laser sintering process. Guillaume de Crevoisier, Arkema's Global Business Director for 3D printing, explained,
"This evolving market needs much more than materials alone. It is essential to enable and leverage key strategic partnerships throughout the digital design and manufacturing chain. It's all about synergies."
Nominate Farsoon Technologies and others for the 2019 3D Printing Industry Awards now.
For further awards updates and ideas for who to nominate this year, subscribe to the 3D Printing Industry newsletter, follow us on Facebook and like us on Twitter.
Seeking 3D Printing Jobs? Join and advertise on our dedicated site now to reach professionals in this industry.
Featured image shows the Flight Technology process. Photo via Farsoon Technologies.