Since its launch in 2018, the Creality Ender-3 3D printer has been joined by a range of affordable-yet-capable machines that have become widely adopted by 3D printing beginners and professionals alike.
Over the last four years, the firm says its Ender-3 has steadily "raised the bar for budget 3D printers," but the newly-released Creality Ender-3 Neo series "excels against its market-hit competitors." Designed to deliver an improved user experience, the Ender-3 Neo features an upgraded CR Touch automatic bed leveling system, full-metal Bowden extruder, quick heat dissipation, steel build plate and 4.3" display, each of which ups its performance without adding complexity.
However, with Creality having now introduced a variety of Ender-3 machines, this does beg the question: which applications are each best suited to? To help makers find out, Creality has put together the buyers guide below, through which it navigates the nuances of the Neo series and leads users to the one that suits them best.
Bowden extrusion-powered 3D printing
Following in the footsteps of the Creality Ender-3 V2 before it, the new Ender-3 V2 Neo features a simple design, open-source compatibility and an economical price tag. Built to bust the myth that affordability has to come at the expense of performance, the machine comes equipped with an upgraded all-metal Bowden extruder and corrugated heat sinks.
As a result, the V2 Neo is capable of reaching a print speed of up to 120mm/s while quickly dissipating heat, something that's vital to preventing heat creep and hot end jamming. The machine also sports Creality's CR Touch technology, an auto-bed leveling system that helps users achieve hassle-free accurate prints, and a recovery feature that enables builds to be resumed in cases of sudden power loss.
In order to ensure the system remains beginner-friendly, Creality has fitted it with these upgrades without making it more complex to put together. Shipped with several pre-installed parts, the assembly can be completed in just three easy steps, and after installing the spool rack, gantry and screen, users can get stuck straight into their first 3D print.
Ultimately, at a price point of $299, Creality says the V2 Neo is an "excellent option" for those seeking "an affordable 3D printer with above-par performance," especially considering that it's priced at just $20 more than the original Creality Ender-3 V2, and this is half the price of the standalone CR Touch Auto Leveling Sensor Kit.
Discovering Creality's Neo portfolio
For those seeking to address larger-scale production applications, the Creality Ender-3 Max Neo 3D printer and its 300 x 300 x 320 mm build volume could be a better fit than the V2 Neo. Like the rest of Neo range, the Max Neo supports a range of materials including PLA, ABS and PETG, but its dual Z-axis and larger build plate also facilitate the 3D printing of large models or more parts in a single run.
Enhancing the quality of the plate itself is its in-build filament sensor, which enables it to detect consumables and enhance users' print success rates. The machine has a 350W built-in power supply too, making it a reliable desktop workhorse, and though generally priced at $399, Creality is offering a $30 discount to those who buy it from the official store.
On the flipside, for those DIY lovers seeking a bare bones version of the machine, the company markets the stripped back Creality Ender-3 Neo as well. Packed with all the essential features of its Neo siblings, including an all-metal extruder, CR Touch and an easy-to-clean carborundum glass build plate, the $219 cheapest-in-the-range unit is likely best-suited to those 3D printing for the first time.
Comparing the Creality Neo and S1
Away from its Neo portfolio, Creality also offers the Ender-3 S1, Ender-3 S1 Pro and Ender-3 S1 Plus 3D printers. Thanks to their 'Sprite' full-metal dual-gear direct extruders, these machines are better capable of smoothly feeding and discharging filament without slipping, therefore making them ideal for processing flexible materials such as TPU.
As well as a dual Z-axis and print speed up to 150mm/s, the S1 series features compatibility with add-ons including laser engraving modules, water cooling systems and light strip kits, thus enabling users to customize their systems at will.
When comparing the Neo and S1, Creality says those having difficulty deciding which to choose should primarily consider differences in pricing and extruder type. As such, the firm recommends the Neo for those seeking a budget-friendly system with an easy-to-maintain Bowden extruder. However, the company adds that those after quality and direct extruder compatibility should go for the S1 instead.
Both the Neo and S1 are available at store.creality.com in the US and store.creality.com/de in European countries alongside Creality's other systems, with the HALOT-ONE PLUS 3D printer currently being sold with a $60 discount at $399. The company's products are also available on Amazon and via other affiliated distributor stores.
Elsewhere, ahead of TCT Asia 2022, Creality has announced plans to launch a new professional-grade fully-enclosed system: the Sermoon D3 3D printer. More information on the machine will be announced via the Creality website soon, with the full details set to be revealed on September 1, 2022.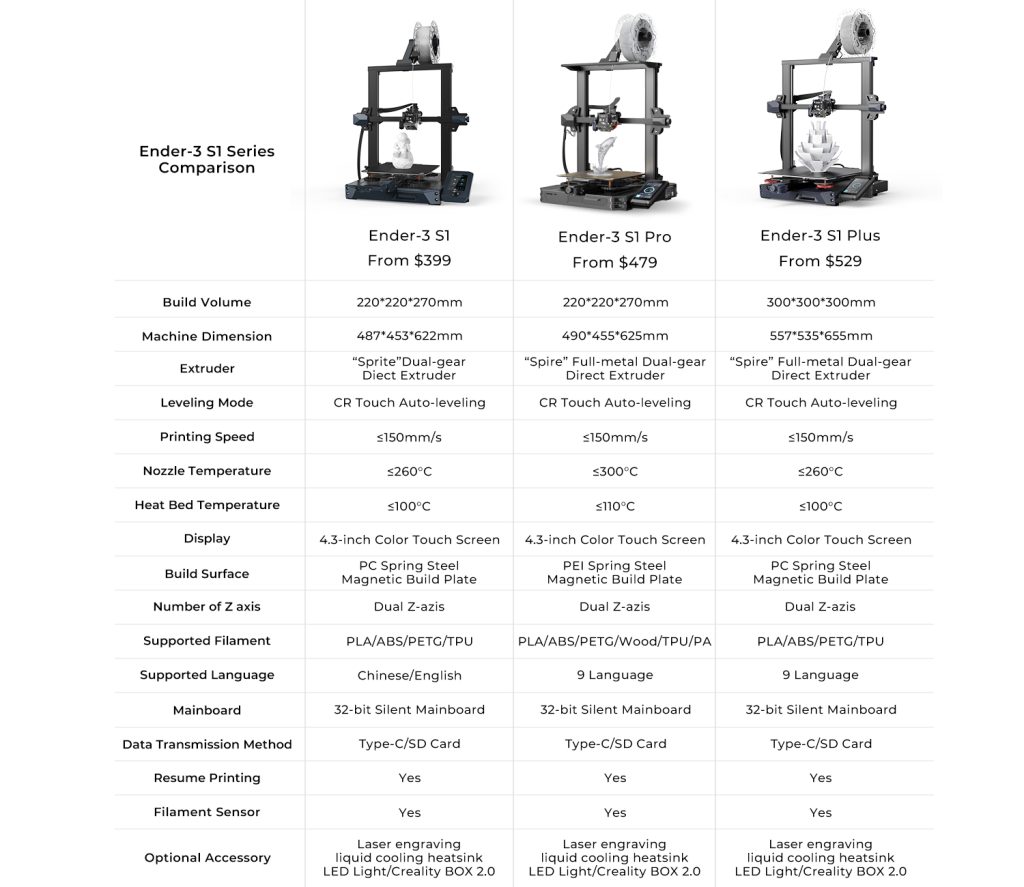 To stay up to date with the latest 3D printing news, don't forget to subscribe to the 3D Printing Industry newsletter or follow us on Twitter or liking our page on Facebook.
While you're here, why not subscribe to our Youtube channel? featuring discussion, debriefs, video shorts and webinar replays.
Are you looking for a job in the additive manufacturing industry? Visit 3D Printing Jobs for a selection of roles in the industry.
Featured image shows Creality's Ender-3, Ender-3 V2 Neo and Ender-3 Max Neo 3D printers. Image via Creality.