Colorado is now home to the aptly-named Advanced Materials and Additive Manufacturing Infrastructure Development and Education (AMIDE) Association.
The association has been launched by carbon fiber material recycling specialist Vartega, green technology advocacy Colorado Cleantech Industries Association (CCIA), North American engineering organization EWI, and online 3D service provider The 3D Printing Store.
Andrew Maxey, CEO of Vartega, explains, "There was so much great work happening in Colorado around the adoption and acceleration of 3D printing, but we kept running into the same problems sourcing and developing new materials and identifying local expertise for these applications,"
"As we recognized this gap in the supply chain and workforce, we were able to work with our customers and partners to put together a vision of what a vertically integrated supply chain would look like."
Colorado – a hub for advanced material development
Colorado is home to a number of innovators in the 3D printing industry. Open source 3D printer and materials provider Lulzbot proudly operates from in Loveland, Colorado. The state is also home to the Colorado School of Mines that is leading some interesting research in the field of 3D bioprinting.
Both Lulzbot and the Colorado School of Mines are supporting the new AMIDE Association as members of the American Composites Manufacturers Association (ACMA).
The 3D Systems healthcare Center of Excellence is also located in Denver.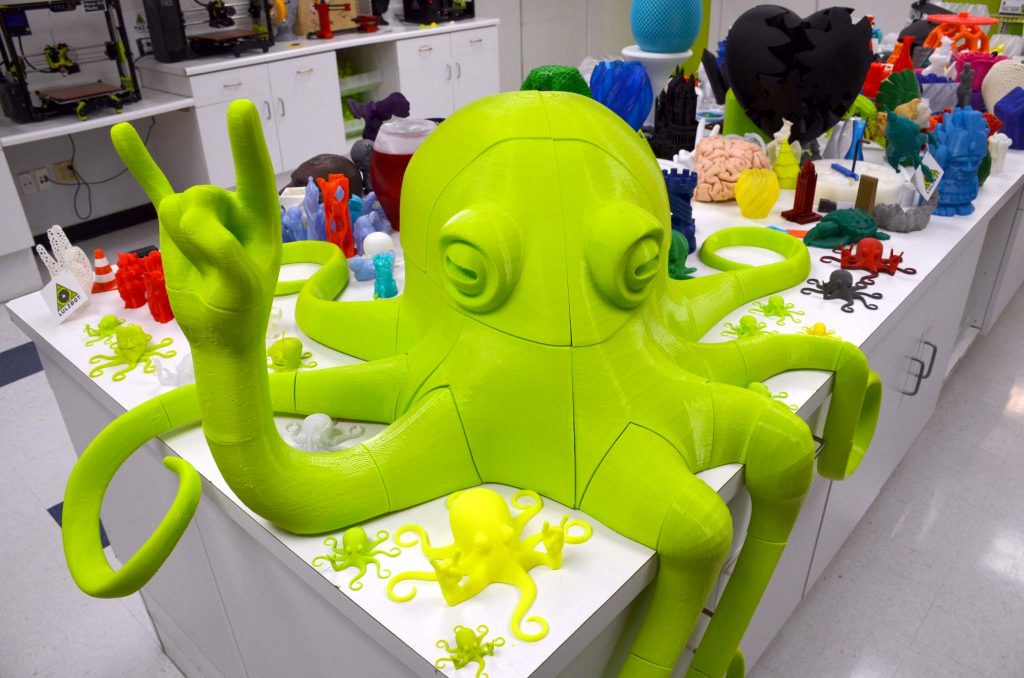 As "the composites industry's largest trade group in the world," ACMA is composed of over 13 industry stakeholders, including award-winning software company Autodesk, and French specialty advanced materials company Arkema that, through its Sartoma line, has just opened its 3D Printing Center of Excellence in Pennsylvania.
Sustainability of advanced materials
For its material economy, and the ability to recycle used materials, 3D printing has become a vehicle for the environmental awareness of industrial manufacturers. For automotive, one of the biggest contributors to pollution, there are initiatives in place to ensure that the materials used for 3D printed car parts are more sustainable than they have been in the past. So-called advanced materials, such as carbon fiber composites, are also a big part of this plan.
Shelly Curtiss, executive director of AMIDE Association founding member the CCIA, says "Advanced materials and additive manufacturing are impacting just about every industry right now,"
"We see a huge opportunity to leverage these new developments throughout the cleantech sector for the benefit of our members who are focused on renewables, energy efficiency, clean water, oil and gas, mining and transportation."
Within AMIDE, the CCIA will oversee the alliance's board, and take responsibility for the grants to be administered to new innovation centers set up by the members.
Centers of 3D printing innovation
Vartega, Colorado State University and the Colorado School of Mines will be creating new innovation centers under the AMIDE Alliance to support the development, production, and characterization of continuous fiber reinforced 3D printing materials.
The first new center, set up in the Composite Materials, Manufacture and Structures Laboratory (CMMS) at Colorado State University, will use a six-axis robot "for direct manufacture of continuous fiber-reinforced thermoplastic composites."
Colorado School of Mines' Interdisciplinary Advanced Manufacturing Teaching Lab is to be installed with HP Jet Fusion 530 3D printer "for evaluation and characterization of fiber-reinforced polymer powders."
And the third center so far is to be launched at an undisclosed industry partner, that will be responsible for the creation of fiber reinforced filaments.
AMIDE Alliance founding member EWI also recently launched an Additive Manufacturing Center of Excellence with a grant from worldwide technical standards organization ASTM International.
Maxey, from Vartega, concludes, "We're excited to be part of the newly formed AMIDE Alliance to close this gap and increase innovation in this growing and important area of manufacturing."
For all the latest materials news follow 3D Printing Industry on Twitter, like us on Facebook and subscribe to our regular newsletter. Sign up to 3D Printing Jobs now to post and search new opportunities in engineering, marketing and more.
Featured image shows fecycled carbon fiber tubes from Vartega. Photo via Vartega