3D bioprinting firm BICO's board has thrown its weight behind the company's under-fire CEO Erik Gatenholm after mismanagement allegations being raised against him by a former employee and anonymous sources.
In an article published on April 27, 2022, Gusten Danielsson told newspaper Dagens Industri that Gatenholm "was no longer the right CEO for the company," shortly after resigning as its CFO. Since then, the firm's shares have plummeted 41%, and an anonymous source now says that BICO's CEO is accused of "emotionally abusive outbreaks" towards staff, yet the board steadfastly continues to back him.
"Due to speculations, we on the Board of Directors want to make it clear that we are fully united behind the CEO, the management team and the strategy with focus on profitability," said Carsten Browall, Chairman of BICO's Board of Directors. "The company has great potential and is now entering an important stage for the future."
When contacted by 3D Printing Industry for a response to the allegations, BICO issued a recycled statement reiterating that the board remains behind Mr Gatenholm, and restating its wider commitment to a 'profitability-focused strategy.'
The allegations against Gatenholm
BICO's PR nightmare began amid a reported feud between Gatenholm and Danielsson last week, which saw the latter resign his position. However, while BICO labelled the decision a "necessary and natural change in strategy," Danielsson went to the press, claiming that while he hadn't sold his shares, he blamed Gatenholm for the firm's poor stock performance, and didn't see him as the right man to be CEO.
With the company's share price beginning to fall further, 3D Printing Industry then received a tip-off from a source, who claimed to have insider information on additional allegations against Gatenholm. In fact, the source says the belief that BICO's current CEO is unfit to run the company is actually widely-held across the firm, but as he has a controlling stake, "there's little anyone can do to stop him."
They also allege that BICO has engaged in "mass layoffs" since January, including "cutting the marketing, design engineering and communications teams," and accuse Gatenholm of personally forcing staff to positively review their experience of working there.
"There have been complaints about his management style, leading to employees quitting on the spot," explains the source. "If you look at glassdoor you can see some of the negative reviews, along with some fake ones that Erik pressured employees to write."
While it's unclear if this source is a disgruntled BICO employee, investor or otherwise, their claims around the firm's restructuring appear justified. The company is reported to have made at least 23 comms-related layoffs, and with the likes of Qi Huan Sng and Mikael Engblom also being appointed the business' new APAC Marketing Manager and temporary CFO, it has undergone an internal shake-up.
In response to these allegations, BICO's Chief People Officer Erica Bell said there had been "no mass layoffs at the organization." Rather, Bell insists that the company "carried out a restructuring" in Q4 2021, which saw certain positions at BICO become obsolete. This, in turn, saw affected staff being offered replacement or reassignment, Bell adds, but some chose to reject these offers.
A costly public dispute for BICO
Prior to Danielsson's resignation, BICO's share price stood at $16.54, but the public nature of the dispute that followed has proven costly, as of Tuesday seeing this fall to $9.77. BICO's setback has also changed what had been a story of expansion for the firm, in which it sought to foster 'bioconvergence,' buying other biotechnology firms with the aim of harnessing synergies, into a far more negative one.
Over the last year or so, BICO has acquired the MatTek Corporation, bought Nanoscribe for €50 million and purchased Scienion for €80 million, among a string of other additions to its portfolio. It's these "great companies/employees" that 3D Printing Industry's anonymous source says are "the real victims" of its current situation, as their "fates are tied to an incredibly poorly run company."
However, while BICO's share price decline reflects the reputational damage Danielsson's exit has caused it to suffer, it's not the first time the firm has found its name being dragged through the mud. In August 2021, it became clear that Organovo was seeking royalties from BICO firm CELLINK, alleging that it had sold technologies relating to the '3D printing of tissues and drug development,' which relied upon its IP.
At the time, CELLINK told 3D Printing Industry that these claims were "invalid," but despite this, it chose to settle what had turned into a string of lawsuits and counter-suits, by licensing Organovo's technology in March 2022. Given that until the agreement, Organovo had begun to struggle in finding new sources of revenue, the deal was viewed as a success by its investors, which sent its shares soaring 53%.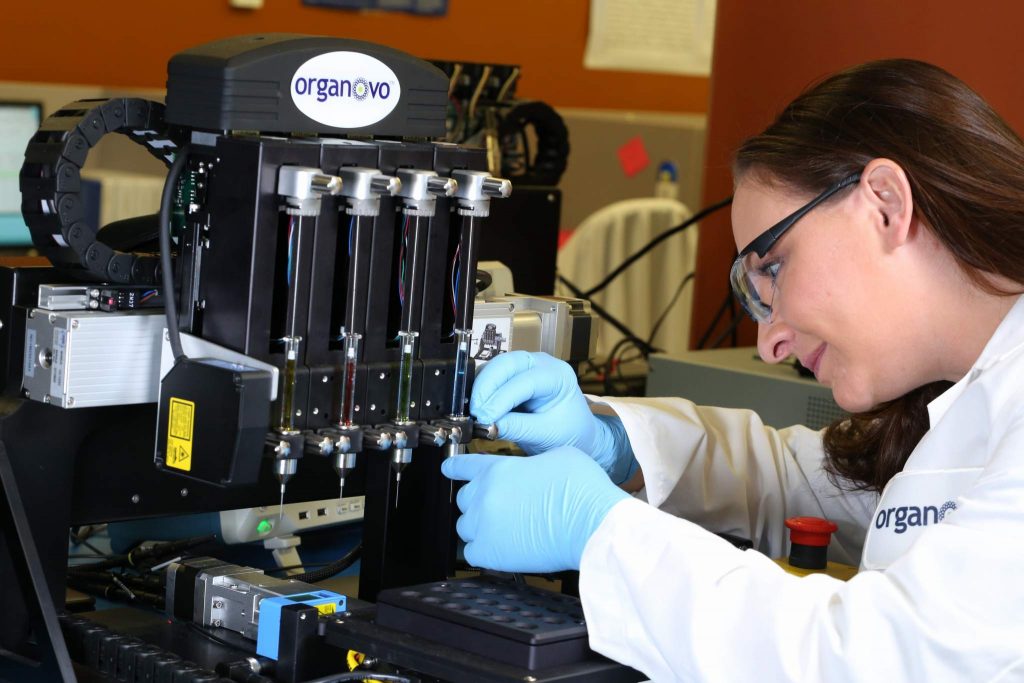 Bioprinting's lucrative potential
Although the recent collapse in BICO's share price represents a setback in its quest for bioconvergence, there's no doubt that it remains a leader in a 3D bioprinting field, with a potentially highly-lucrative future that's attractive to investors.
Earlier this year, regenerative medicine start-up Healshape managed to raise $6.8 million towards the development of 3D bioprinted patient specific breast implants. Made from patients' own living cells, the firm's tissues are being designed to treat those women who have undergone a mastectomy procedure after breast cancer.
Similarly, albeit at a larger scale, industry stalwarts like 3D Systems are also ploughing significant amounts of resources into developing their own 3D bioprinting offerings. Having announced a Print to Perfusion breakthrough early last year, the company opted to buy Volumetric Biotechnologies in a deal that could be worth up to $400 million, and has since enabled it to expand its bioprinting research.
To stay up to date with the latest 3D printing news, don't forget to subscribe to the 3D Printing Industry newsletter or follow us on Twitter or liking our page on Facebook.
For a deeper dive into additive manufacturing, you can now subscribe to our Youtube channel, featuring discussion, debriefs, and shots of 3D printing in-action.
Are you looking for a job in the additive manufacturing industry? Visit 3D Printing Jobs for a selection of roles in the industry.
Featured image shows BICO CEO Erik Gatenholm. Photo via the Swedish-American Chambers of Commerce.