Anisoprint, a Russian manufacturer of continuous fiber 3D printers and materials, has entered into the UK market with iMakr, a London-based global reseller of 3D printers, scanners, and services. 
The company's 3D printing technology processes composite materials to produce structural parts with the strength and properties required for end-use applications, from industrial manufacturing to individual use including athletic equipment.
"3D innovation is at the heart of every product we offer at iMakr, so the fiber co-extrusion technology that drives the Anisoprint Composer was something we absolutely had to test. Needless to say, we were impressed," said Eric Savant, CEO of iMakr.
"We believe Anisoprint's approach to fiber 3D printing on the desktop is superior to anything else we've seen on the market, let alone with this large print size. Anyone looking to produce high-strength parts or jigs and fixtures will want a closer look."
Anisotropic structures
Founded in 2015, Anisoprint developed its continuous fiber 3D printing technology to manufacture optimal composites impossible to produce with the other processes. This method is based on the unidirectionality of composites, otherwise known as anisotropy. Materials which are directionally dependent enable various properties within a structure, for example, stiffness or strength.
According to Anisoprint, such materials behave the best in one-dimensional structures, therefore the best shape for composites are grids or lattices which consist of one-dimensional ribs. Therefore, the internal forces can be limited in the material to just one direction in every rib to focus on the maximum composite material strength and stiffness in that direction. Many anisotropic structures can be found in nature, and have led to bio-inspired designs in additive manufacturing. 
Continuous fiber 3D printing
Despite the frequent use of lattice structures for weight reduction, it is challenging to create composite lattice structures with varying intersections of the ribs. As a result, Anisoprint has developed Composite Fiber Co-extrusion (CFC) technology. The company states that existing technologies result in raising the thickness of material in the places of intersection, diminishing the practicality of the structure.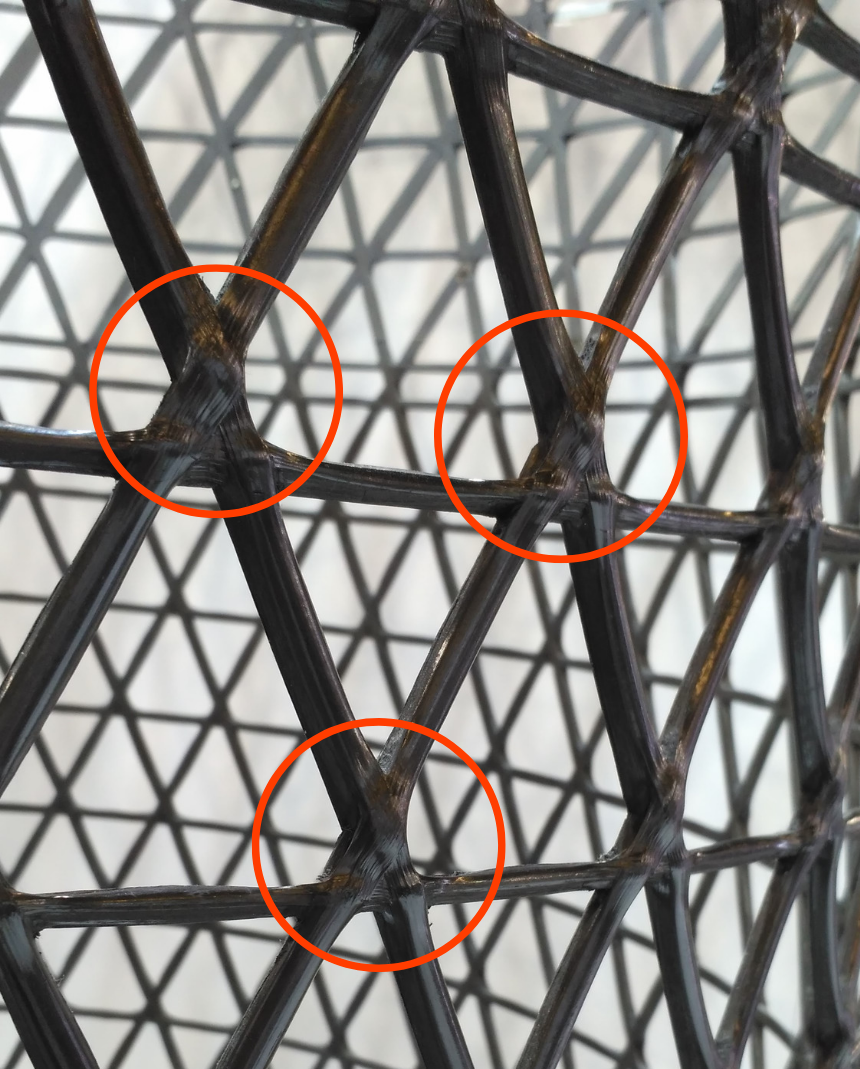 This includes methods such as prepreg, which reinforce composite materials using impregnated resin. Moreover, co-extrusion processes have been used to manage fiber volume. This process reduces the proportion of plastic in the ribs intersection, maintaining the same thickness with a higher fiber volume.
Anisoprint's CFC technology incorporate these existing process by using preliminary impregnated fiber in the co-extrusion process. This allows for high-quality material in the most optimal shape for composites. Recently, CFC has been adopted by Schunk Carbon Technology, to accelerate the development of custom tools used in high-temperature applications, as well as the automotive and small motor sectors.  
As stated by Anisoprint, CFC technology has resulted in the production of stronger, lighter, and more cost-effective 3D printed parts when compared to its metal or non-optimal composite counterparts. These parts, as well as Anisoprint's technology portfolio, will be on display at TCT Show 2019, in Birmingham, UK, from September 24th – 26th. The company can be found at stand G89.
Subscribe to the 3D Printing Industry newsletter for the latest news in additive manufacturing. You can also stay connected by following us on Twitter and liking us on Facebook.
Looking for a career in additive manufacturing? Visit 3D Printing Jobs for a selection of roles in the industry. 
Featured image shows a 3D printed part made with Composite Fiber Co-extrusion technology. Photo via Anisoprint.