This week UK scientists advanced the serendipitous discovery of a PET-G eating enzyme that could break down dumped plastic bottles. Just a month after Rich Horner made headlines for his documentation of a Sea of Plastic off the coast of Bali, Indonesia, the mutant enzyme shows promise for degrading the world's junk problem.
As an industry built on plastic, FDM/FFF 3D printing is also working to develop robust solutions to minimize refuse material.
The Upcyling and Additive Manufacturing (UpAM) project at the University of Luxembourg is one example of how researchers are attempting to create a circular economy for the technology. Dutch company Refil has launched a PLA filament made entirely from recycled yogurt pots. And 3devo's SHR3D IT promises to make use of failed/unwanted 3D prints.
The Masterspool, however, is a simple measure that can be taken by any filament feed to help reduce plastic waste.
Creation of the Masterspool
The idea for a Masterspool is derived from an object posted by Thingiverse designer 'Dingoboy71.' A simple design made from two interlocking parts, the Masterspool was created to replace the disposable center in spools of filament.
The idea has since been championed by RepRap 3D printer advocate, engineer and designer Richard Horne, also known as RichRap. In a blog post about the Masterspool from January 2018, Horne says,
"We, as a community and industry, are making good progress on the use of sustainable filament spools. Cardboard is slowly becoming more common and even recycled plastic or eco-friendly spools are starting to be used."
However, "For quite some years I have also wished for a no-spool based filament delivery system, Masterspool could be a way to achieve this."
Horne explains that ideally, for the Masterspool to take full-effect, manufacturers would have to agree on a standard spool specification, however this hasn't stopped the community or filament manufacturers from getting involved.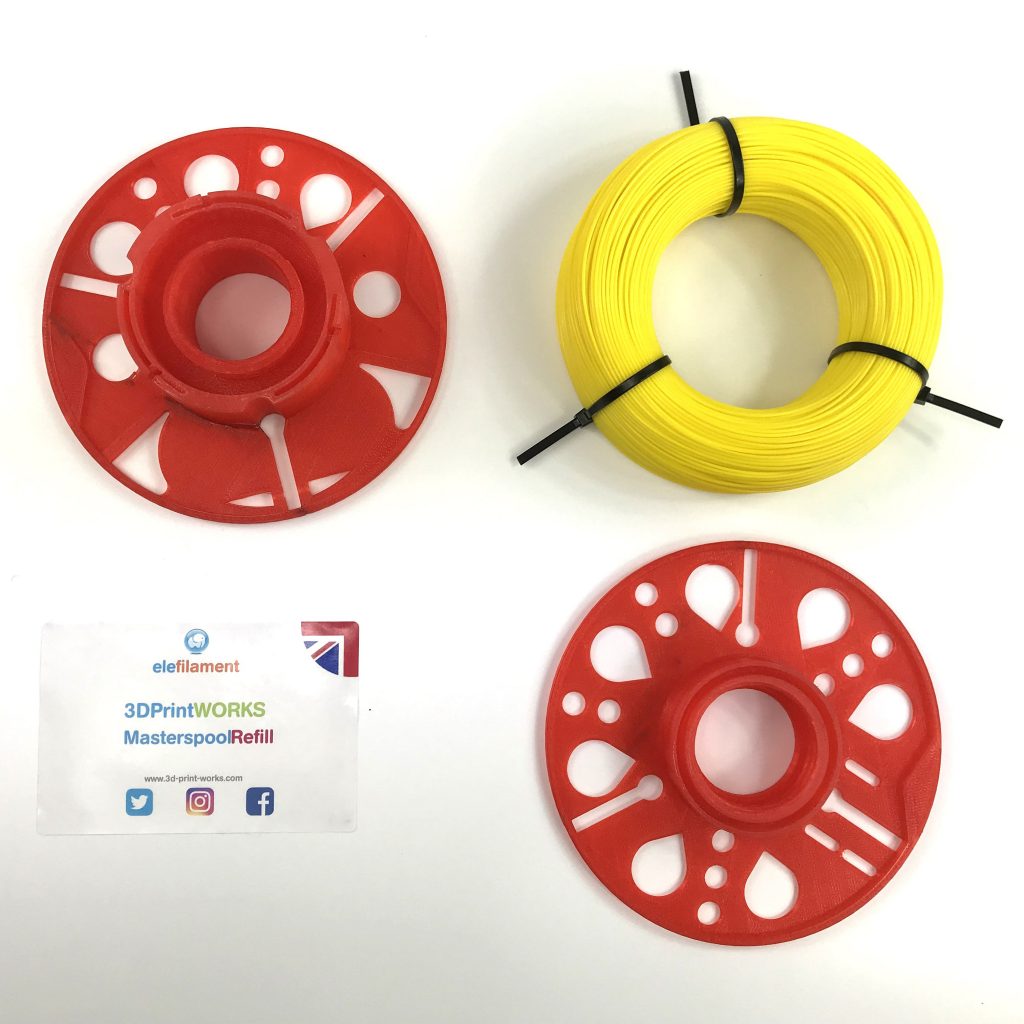 How to get involved
Taking a leaf out of RichRap's book UK-based filament manufacturer 3D Print Works has released Masterspool refill packs for its entire range of materials.
Not only do these filaments make 3D printing more eco-friendly, but packaging-related costs are delivered to the customer in a material discount. Instead of the regular £17.99 price tag, Masterspool refills are priced at £13.99 – for the same amount of filament.
Instead of a box package, Masterspool refills are delivered in a vaccuum-packed envelope, which is sealed to keep the material fresh and dust-free. Reusable cable ties are used to keep the filament tidy, and the company provides its own Masterspool model to ensure material is perfectly aligned for 3D printing.
3D Print Works is the latest in the line of filament companies to introduce Masterspool refills for its products. German filament reseller DAS FILAMENT also has a refill range, and Push Plastic has packages available for the U.S. Hopefully, more sellers get involved.
For the latest 3D printing materials news, subscribe to the 3D Printing Industry newsletter, follow us on Twitter, and like us on Facebook.
Advance your career in 3D printing, or post a vacancy. The 3D Printing Jobs board is live. 
Vote for material of the year and more in the 2018 3D Printing Industry Awards.
Featured image shows Masterspool and refill. Photo via 3D Print Works