News from the 3D printing world did not slow down in the last month of the calendar. December brought developments in materials, software, and European Space Agency's ambitious plans for interplanetary missions.
Marie the phantom
A Louisiana State University student Meagan Moore, 3D printed a full-body phantom (and she named it Marie) which can be used in radiotherapy. Currently, only non-customized phantoms are used in cancer treatment. But Moore's 3D printed phantom could open the doors to full-body customized phantoms. UW Medical Cyclotron Facility, Seattle, has already shown an interest in testing Marie for fast neutron therapy.
It was also reported that WiDE, a company specializing in 3D modeling software, has received a CE Marking. The company has developed software that can easily customize prosthetics or orthosis for 3D printing. The CE Marking means that WiDE software is fit for marketing in the E.U single market.
The truth is out there
European Space Agency (ESA) held a workshop on 3D bioprinting and regenerative medicine. The bioprinting experts gathered at the workshop discussed the possibilities of using 3D bioprinting to provide medical care to astronauts on interplanetary missions.
Researchers at the Lawrence Livermore National Laboratory have developed metamaterials. These materials respond to an external stimulus to alter their internal structure immediately. For example, a 3D printed lattice cube made in the study hardens when injected with magnetic fluid.
University of California, San Diego researchers developed an easy-to-use 3D bioprinting method, which could help other researchers study disease using models of human organs. Michael Hu, a bioengineering Ph.D. student and part of the research, explained, "We want to make it easier for every day scientists—who may not have the specialization required for other 3D printing techniques—to make 3D models of whatever human tissues they're studying."
Reporting on duty
The British Army announced a new recruit, a Lulzbot TAZ 6 3D printer. The 3D printer will be part of a United Nations peacekeeping mission in Sudan. The army is using the 3D printer to make essential functional parts, in particular, plumbing components. Furthermore, the Lulzbot will be a useful part of the troops when an army hospital in Bentiu (in Southern Sudan) is complete. This hospital will treat more than 1,800 UN staff and Lulzbot will play an important role here.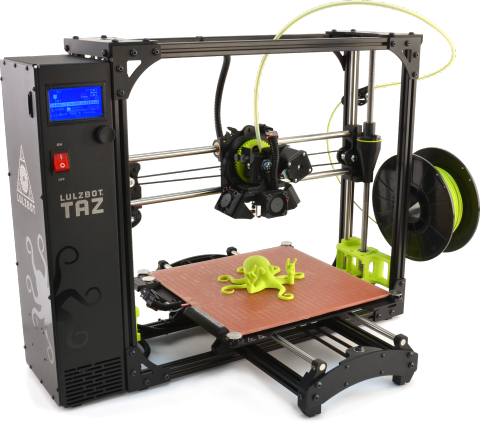 Zortrax, a Polish 3D printer manufacturer, and France's Athletics3D tested 3D printed gun handles for Celine and Sandrine Goberville, who are shooting athletes.
Clément Jacquelin, CEO of Athletics 3D, said, "The Goberville sisters found out about the solution we prepared for Martin and decided to try our solutions. Céline really liked the prototype produced on a Zortrax printer, so we started cooperating."
Building a digital assembly line
The American automotive manufacturer, Ford, opened the Advanced Manufacturing Center in Detroit. The Center deploys advanced technologies in service of car manufacturing, such as building a new assembly line with the help of virtual reality and using augmented reality to train workers. Ford is also 3D printing break brackets for its upcoming V8 engine Shelby Mustang GT500 sports car, at the Detroit plant.
3D printing in architecture and construction has made an impact in recent years.  Following this trend, S-Squared 3D Printers, a 3D printer manufacturer and service provider, introduced its Autonomous Robotic Construction System (ARCS). The ARCS is able to build roads, homes and bridges. According to S-Squared, the company's mission is "to revolutionize the construction industry forever," and 3D printing construction "will reduce environmental impact, cut overhead costs, save lives and prevent injuries."
Color 3D printing with a single extruder
Devin Montes, a designer and founder of the Make Anything YouTube channel, showed his audience how to 3D print colorful phone covers, using a single extruder 3D printer. Montes, who was also invited by 3D Printing Industry to live-stream our awards, 3D printed three famous works of art, including Vincent van Gogh's Starry Night. Using a slicer, Montes divided the case into separate gcodes, which were then 3D printed with a single extruder 3D printer.
3D Printing Awards 2019 are almost here. Please make your nominations.
To know about what the year 2019 holds for the 3D printing industry, subscribe to our 3D printing newsletter. And join us on Facebook and Twitter.
We have plenty of jobs for you on our 3D Printing Jobs site.
Featured image shows an artist's rendition of a Moon base. Image via ESA