The nominations for the 2021 3D Printing Industry Awards are now open. Who do you think should make the shortlists for this year's show? Have your say now.
YouTuber Akaki Kuumeri has designed and 3D printed a novel joystick attachment for his Xbox Series X/S controller, turning it into a fully functional flight stick.
The complex mechanism can be 3D printed entirely on a low-cost FDM system using a flexible filament such as Soft PLA, providing users with a cost-effective alternative to dedicated flight stick controllers. Kuumeri initially developed the snap-on joystick attachment for Microsoft Flight Simulator, which was released on the Xbox last month, but it can be used with virtually any flying game that allows for button mapping.
Kuumeri explains, "The game is none the wiser, it thinks you're playing with the gamepad, but you get the position and the realism of a real joystick controller with just a bunch of 3D printed parts. The smallest of movements is possible and it feels great, it feels like you're flying a real plane."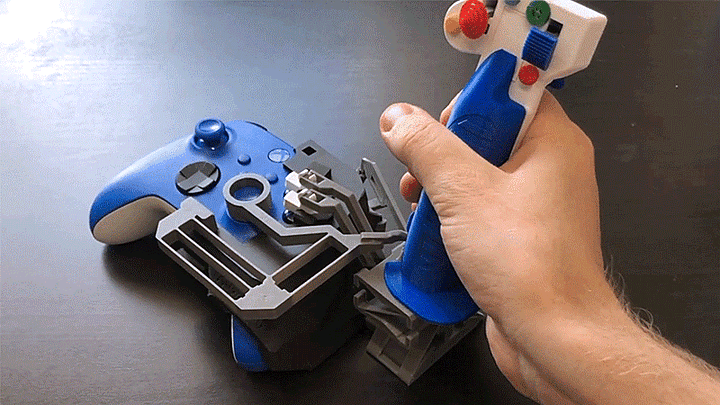 The cost of immersion
Video games have come a long way since the days of Pong, with many modern releases now offering vast open worlds and complex storylines. To keep pace, game controllers have also had to evolve, with almost every major console now sporting some variation of a dual thumbstick setup with four action buttons, a D-pad, triggers, and bumpers. While this standard formation works well with most genres, flying games like Microsoft Flight Simulator still feel a little lackluster when it comes to capturing that realism factor.
To address this, there's indeed a whole market for dedicated flight stick peripherals like the Thrustmaster T.Flight Hotas One and the Logitech G Flight Yoke System. These devices are designed to simulate some of the controls you might find in a real cockpit, making the virtual flying experience all the more immersive. The issue is that these flight sticks just aren't that affordable (especially on console), with quality models starting around the $100 mark. Kuumeri thought 3D printing might be able to help.
3D printing a low-cost joystick
Armed with nothing but a consumer-grade desktop Creality system, the flight sim enthusiast designed his joystick with no metal components, screws, or gears. Instead, the design relies largely on Soft PLA's elastic properties, and features a number of flexure elements that work in conjunction with each other to form a 'virtual gimbal'. This means there's no physical ball socket joint for the joystick to rotate around, but the flexibility of the material enables the entire assembly to rotate again and again without deforming permanently.
A linkage to the right thumbstick of the gamepad can be used to precisely control the pitch, yaw, and roll of the plane, while a set of button linkages enable the A, B, X, and Y buttons to be pressed too. Kuumeri even implemented a trigger-to-trigger linkage for any potential dog fights that may come up in war games.
He adds, "This joystick feels pretty natural in your lap, you can still use the left side of the controller, just as you would usually. The parts snap together, and everything can be printed with no supports. The design doesn't require any post-processing or outside hardware, just a few drops of glue."
He believes he can quite easily modify the mechanism to work with other controller types too, meaning a PS5 version may very well be on the cards soon. For those that are interested in 3D printing the Xbox joystick at home, Kuumeri has made all of the necessary STLs available on Etsy for just $30.
3D printing and gaming hardware are a match made in heaven. Just last month, gaming content creator Handheld Obsession 3D printed a full-scale replica of Valve's upcoming Steam Deck system, revealing a number of preliminary concerns regarding the device's ergonomics. The exact 1:1 scale model showed that the B button might be too close to the edge of the device, while the dual touchpads might require an awkwardly angled thumb adjustment.
Elsewhere, in the virtual reality space, student YouTuber Lucas VRTech designed and 3D printed a pair of low-cost finger tracking gloves for use in VR. Named LucidVR, the open-source gloves grant users the ability to precisely track their fingers without the use of dedicated VR controllers, and cost just $22 to 3D print ($11 per hand).
Subscribe to the 3D Printing Industry newsletter for the latest news in additive manufacturing. You can also stay connected by following us on Twitter, liking us on Facebook, and tuning into the 3D Printing Industry YouTube Channel.
Looking for a career in additive manufacturing? Visit 3D Printing Jobs for a selection of roles in the industry.
Featured image shows the 3D printed joystick attachment. Photo via Akaki Kuumeri.