The toolmaking unit of German multinational automaker Volkswagen has opened a new advanced 3D printing center. Located in the automotive hub of Wolfsburg, Germany, the facility occupies 3,100 m² of floor space, and houses a range of cutting edge metal additive manufacturing machines.
At this center, VW will be investigating the potential of binder jet 3D printing for prototype and tool production. In the next 2-3 years however, the company expects to be introducing the technology for end use production of parts, which will be key to achieving its projected rate of large 3D printed parts in quantities of over 100,000 units per year.
The move also follows the €10 million Additive Manufacturing Campus inaugurated by competitor BMW earlier in 2018.
3D printing at Volkswagen
For years, VW has been experimenting with 3D printing to discover which areas are best suited to its application. Spare parts has been a key driver of this progress, with its development taking place through a number of pilot projects.
At the company's luxury car brands Audi and Porsche SLM 3D printing has been applied to the light weighting of components, including water connectors for inside the engine of the Audi W12.
In collaboration with desktop 3D printer manufacturer Ultimaker, VW also won Automotive Application of the Year in the 2018 3D Printing Industry Awards (2019 nominations now open) by saving $160k in tooling costs for the Volkswagen Autoeuropa assembly factory.
According to Dr. Andreas Tostmann, Board Member for Production of the Volkswagen brand, the new Wolfsburg 3D printing center "[…] takes Volkswagen's additive manufacturing activities to a new level."
"In two to three years' time," he adds, "three-dimensional printing will also become interesting for the first production parts. In the future, we may be able to use 3D printers directly on the production line for vehicle production."
Powered by HP and Additive Industries
The new center is equipped machines using HP Metal Jet technology. A binder jet based 3D printing method, HP announced the Metal Jet at IMTS 2018, and confirmed VW as an early partner, helping with its development. Standalone Metal Jet systems won't be be available to the public for at least another 3 years, and at present, the only access currently available is as a "Production Service" led by GKN Powder Metallurgy and Parmatech.
In photos from the official launch, the new facility also appears to house a MetalFAB1 configuration from Dutch large-scale 3D printer manufacturer Additive Industries. Additive Industries has an existing long term partnership with VW which was reaffirmed in a deal from November 2018.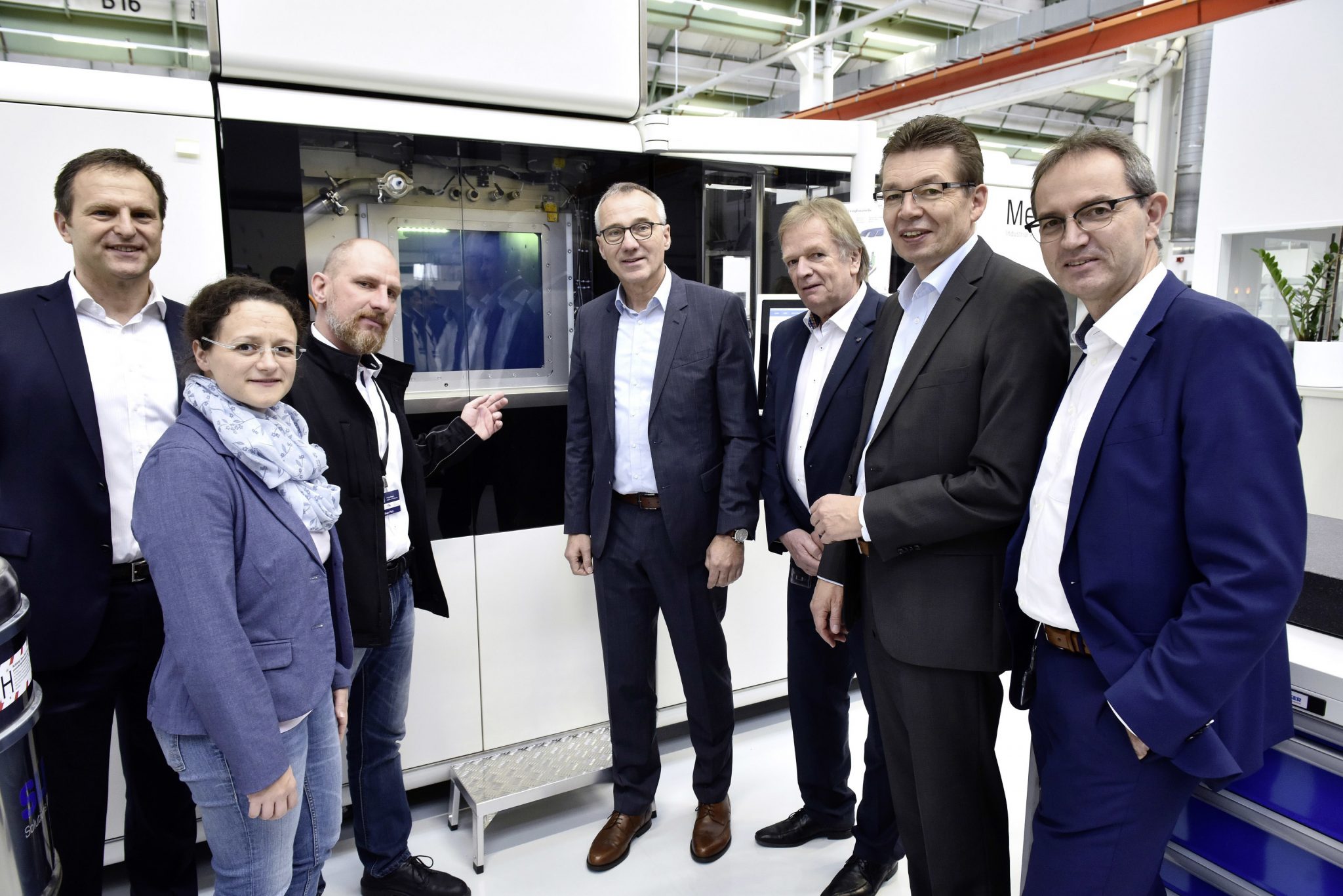 Oliver Pohl, Head of Additive Manufacturing at VW, concludes, "Here, we have created an innovative centre which will be of tremendous strategic importance for Volkswagen in the future."
Make your Application of the Year nomination and more in the 2019 3D Printing Industry Awards, open now.
For all the latest 3D printing news and reviews subscribe to the 3D Printing Industry newsletter, follow us on Twitter and like us on Facebook.Join 3D Printing Jobs now for new opportunities in engineering.
Featured image shows Oliver Pohl, Head of Additive Manufacturing at Volkswagen (third from left) presenting the new 3D printing center to visitors from the European Works Council and management. Photo via Volkswagen