The U.S. Naval Air System Command (NAVAIR) is ramping up production of 3D printed parts.
System Command estimates that it will have approximately 1,000 3D printed parts approved for use across the fleet before the end of 2018. Currently only 135 3D printed parts are authorised for use.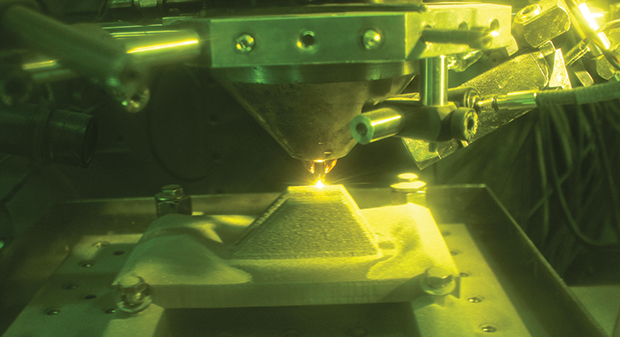 3D printing helmets to flight-critical parts
3D printed parts will be used in a range of Naval applications, from modifications to helmets to critical parts for aircraft: NAVAIR categorizes parts depending on their air-worthiness. Parts not requiring airworthiness can be fabricated more quickly.
In 2016 NAVAIR proved that 3D printing could be used to produce safety-critical parts with the successful flight of an MV-22B Osprey, fitted with a 3D printed titanium engine nacelle link and attachment. Last spring, a 3D printed flip-top valve was added to the T-45 Goshawk breathing mask, allowing pilots in training to breathe cabin air up to a certain altitude. 300 valves were printed within a month without which training would have been impossible.
Naval standards for 3D printing
Brigadier General Greg Masiello says that the Navy's goal is not to 3D print all flight-critical components, but those that can be improved by the process. He not that some parts are "not necessarily, economically or even technically optimized for that."
Elizabeth McMichael, NAVAIR's Additive Manufacturing Lead, says, "I think what's standing in our way is [a lack of] standards.
"Anybody can print something. They need to be able to print it in a way that meets required performance. We're trying to ensure that people know that making aviation components requires some controls to ensure safety."
McMichael's team will be launching a website allowing program offices, sailors and marines to directly request parts for 3D printing. The website will allow users to track the progress of requests and access technical information about approved parts.
McMichael adds, "the Naval Aviation community sees the potential for AM and wants to use it to solve problems. The reason we're starting up a website is to centralize requests so we understand demand, and have a way to prioritize and manage them."
Recent years have seen a push for the development of 3D printing for U.S. Naval use. The U.S. Office of Naval Research awarded Concurrent Technologies Corporation a $2.8 million contract for the development of metal 3D printed parts. The U.S. Navy last year revealed plans to use block-chain technology to enable the secure sharing of data throughout the additive manufacturing process.
For the latest Naval applications of 3D printing, subscribe to the 3D Printing Industry newsletter, follow us on Twitter, and like us on Facebook.
Post a vacancy or find your next career move on the 3D Printing Jobs board. 
Vote in the 2018 3D Printing Industry Awards before it closes.
Featured image shows the fabricating of a MV-22B nacelle link using a directed energy deposition 3D printer. Photo via NAVAIR.