3D Printing Industry is taking an in depth look at how additive manufacturing is moving to production. Over the coming weeks the results of interviews with industry leading practitioners will be published.
This article is part of a series examining Trends in Additive Manufacturing for End-Use Production.
Gary Taylor is Regional Manager, UK&I at EOS. EOS is one of the world's leading additive manufacturing enterprises and recently launched the new P500 3D printing system – specifically designed to enable mass production.
3D Printing Industry: What is your percentage estimate of how much your printers are used for production versus other applications?

Gary Taylor: Today, approximately half of our system applications focus on Additive Manufacturing as a priority—but a significant number of our customers rely on EOS systems for rapid prototyping (RP) of their designs; the basis for which our company was ultimately formed back in 1989.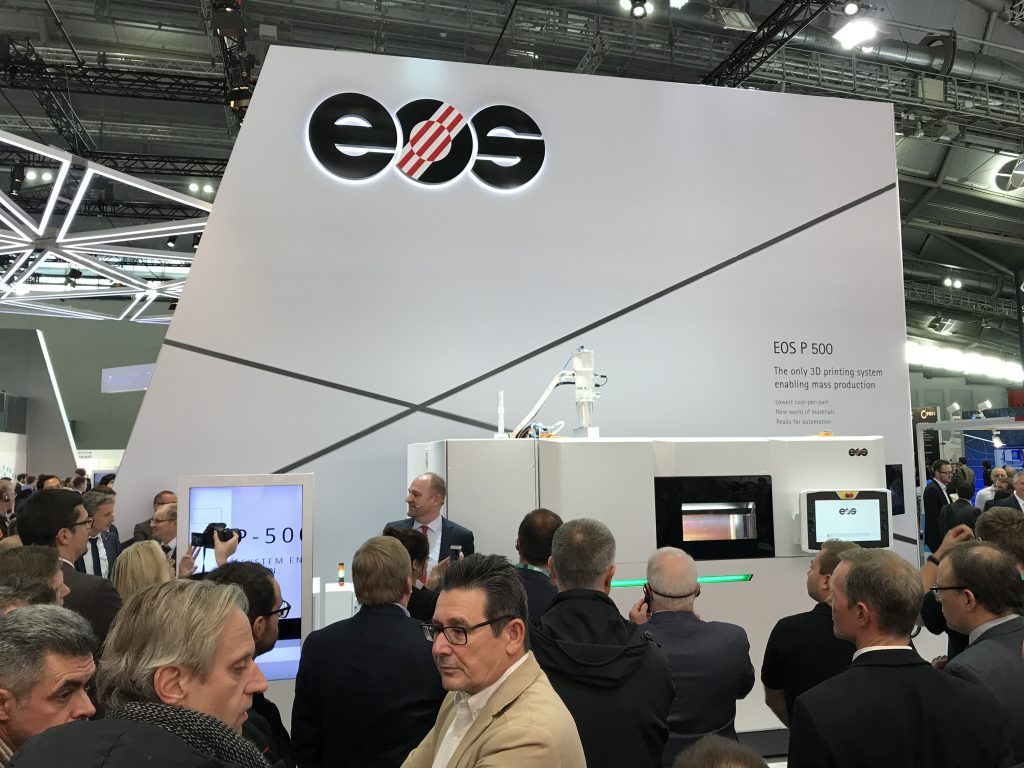 3DPI: Do you have an estimate of the addressable market for AM in production?

GT: According to research by SmarTech, the market for industrial Additive Manufacturing hardware and materials was worth approximately $2.9bn in 2016. The key for expansion in this area lies in the integration of Additive Manufacturing into existing and future production strategies and environments. Through the fusion of these approaches, the ability for rapid prototyping and design-led production at scale becomes more accessible.

3DPI: Which industries/verticals are leading in the use of AM for production?

GT: Additive Manufacturing is most often in demand in industries where fine technical precision, structural elegance, and material resilience are of the utmost importance. This includes the aerospace and medical sectors, where materials such as aluminium and cobalt-chrome are employed for their distinct applicable properties— in the manufacturing of gas turbines, for example, nickel alloys may be selected for their heat resistance thermal properties, whilst aluminium is often selected in aerospace and automotive applications for its desirable combination of high strength and light mass.

3DPI: What barriers does AM face for production and how are these surmountable?

GT: One of the biggest challenges for the additive manufacturing industry is how we best educate our customers to fully understand the benefits of the approach for their production strategy. Additive manufacturing is highly disruptive in the manufacturing space, and despite its relative maturity, it is very much a fast-evolving technology.

As non-traditional approaches to manufacturing increase, and end-user demand for design-led production accelerates, more manufacturers will embrace these new approaches to bring their ideas to life in an increasingly competitive marketplace.

A particularly significant challenge in the UK is the current skills gap. There is an apparent knowledge deficit of additive manufacturing and industrial 3D printing in the UK, and globally. This is a critical barrier preventing businesses from embracing disruptive technologies—and ultimately remaining competitive against innovation elsewhere. As disruptive technologies such as these continue to permeate, the faster transformation can occur at a production level—and at an industrial level beyond that.

We're working closely with several research institutions globally, including Imperial College London and the University of Wolverhampton, to introduce new training programmes to further advance the industry.

3DPI: Are there any notable trends in AM for end use production?

GT: The Additive Manufacturing industry is growing significantly; reportedly worth approximately $2.9bn according to research from SmarTech last year. Beyond the most notable verticals and industries exploiting Additive Manufacturing for rapid prototyping and design-led production, such as the aerospace and medical sectors, EOS is looking forward to Industry 4.0 and the factories of the future where 3D printing technology continues to integrate into the supply chain in a way that fosters production agility and creativity.

The next wave of disruption will be of the digitisation of production—and additive manufacturing, together with traditional manufacturing, is a key driving force behind this much-needed change. In the future, we will see two kinds of players in the manufacturing space—those who disrupt the market, and those whose business is disrupted.

3DPI: Can you name any specific case studies where AM is used for end use production?

GT: We are working with many high-profile brands within a variety of sectors, including aerospace and automotive. In the UK, we have worked closely with the Williams Martini F1 team in manufacturing its 2016 car. Using additive manufacturing technology, the team has since improved the R&D process to markedly reduce production times. It is now possible to test components without the need to carry out complex, time consuming and expensive mould construction for designs that are ultimately rejected.

We also work with Audi who recognised, early on, the potential of additive manufacturing for the automotive industry. Industrial 3D printing is being applied to equipment and prototype building, as well as motor sports, where the technology is already in use. Audi now has the right systems, prototypes, and access to training to educate their own in-house additive manufacturing experts.
This article is part of a series examining Trends in Additive Manufacturing for End-Use Production.
You can read more about EOS here.

If you found this insight useful, then subscribe to our newsletter and follow us on social media.
Featured image shows EOS Customer & Technology Center in Krailling, Germany. Photo by Beau Jackson for 3D Printing Industry