Today's 3D printing news in-brief features: GKN Plc, RUSAL, Minecraft, Aleph Objects, 3D Systems, Ai Build, regenHU, Voxeljet, Miam Factory chocolate, e-Nable, Mantis Vision, i Light Marina Bay festival and the 3D printed "Stealth Key".
Companies in Russia and India partner in advanced manufacturing venture
The world's sixth largest aluminium company RUSAL, headquartered in Russia, is entering into a  partnership with Indian business venture Runaya Metsource. The joint venture between the two companies will focus on the production of aluminium materials, such as powders than can be used in additive manufacturing. Commercial availability of the materials is expected in 2018, with primary distribution planned across India, followed by Southeast Asian and Middle Eastern markets.
GKN show interest in powdered metal manufacturers
Automotive and aerospace manufacturers GKN Plc is awaiting approval for acquisition of powdered metal production company Tozmet al Ticaret Ve Sanayi AS, headquartered in Istanbul. Peter Oberparleiter, Chief Executive of GKN Powder Metallurgy, welcomed the addition of the Turkish company that reported annual sales of €24 million in 2016. He said,
We are very excited to welcome Tozmetal into GKN Powder Metallurgy. Tozmetal is a well-run business that will complement our broad presence in the powder metals market.
Minecraft 3D print update
An upcoming "Discovery Update" for the build-your-own-adventure game Minecraft will enable gamers to 3D print parts of their low-poly creations. A favourite of educators, designs created in the game will be available for export into Microsoft Paint 3D. From there, users can click "3D Print" and the models will be taken to selected slicer software, then 3D printed either at home or via an online service.
New Aleph Objects manufacturing facility and capital access
Aleph Objects has announced it will be opening a new manufacturing facility near its existing base in Loveland, Colorado. The company has also opened up $3 million worth of credit with Bank of the West. The announcements show that the makers of the Lulzbot range of 3D printers are enjoying significant success, leading toward a positive future of development.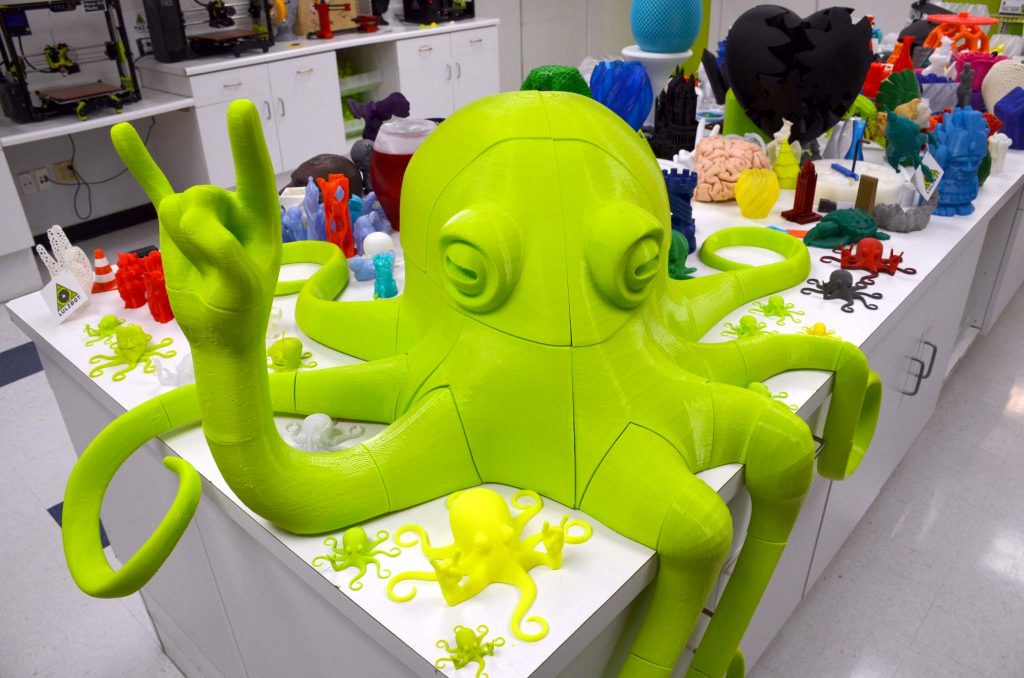 3D printer price slashes
3D Systems has cut the price of its ProX SLS 500 additive manufacturing machine by 30% in Europe and North America, making it  €250,000 and $270,000 respectively. Desktop 3D printer manufacturer Leapfrog has also reduced the price of its Creatr HS model from €2,499 to €1,499. Both price cuts are to make the systems available to a wider range of customers, and to remain competitive in the respective industrial and desktop markets.
Intelligent architecture
London-based Ai Build is integrating artificial intelligence into it robotic systems for large scale 3D printing. In an interview on Alphr.com Dağhan Çam, co-founder and CEO of Ai Build, explains,
As an alternative, [to slowing down the manufacturing process] we're using a combination of simulation and real-time decision-making algorithms to compensate for minor mistakes that might have accumulated into more severe structural failures if they weren't taken into account. In this case, rather than the system becoming an architect, it's becoming a builder with greater flexibility to handle unexpected problems.
3D bioprinter materials for tissue engineering research
A new range of 3D printable synthetic hydrogels to support living organisms has been released. The ECM-Bioink (extra cellular matrix bioink) range is created by Swiss 2D and 3D bioprinting materials and systems producers regenHU, in partnership with UK-based materials producer PeptiGelDesign Technologies.
Certified 3D printed chocolate 
Belgium's Miam Factory is applying the possibilities of 3D printed design to its chocolates. A spinoff of the Smart Gastronomy Lab at the University of Liège, Miam Factory's technology is capable of creating complex chocolate shapes that would previously be impossible without visible seams.
Voxeljet earnings
Industrial 3D printing machine manufacturer Voxeljet AG (NYSE:VJET) has issued its earnings for the first quarter of 2017. Total revenue for the quarter amounted to $6.78 million, reporting $0.17 earnings per share.
Secretary bird gets 3D printed leg in Germany
3D printed prosthesis charity e-Nable is to help provide a new leg for three-year-old secretary bird, Söckchen, who lives in Weltvogelpark Walsrode park in Germany. Söckchen's leg has already undergone a number of prototypes and it has been hard to find a comfortable fit. Christoph Kaatz, an ornithologist at the sanctuary, explains,
Inflammation unfortunately continues to be a common problem with prosthetics. We have tried a range of different prosthetics, but the other leg always seems to become overloaded, causing inflammations. It really restricts the quality of life enjoyed by the bird.
In spite of this Janina Buse from Weltvogelpark Walsrode says the 3D printed version "looks much simpler and the bird is getting by great with it".
More colorful than your average 3D scanner
Israeli 3D scanning company Mantis Vision has announced a new 3D scanner that records color in addition to the 3D composition of an object. It works by capturing video which is then split into .jpeg images that are used to make up a colorful point cloud. The accessory is ideal for recreating the likeness of humans, that could be used to make 3D printed "mini yous", and is able to live-stream the 3D scanned image as it captured the information.
3D printed structure at the i Light Marina Bay festival
Professors Felix Raspall and Carlos Banon from the Singapore University of Technology and Design are lighting up Marina Bay with a structure made of 3D printed parts. The mesh measures 10m x 6m x 3m (L x H x W) and is composed of 715 tubes made from ABS and nylon. It has been made as part of i Light Marina Bay festival – the country's celebration of sustainable light sources – and, as such, contains over 50,000 LED bulbs.
The 3D printed key that can't be copied
The Stealth Key from Swiss company UrbanAlps is a 3D printed design that, according to the inventors, "cannot be copied" through the use of photographs or home 3D scanners. The secret behind it is in the simple design that encloses all of the key's security features with wrap-around edges. It also promises to be affordable, avoiding the excessive charges that occur with other high-security keys.
For regular Sliced 3D printing digests delivered directly to your inbox and feed sign up to the 3D Printing Industry newsletter and follow our active social media sites.
Don't forget to vote in the first annual 3D Printing Industry Awards.
Tickets for the 3D Printing Industry Awards are also now available here.
Featured image shows Sliced logo over detail of mesh installation for the i Light Marina Bay festival. Photo by Felix Raspall and Carlos Banon, Singapore University of Technology and Design