What if it were possible to produce filament for 3D printing – at personal / prosumer desktop production andprofessional prototyping levels – that was recyclable, biodegradable, and sourced from a sustainable flow of input in the form of industrial byproducts? Furthermore, what if this process were highly profitable for ventures involved? A new research paper shows that this is just the case, and not just as a potential possibility, but a viable actuality. Businesses which are involved in the production of PLA printing materials may find saidpaper highly interesting.
The prospect of a highly profitable industry for highly sustainable three-dimensional printable materials is, surely at least in theory, a veritable ethical gold-rush. New research into dovetailing the production of fully biodegradable printing materials (conventionally manufactured from foodstock – the technique of producing Polylactic Acid [PLA]) with a perpetual base input, such as sourcing from biofuel manufacturing waste by-products, has been published by a team from the Institute of Chemical and Bioengineering at the university ETH Zürich.
The paper, titled "Environmental and economic assessment of lactic acid production from glycerol using cascade bio- and chemocatalysis" and published in the journal Energy & Environmental Science,addresses a production methodology that utilises catalysts to convert crude glycerol into lactic acid. The researchers behind the work reach the conclusion that 'It is also shown that the bio-/chemocatalytic route remains ecologically and economically more attractive even if the purity of glycerol is as low as 38%." 
An article in the Smithonian magazine explains that the exciting and pertinant application of the catalyst directly leverages a market that already encompasses 360,000 tons of PLA in 2013, to a projected growth to over 1,200,000 tons by 2020. Furthermore, because the process uses biodiesel – the production of which is an industry anticipated to grow to some 40,000,000 tons by 2020 – there is both a bountiful and growing base material source for PLA produced in this manner. Bountiful indeed, given that, by utilising the team's new catalyst to produce Polylactic Acid (PLA) from biodiesel, businesses adopting this methodology can increase their profit margin some seventeen-fold.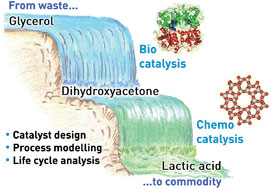 I have not accessed the research paper myself, nor the level of knowledge required to provide analysis of the chemistry articulated in the provided abstract of the paper — however, the study makes clear claims as to the viability of the production processes it outlines and their potential benefits for businesses that use it. As well as the actual growth potentials of an industry that could be founded upon it.
Given other studies and projects related to ecology and sustainability that are coming to deeper fruition of late, could it be said that we are now truly seeing the birth of 3D printing for sustainbilty? Examples include: the recently published first quantitive study into the sustainabilty benefits of 3D printing, $10000 offered to construct filament recycling machines produced by the inventor of what is now Google's Project Ara, a whole host of projects appearing globally under the umbrella of 3D4D (three-dimensional printing for development) mapped by Techfortrade – the CEO of which has recently co-authored a notable paper named 3D Printing For Development In The Global South – alongside the appearance of new businesses using industrial waste plastics for printing feedstock polymers such as Fila-cycle.
For your ease the 3DPI article archives for: Ecology, sustainabilty, PLA.