The 3D Printing Industry interview series on 3D printing and renewable energy turns to additive manufacturing within the wind energy sector.
One company pioneering the adoption of 3D printing within this field is GE Renewable Energy. "Additive manufacturing has the potential to bring a step-change in cost and performance competitiveness in the wind industry," says GE Renewable Advanced Manufacturing Technology Leader Matteo Bellucci.
Bellucci shares the latest updates from GE's ongoing efforts to improve wind turbine efficiency and performance with 3D printing and discusses the benefits of the technology to the wind energy sector.
The US saw wind energy grow at a record pace in 2020, with onshore wind power installations outpacing those in solar power for the first time in several years. The country's offshore wind pipeline grew 24 percent in 2020 compared to the previous year. Another notable emerging trend involves an increased interest in using offshore wind to produce clean hydrogen.
For the European Union (EU) to meet its 40 percent renewable energy target by 2026, it will need to install 32 GW of new wind farms per year between now and then. With wind installations in Europe amounting to just 17.4 GW in 2021 due to global supply chain issues and bottlenecks, is there a golden opportunity for 3D printing to increase its adoption in the space?
Advancing the competitiveness of wind energy with 3D printing
In February 2021, GE was awarded a $6.7 million project by the US Department of Energy (DoE) to explore the design and manufacture of 3D printed wind turbine blades. Working alongside Oak Ridge National Laboratory (ORNL) and the National Renewable Energy Laboratory (NREL), GE seeks to increase the competitiveness of both onshore and offshore wind energy by leveraging 3D printing to reduce manufacturing costs and improve supply chain flexibility.
"Several design and process concepts, as well as new thermoplastic materials, have been screened providing better clarity of how we are going to get to the goal to use 3D printing in blade manufacturing, together with other advanced processes, and a high degree of automation," says Bellucci.
He explains that turbine blade tips fabricated using 3D printing and thermoplastic composites will have several benefits, including being lighter than conventionally manufactured counterparts. Lightweighting allows larger rotors on turbines to generate more power while also easing the strain on the entire turbine, reducing wear and tear on its gearboxes, drivetrains, bearings, and foundation, and reducing lifecycle costs for turbine operators.
3D printed thermoplastic blade tips could also be melted down and recycled when they reach the end of life, an essential aspect of the project for GE Renewable Energy. The team is also exploring what other parts of the turbine blade could benefit from 3D printing technologies and thermoplastic materials to increase the component's time-to-market, quality, and sustainability.
Bellucci says that not only will 3D printing bring cost and performance competitiveness benefits to the wind sector, but the technology will also "help GE Renewable support our customers in driving the energy transition farther and faster."
In September, Fraunhofer IGCV and binder jet system manufacturer voxeljet announced they would be building the "world's largest" wind turbine 3D printer to date. The system, known as the 'Advance Casting Cell' (ACC), is specifically being built to print the molds needed to cast parts for GE's offshore Haliade-X turbine, which can weigh as much as 60 tons each.
"This program started only a few months ago, and we are still in the early phase of its conceptual development," says Bellucci. "As we discussed when the project was awarded late last year, the project is meant to accelerate and optimize the production of key casting components of the GE Haliade-X Offshore Turbine. Specifically, 3D printing provides flexibility to produce large turbine components near offshore wind projects, lowering transportation costs and bringing environmental benefits."
Bellucci says the project team is currently compiling the specification details for the printer, and then voxeljet will begin the design phase of the project, including the new printer's mechanics.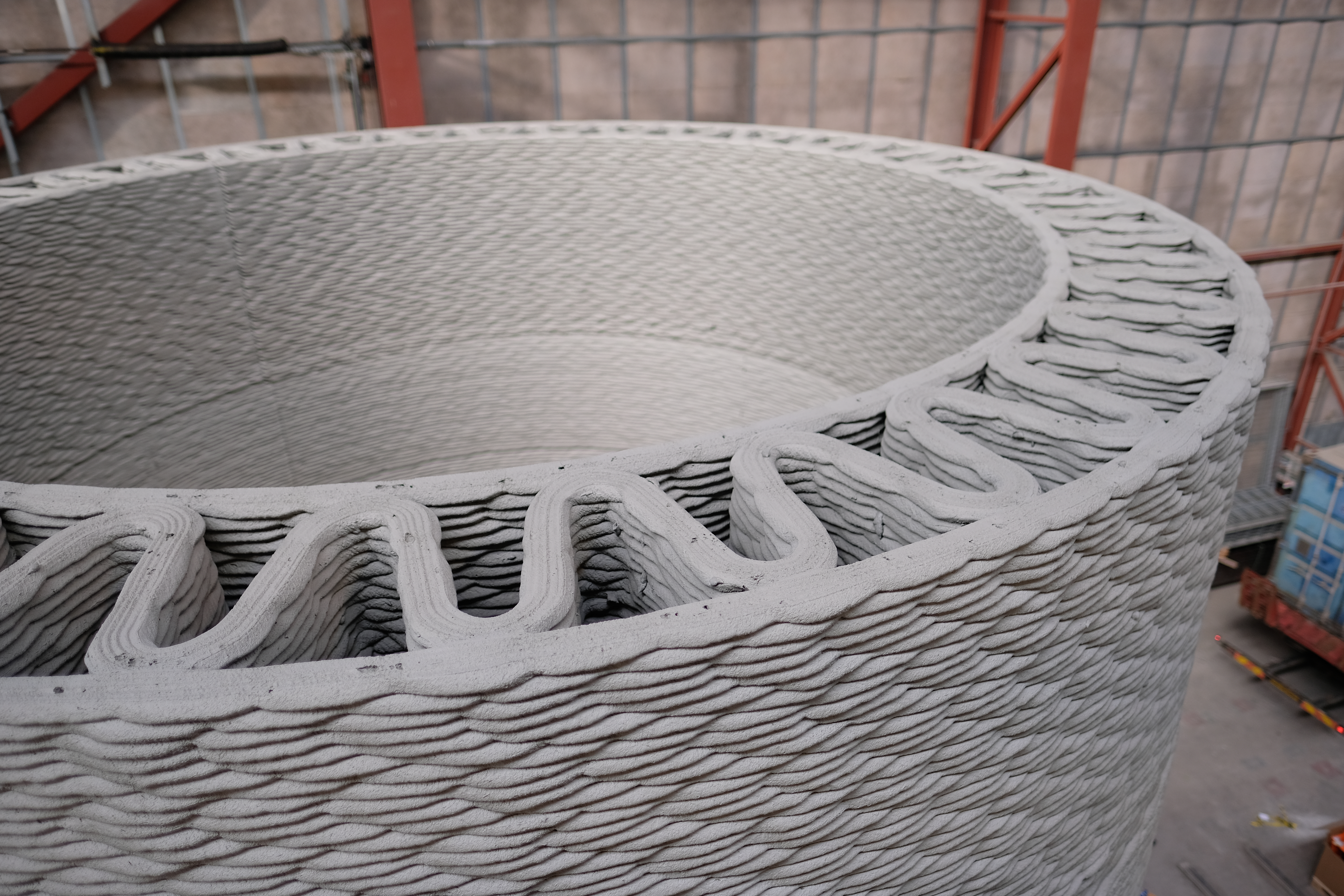 Benefits of AM for wind energy
In line with ambitious targets to cut greenhouse emissions, wind energy has become the subject of increasing attention to combat the global climate crisis. To this end, a significant amount of research is being poured into making wind turbines themselves more eco-friendly.
For instance, the NREL has developed a method of manufacturing wind turbine blades with 3D printing that improves their performance and end-of-life recyclability, while the University of Maine is working on an eco-friendly turbine blade mold 3D printing process backed by $2.8 million in federal funding. Elsewhere, engineers from McGill University and Ryerson University are working on converting wind turbine blade waste into a novel 3D printable PLA material for fiber-reinforced parts.
Regarding GE, "3D printing technology is already mature in helping us with tooling for small and large components, and rapid prototyping with direct and immediate impact on the efficiency of our factory operations," Bellucci says. "To use 3D printing directly into our products, it will still require some time, but the potential is very disruptive, and we are actively exploring different use cases."
Looking at the entire regenerative energy portfolio beyond just wind, Bellucci says GE sees all the traditional benefits of 3D printing depending on the use case as relevant. These benefits include time-to-market, 3D printing of molds for castings, more resilient, local, and agile supply chains, and increased quality consistency driven primarily by the technology's automated and digitized nature.
"In addition, 3D printing opens the door for more efficient designs that can be customized to specific locations and applications," he continues. "For example, whereas the standard design for a wind turbine at a given site might call for towers to be 90 meters tall, more detailed analyses on-site might show that in one specific section of the wind farm towers that are 120 meters tall make more sense.
"In that case, we can 3D print 30-meter tower components on-site to add to the existing, standard 90-meter base to get optimal performance."
According to Bellucci, this approach is more sustainable than existing practices in two ways. Not only would it maximize the total amount of clean, renewable energy that can be generated, but it would also lower the project's carbon footprint by reducing the number of parts needing to be manufactured and transported from long distances.
Aiding the renewable energy transition with 3D printing
Bellucci sees 3D printing helping GE Renewable Energy and the broader energy sector accelerate the transition to cleaner energy generation in many ways.
"It is generally a less energy-intensive manufacturing process and generates less waste," he says. "For example, 3D printing will allow the exploration of new design practices, using tools like topology optimization, which is a design approach that enables our engineers to experiment with multiple designs to find the most efficient and cost-effective solution to a given challenge. As a result, our teams can use parts that take less energy to produce and create less waste."
Bellucci also points out the technology's potential to simplify manufacturing assembly processes and logistics, which helps reduce the company's carbon footprint.
"3D printing can enable us to explore ways to improve a given component's design by consolidating several different components into one part," he explains. "A mechanical assembly that would normally have many parts fabricated as separate components and then be brought together can be additively manufactured as a single unit, with pieces being printed and combined even if the geometry of the combined unit is very complex."
Additive Manufacturing allows GE to reduce the number of parts needing to be designed and manufactured, thereby simplifying the assembly process and improving the durability and reliability of its products. Consolidation contributes to a more efficient end-of-life disassembly process that enhances the firm's material recoverability and circularity.
"3D printing will also make it easier to incorporate recycled materials, and secondary material flows, into our designs," Bellucci adds. "For example, we are exploring ways to use the materials that will be produced in recycling blades from decommissioned wind turbines when we 3D print towers for new turbines, effectively cross-pollinating two promising partnerships we have with Holcim.
"Likewise, we're exploring ways to use 3D printing in combination with thermoplastic materials for new advanced wind turbine blades, supported by the US DoD."
In combination, these 3D printing innovations could significantly reduce the amount of materials needed to produce new wind turbines. According to Bellucci, recent Life Cycle Assessment (LCA) analyses have shown that such advanced manufacturing processes could potentially reduce greenhouse gas emissions by as much as 15 percent in the manufacturing of large castings at the top of a tower. The LCA also showed that advanced manufacturing technologies could reduce greenhouse gas emissions by up to 10 percent in the manufacturing of blade tips, and by 25 percent during the making of tall turbine towers.
"Going forward, we will continue to collaborate with customers and other industry partners in developing innovative technology that helps to accelerate the energy transition in a way that is consistent with our focus on using sustainable, circular design to maximize environmental benefits for all stakeholders," Bellucci concluded.
Subscribe to the 3D Printing Industry newsletter for the latest news in additive manufacturing. You can also stay connected by following us on Twitter and liking us on Facebook.
Looking for a career in additive manufacturing? Visit 3D Printing Jobs for a selection of roles in the industry.
Subscribe to our YouTube channel for the latest 3D printing video shorts, reviews and webinar replays.
Featured image shows turbine blades heading for Block Island offshore wind farm. Photo via LM Wind Power.