Swiss-listed technology group Oerlikon, has established a $55 million Innovation Hub & Advanced Component Production facility in Huntersville, North Carolina.
This 125,000 square foot facility, will function as a cornerstone of Oerlikon's additive manufacturing business in the US. Dr. Michael Süss, Chairman of the Board of Directors, Oerlikon Group, said:
"Additive manufacturing will play a decisive role in how industries and industrial processes will look in the future. We are committed to investing in this business and leading the industrialization of this technology. This facility marks an important step in our investment strategy for growth."
The following clip from Oerlikon displays the exterior of the new Huntersville facility:
Oerlikon expands in the U.S.
As an established global technology and engineering Group, Oerlikon operates its business in two segments, that is, surface solutions and manmade fibers. The company has over 10,500 employees at 175 locations in 37 countries. Presently, Oerlikon employs more than 1300 people in 18 US states. This $55 million is part of a $400 million investment the company has invested in the U.S. in the past five years.
As part of its strategy for growth in the U.S., the Innovation Hub & Advanced Component Production facility was announced in 2017. The first site in this area is a center that provides manmade fibers, in particular, carpet yarn systems.
The new center currently employs approximately 60 people and is a hub for R&D and industrial additive manufacturing of metal components. Moreover, with Oerlikon additive manufacturing experts, companies can also simplify logistics, reducing its environmental impact.
"We are already working with customers in the aerospace, automotive, energy and medical industries in the US, and we anticipate continued growth in those sectors, as well as in others," said Dr. Sven Hicken, Head of Oerlikon's Additive Manufacturing business.
"We believe that additive manufacturing can transform production in many industries, and we are excited that our presence here in North Carolina allows us to better demonstrate those possibilities to our customers."
Oerlikon and additive manufacturing
Last year, contributing to its operations in the U.S., Oerlikon signed a five-year metal 3D printing collaboration agreement with Boeing, a leading aircraft manufacturer headquartered in Chigaco, Illinois.
The two partners are focusing on creating standard means of additively manufacturing titanium aircraft parts, that meet flight requirements of the Federal Aviation Administration (FAA) and the U.S. Department of Defence.
In China, Oerlikon and industrial 3D printing solutions company Farsoon Technologies partnered to increase adoption of additive manufacturing in Asia. Under the terms of the agreement signed last year, Oerlikon will become the primary metal powder supplier and global partner for Farsoon 3D printers.
Now, Oerlikon expects to invest another $200 million in the next three years, adding around 400 new jobs.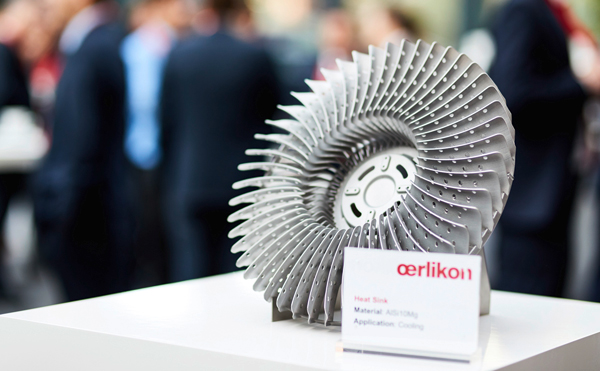 Don't forget to tell us who you think are the leaders of additive manufacturing. Vote for the 2019 3D Printing Industry Awards.
Also for latest additive manufacturing news, subscribe to our 3D Printing Industry newsletter and follow us Facebook and Twitter.
Visit our 3D Printing Jobs board to find out more about opportunities in additive manufacturing.
Featured image shows metal 3D printed parts. Photo via Oerlikon.