Mogassam, a Delaware-based 3D printer manufacturer, has released DentCase, a DLP 3D printer designed for the dental industry. The system offers a complete workflow, with integrated dental CAM software and post-curing system. The machine is currently being showcased at the International Dental Show (IDS) 2019 in Cologne, which takes place from the 12th to the 16th March. Explaining its goals, the company has stated:
"Mogassam […] develops automatic DLP 3D printers for dental industry. We are committed to bringing convenient reliable 3D printers for creative dentists and dental technicians around the globe. We also develop a top-notch automated dental CAM software to provides seamless dental 3D printing experience for our users."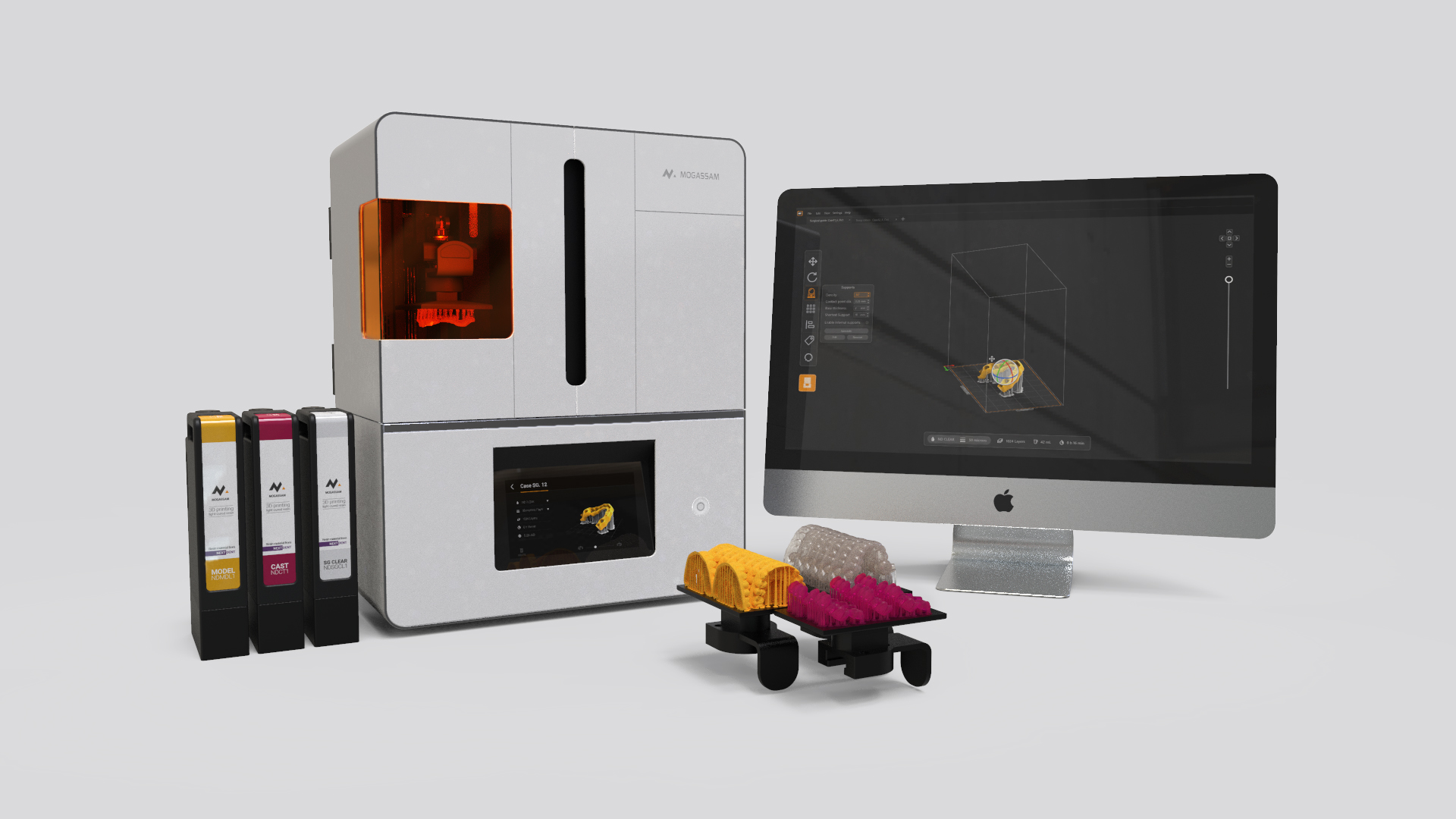 A complete dental workflow
Mogassam was founded in Egypt, in 2015, and focuses on the field of digital dentistry. Its recent DentCase release adds to the company's existing range of Dent1 and Dent2 3D printers. By the end of 2017, the company claims it had reached the biggest market share in Egypt for the digital dentistry sector, and was also reportedly the first Egyptian company that designed, manufactured and marketed DLP 3D printers.
Part of the dental printing workflow offered in the DentCase 3D printer is an automatic washing system, implemented to clean 3D printed dental devices before the curing post-process. With the complete workflow, Mogassam hopes to provide a quick and easy, all-in-one method for dental 3D printing. Other key features of the machine include an auto resin filling system and auto Z axis calibration.
Through Mogassam DentPrint software, also included in this release, users can access automatic part orientation and support generation features, to help enable an all-round automated process.
The DentCase 3D printer can be used by dental professionals to create clear aligners, denture bases, digital wax crowns and various other dental models.
3D printing filling the gap in dentistry
Operating within this vertical, Mogassam is part of a growing range of OEMs recognizing the value of 3D printing in dentistry. Recently, Silicon Valley-based, Digital Light Synthesis (DLS) company Carbon reinforced its efforts in this market with the launch of the M2D 3D printer.
In 2018, leading 3D printer OEM 3D Systems took home the 3D Printing Industry Dental Application of the Year Award for its Figure 4 and NextDent machines.
At IDS 2019, Mogassam is joined in exhibits by a number of other 3D printing companies, including Nexa3D and SHINING 3D, that just launched an intraoral 3D scanner. 
Full Technical Specifications – Mogassam DentCase
| | |
| --- | --- |
|  Accuracy |  50μm |
|  Z Resolution |  20μm |
|  X Y Resolution |  85μm |
|  Speed |  40 mm per hour |
|  Build volume |  120 x 75 x 100 mm |
|  Physical dimensions |  310 x 430 x 550 mm |
|  Connectivity |  Wifi, Ethernet, USB |
|  User interface |  Control LCD touch display |
|  Technology |  DLP |
|  Software |  DentPrint |
|  Resin filling |  Automatic |
|  Slicing |  Built-in automatic slicing |
|  Material class |  Resin |
Subscribe to the 3D Printing Industry newsletter for the latest news in additive manufacturing. You can also keep connected by following us on Twitter and liking us on Facebook.
Looking for a career in additive manufacturing? Visit 3D Printing Jobs for a selection of roles in the industry.
Featured image shows the DentCase opened, revealing the complete workflow system. Image via Mogassam.