Metal 3D printing company Meltio has been recognized as a "strategic technology partner" by the U.S. Department of Defense (DoD) for its metal 3D printing technology.
This move strengthens Meltio's relationship with the U.S. Army, opening opportunities with other U.S. defense departments and international armies. Additionally, out of 300 participants, Meltio received a fifth-place achievement with Phillips Corp. in the U.S. Army's xTechInternational program showcasing its unique manufacturing and materials capabilities, positioning them for potential cash prizes and follow-on contracts.
"The award we have received is a recognition to Meltio's professionals and gives reliability to our technology. For us, the military sector is a sector that allows us to bring together all the applications of our disruptive metal 3D printing technology. And it is an opportunity for Meltio to develop a dual application for the civil and military sector. Our technology has the potential to transform different sectors thanks to metal additive manufacturing such as supply chains, logistics, repair and manufacturing of metal parts compared to other conventional techniques such as forging and machining. There are currently many armies in other countries that have Meltio's metal additive manufacturing technology and we want to stand out as a strategic and technological partner for the military sector, also in Spain," said Ángel Llavero López de Villalta, CEO of Meltio.
Meltio's disruptive technology poised to transform military manufacturing
The purpose of the award is to encourage participation from leading technology players worldwide, specifically in the 3D printing sector, to contribute their solutions to the U.S. DoD and collaborate on the enhancement of its defense program. This year's competition focused on the thematic area of Advanced Manufacturing and Materials, encouraging participants to showcase novel solutions in this field.
Meltio's unique and disruptive metal additive manufacturing technology, developed in its factory in Linares (Jaén), has positioned the company as a technological and strategic leader in the sector. With exports to more than 60 countries and a diverse team of over a hundred professionals representing 14 different nationalities, Meltio stands out for creating robust, reliable, and user-friendly technology with superior mechanical properties, says the company. Significantly, this technology can be effectively utilized in both operational or remote areas, enabling on-demand manufacturing or repair of metal parts.
"This is a technology with a very robust capability for fabrication and for near net shape part production. It offers a very valuable approach that uses standard welding wire that is already available in U.S. Department of Defense manufacturing environments, a coil of wire can be made into a near net shape for any part, thus avoiding the need for large stocks of shapes/forms/sizes of raw material," says the U.S. DoD.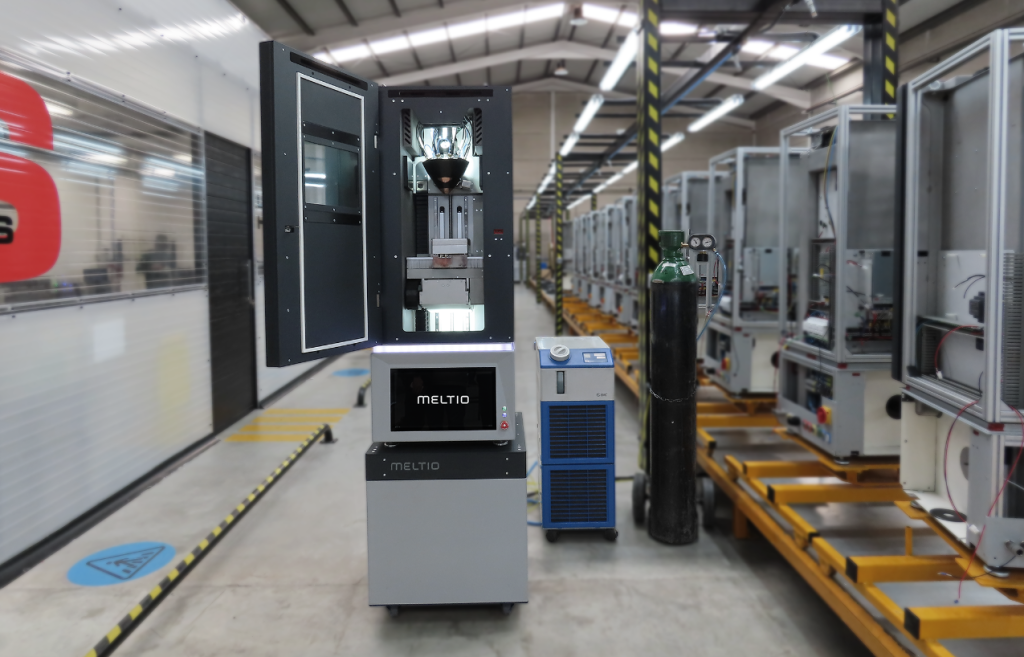 Military sector gets stronger with metal 3D printing
In February of this year, Australian large-format 3D printer manufacturer AML3D announced the sale of a significant industrial ARCEMY 'X-Edition 6700' Wire Arc Additive Manufacturing (WAAM) metal 3D printing system as part of its past US market entry strategy. The sale aimed to support the US Navy's implementation of WAAM technology, which played a crucial role in efficiently increasing the supply of components for the US Navy's submarine industrial base. The purchase was made by BlueForge Alliance, an intermediary for the US DoD, with the intention of accelerating advanced manufacturing techniques within the US defense industrial base.
US Navy installed its first Phillips Additive Hybrid metal 3D printing solution on board the USS Bataan ship, representing a collaboration between Meltio and Haas. This system integrated Meltio's laser metal deposition technology with Haas CNC vertical machining centers, enabling better control and regulation for onboard milling operations. Rear Adm. Brendan McLane, the Commander of Naval Surface Force Atlantic, expressed appreciation for the introduction of additive manufacturing into naval operations, noting its potential in "enhancing readiness and self-sufficiency."
What does the future of 3D printing for the next ten years hold?
What engineering challenges will need to be tackled in the additive manufacturing sector in the coming decade?
To stay up to date with the latest 3D printing news, don't forget to subscribe to the 3D Printing Industry newsletter or follow us on Twitter, or like our page on Facebook.
While you're here, why not subscribe to our Youtube channel? Featuring discussion, debriefs, video shorts, and webinar replays.
Are you looking for a job in the additive manufacturing industry? Visit 3D Printing Jobs for a selection of roles in the industry.
Featured image shows Meltio's team at the xTechInternational program. Image via Meltio.