Australian large-format 3D printer manufacturer AML3D has disclosed the sale of a large-scale, industrial ARCEMY 'X-Edition 6700' Wire Arc Additive Manufacturing (WAAM) metal 3D printing system in line with its US market entry strategy to assist the US Navy's advancing implementation of WAAM technology.
According to the company, WAAM is vital for quickly ramping up the supply of components to the US Navy's submarine industrial base. BlueForge Alliance, a US Department of Defense intermediary placed the ARCEMY order aiming to assist the acceleration of advanced manufacturing techniques throughout the US defense industrial base.
"This sale is a significant opportunity for AML3D, as it is part of a long-term strategic partnership with the US Navy helping them scale up submarine production with advanced additive manufacturing technology. This opportunity with the US Navy and the Submarine Industrial Base aligns with ALM3D's strategy of focusing on ARCEMY product sales, especially in the US maritime and defense sectors. I look forward to providing further updates as we deepen our presence and partnerships in the US," said Ryan Millar, CEO of AML3D.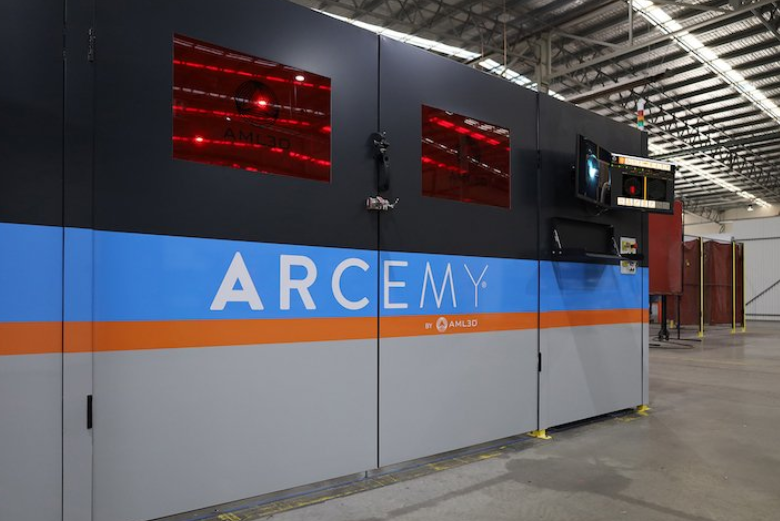 How will the sale of this system take place?
The ARCEMY 'X-Edition 6700', AML3D's most comprehensive ARCEMY system, is worth approximately AUD$1.0 million (US$697,800) and is payable upfront as well as upon meeting shipment and implementation milestones. The supply, shipping, installation, and commissioning of the device will begin upon receipt of the 'Authority to Proceed' from BlueForge and will be accomplished early this year.
An extra contract for metal characterization testing employing AML3D's ARCEMY systems for the provision of components to the industrial base is anticipated in Q3 to further expand AML3D's strategic alliance with the US Navy.
The ARCEMY system will be housed at Tennessee's Oak Ridge National Laboratory, the largest science and energy laboratory in the US Department of Energy system and a key partner for the US Navy as well as other US international tier 1 customers. The sale of the ARCEMY 'X-Edition 6700' system directly lines up with AML3D's strategy to boost growth through ARCEMY sales, with a focus on the maritime and defense sectors in the United States, says the company.
"AML3D is excited to support the US Navy's submarine industrial base programs for the adoption of advanced manufacturing technologies with an ARCEMY 'X-Edition 6700' system, our large-scale, industrial purpose solution," added Millar.
Is metal 3D printing advancing the defense sector?
Recently, the US Navy implemented its first Phillips Additive Hybrid metal 3D printing solution on board powered by metal 3D printer developer Meltio and Haas. The Phillips Additive Hybrid powered by Haas is combined with Meltio's laser metal deposition technology along with Haas CNC vertical machining in centers that control the mill on the USS Bataan ship. Rear Adm. Brendan McLane, the Commander, of Naval Surface Force Atlantic, said, "The introduction of additive manufacturing (AM) into naval operations supports readiness and self-sufficiency."
Furthermore, SLM Solutions, a Laser Powder Bed Fusion (LPBF) systems manufacturer, announced plans to construct the "world's largest" metal 3D printer for the US Air Force (USAF). Concurrent Technologies Corporation (CTC) had subcontracted SLM Solutions to build a 1.5-meter Z-axis version of its NXG XII 600 3D printer. The CTC believes that by developing the 'NXG XIIE,' it will be possible to "conquer the limits of existing additive manufacturing equipment" when it comes to producing long parts with crucial defense applications.
What does the future of 3D printing for the next ten years hold?
What engineering challenges will need to be tackled in the additive manufacturing sector in the coming decade?
To stay up to date with the latest 3D printing news, don't forget to subscribe to the 3D Printing Industry newsletter or follow us on Twitter, or like our page on Facebook.
While you're here, why not subscribe to our Youtube channel? Featuring discussion, debriefs, video shorts, and webinar replays.
Are you looking for a job in the additive manufacturing industry? Visit 3D Printing Jobs for a selection of roles in the industry.
Feature image shows ARCEMY X-Edition 6700 by AML3D. Image via AML3D.