Australian large-format 3D printer manufacturer AML3D has announced a contract extension to continue Nickel-Aluminium-Bronze (NAB) alloy characterization and strength testing to support the US Navy's submarine program. This builds on the positive results of the company's initial NAB alloy testing contract signed in March 2023.
This contract extension serves to further demonstrate that AML3D ARCEMY 3D printed alloys meet the specific standard required to supply the US Navy's submarine program. This deal aligns with ALM3D's ongoing strategy to embed ARCEMY metal 3D printing technology into the US Navy's submarine industrial base.
"We are excited to continue NAB alloy characterization and strength testing to support adoption of AML3D's ARCEMY metal 3D Printing technology within the US Defence sector. This contract is further evidence of delivery against our US scale up strategy and the ongoing development of a long-term, strategic partnership with the US Navy's submarine industrial base," commented Sean Ebert, AML3D's interim CEO.
"This second NAB alloy testing contract comes at a time of heightened interest in the potential of advanced manufacturing technologies to help meet increasing demand driven by the AUKUS alliance. AML3D's continuing success in the US means we are increasingly well positioned to access the opportunities that will be created, as a result of the AUKUS Alliance, in the Defence markets of the US and its partners, Australia and Britain."
Details of the contract extension
The contract extension is worth around $280,000 USD ($370,000 AUD), and was signed with BlueForge Alliance. This nonprofit, neutral integrator works to support the strengthening and sustainment of the US Navy's submarine industrial base, including through the development of Advanced Manufacturing technologies.
Testing will commence immediately at AML3D's Adelaide-based facility, and will be conducted over a period of 8-10 weeks.
Ongoing efforts to integrate ARCEMY into the US military
AML3D's ARCEMY systems are designed to 3D print industrial-scale components on-demand, at or near the point of need. This contract extension builds on the successful completion of AML3D's first alloy characterisation and testing program to support the US Navy's submarine industrial base, signed in March 2023.
Valued at approximately $264,300 AUD, this initial contract marked an expansion of the company's US Market scale-up strategy. AML3D claims that the extension of this contract demonstrates continuing momentum in its US scale-up strategy, with the US being the company's most important growth market.
Additionally, it was announced earlier this year that AML3D had completed the sale of a large-scale, industrial ARCEMY 'X-Edition 6700" Wire Arc Additive Manufacturing (WAAM) metal 3D printing system to assist the US Navy's implementation of WAAM technology. Said to be vital for quickly ramping up the supply of components to the US Navy's submarine industrial base, this WAAM system is AML3D's most comprehensive ARCEMY system. This 3D printer is currently being housed at Tennessee's Oak Ridge National Laboratory, and is worth approximately $1.0 million AUD.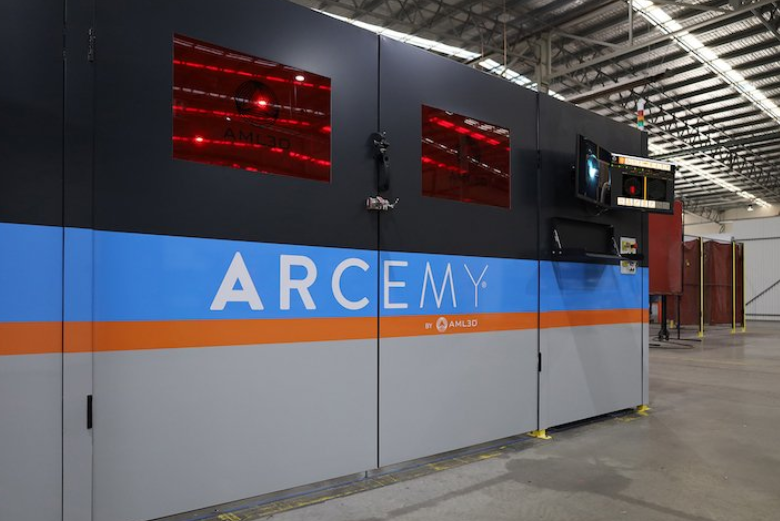 Metal 3D printing and the defense sector
The use of metal 3D printing is certainly gaining traction within the defense sector. Last month it was announced that metal 3D printing company Meltio had been recognized as a "strategic technology partner" by the US Department of Defense (DoD) for its metal 3D printing technology. This recognition is said to have strengthened Meltio's relationship with the US Army, opening up further opportunities within the DoD and military agencies worldwide.
Furthermore, in January 2023, the US Navy announced that it had installed its first Phillips Additive Hybrid metal 3D printing system onboard the USS Bataan. This Additive Hybrid system incorporates a Meltio wire-laser metal deposition head on a Haas TM-1 computer numerical control mill, and is capable of both additive and subtractive manufacturing. "The introduction of additive manufacturing into naval operations supports readiness and self-sufficiency," commented Rear Adm. Brendan McLane, the Commander of Naval Surface Force Atlantic.
Subscribe to the 3D Printing Industry newsletter to keep up to date with the latest 3D printing news. You can also follow us on Twitter, like our Facebook page, and subscribe to the 3D Printing Industry Youtube channel to access more exclusive content.

Are you interested in working in the additive manufacturing industry? Visit 3D Printing Jobs to view a selection of available roles and kickstart your career.

Featured image shows the interior side of AML3D ARCEMY industrial metal 3D printer. Photo via AML3D.