The winners of the 3D Pioneers design challenge (3DPC) have been announced. The challenge showcases the latest innovations in 3D printing design.
The seven different winners shared a 15,000 euro prize pot over the five categories and were given the awards at the Rapid.Tech + FabCon 3.D conference in Messe Erfurt. Elsewhere at the conference, German company Additive Elements won a start-up award as it launched its AE12 binder jetting material.
Here is a roundup of the winning designs from the annual competition.
Design Category – Project T.O.S.T. (Topology Optimized Skateboard Trucks)
Philipp Manger, and Ernst-Abbe-Hochschule Jena from the University Weimar picked up the best design award at the awards ceremony. The project was also named best student project and was subsequently awarded 3,000 euros and a MakerBot Replicator Mini+.
The T.O.S.T design makes use of topology optimization for weight-saving internal geometries. Inspired by Back to the Future the jury commented,
It's so lightweight, that even Marty McFly could hover on it.
Event Category – PRINT A DRINK
Benjamin Greimel from the new laboratory for creative robotics of the University of Arts and Design Linz, Austria took home the award in the events category. His design is for a 3D liquid printing method which is referred to as the "world`s first 3D printing process for drinks and other liquid foods." The PRINT A DRINK design is enabled by a KUKA robotic arm which injects microliters of edible liquid into a drink to form 3D patterns.
The design seems to have parallels with the Rapid Liquid Printing method developed at MIT. However Greimel's concept is intended for much smaller, edible designs with large potential for the events industry. For example, the process could be used to create company logos for guests.
MedTech Category – RIG3D and Mecuris' cervical orthosis 'Emydura'
In the MedTech category there were two winners, Mecuris and Niklas Haman. Mecuris, who are well-known for their 3D printed foot prosthesis, were praised for their cervical device – Emydura. The German group were also award-winners in last year's Purmundus challenge. This year, Mecuris designed a 3D printed bespoke neck brace which is both lightweight and structurally sound.
While Niklas Haman received acclaim for his RIG3D 3D printed medical cast. The RIG3D is custom to its user and can be adapted for specific injuries.
The two winners were both awarded 2,000 euros for their designs.
Material Category – Palmyra Rebuilt and Salt Coral
There were two winning designs in the material category: Palmyra Rebuilt and Salt Coral. The two projects were both designed by Eric Geboers and Matteo Baldassari of Dutch group CONCR3DE.
Using a special stone material, CONCR3DE 3D printed the Palmyra arch which was destroyed by ISIS in 2015. While for the coral lamp design, CONCR3DE used inket printing with salt. CONCR3DE was praised by the jury for its use of locally sourced materials.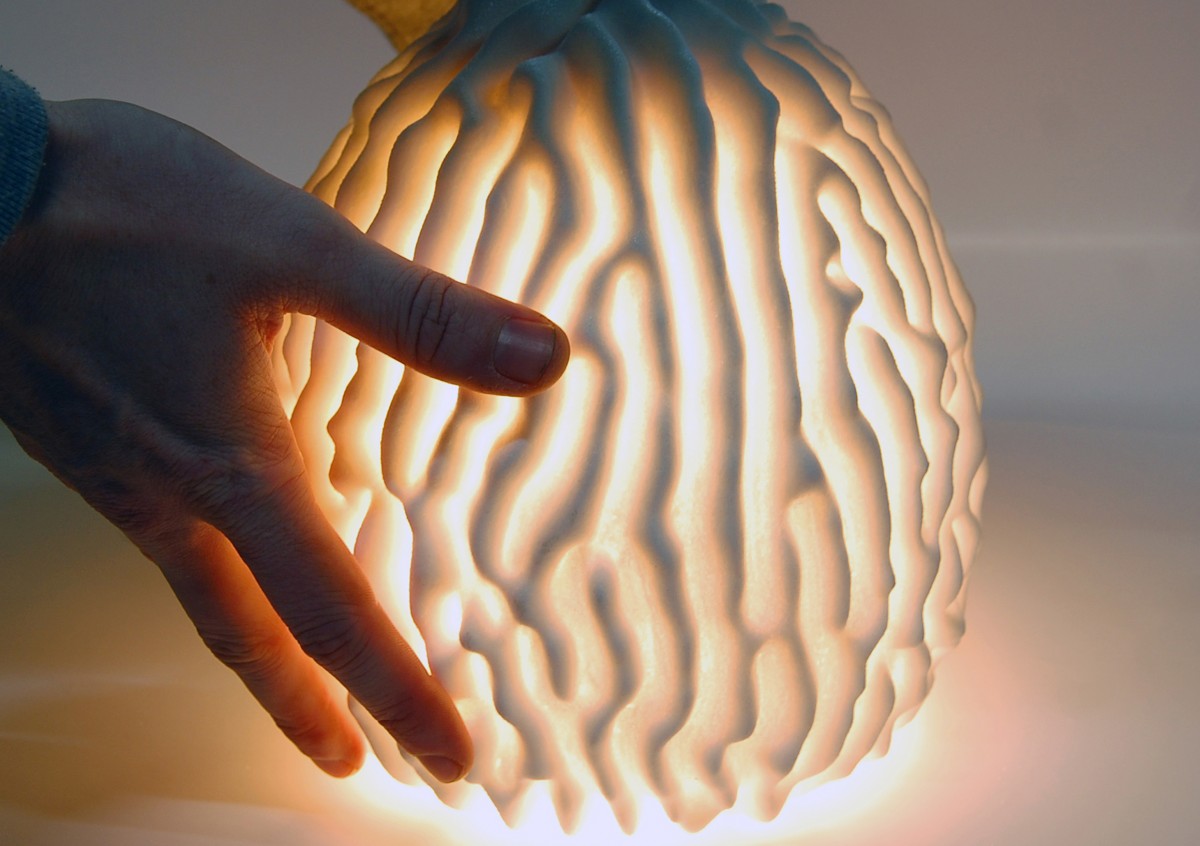 FashionTech Category – Programmable Textiles
Ronny Haberer and Patrick Bösch from the Bauhaus University Weimar won this category for their Programmable Textiles design. The duo were recognized for their 4D printing design which harnesses stretched fabric and an unwrapping software.
For all the latest 3D printing news, subscribe to the most widely read newsletter in the 3D printing industry, follow us on twitter and like us on Facebook.
Featured image shows the PRINT A DRINK process using a KUKA robotic arm. Image via Philipp Moosbrugger.