Nominations for the 3D Printing Industry Awards close in just over one week, so it's your last chance to get your favorite 3D printing, 3D scanning, and all other related technology enterprises and innovations into the shortlist. All you need to do is follow this link.
Since we announced our 3D Printing Industry Awards, selected by and voted for by the 3D printing community, we've been amazed at the response from our readers. We have nominees ranging from automotive to makers and from medical & dental to aerospace. We've seen nominations for 3D printing materials, 3D scanning, 3D design software and the academic research that makes innovation possible.
There are 20 categories in the 3D Printing Industry Awards, but you can nominate a name for just one category, all categories, or in any number in-between.
We'll be running longer profiles of the categories and companies involved, but here we take a look at a small sample of the 3D Printing Industry Awards so far.
Desktop 3D printer of the year
Competition is fierce in the battle of the 3D printers. Manufacturers like Formlabs, Lulzbot, Zortrax, Prusa and MakerBot are all going head to head for 3D printer of the year.
We've also seen nominations for Ultimaker, Zmorph, Raise3D, Robo3D, BCN3D, Moonray, Flashforge, Polaroid, and many more.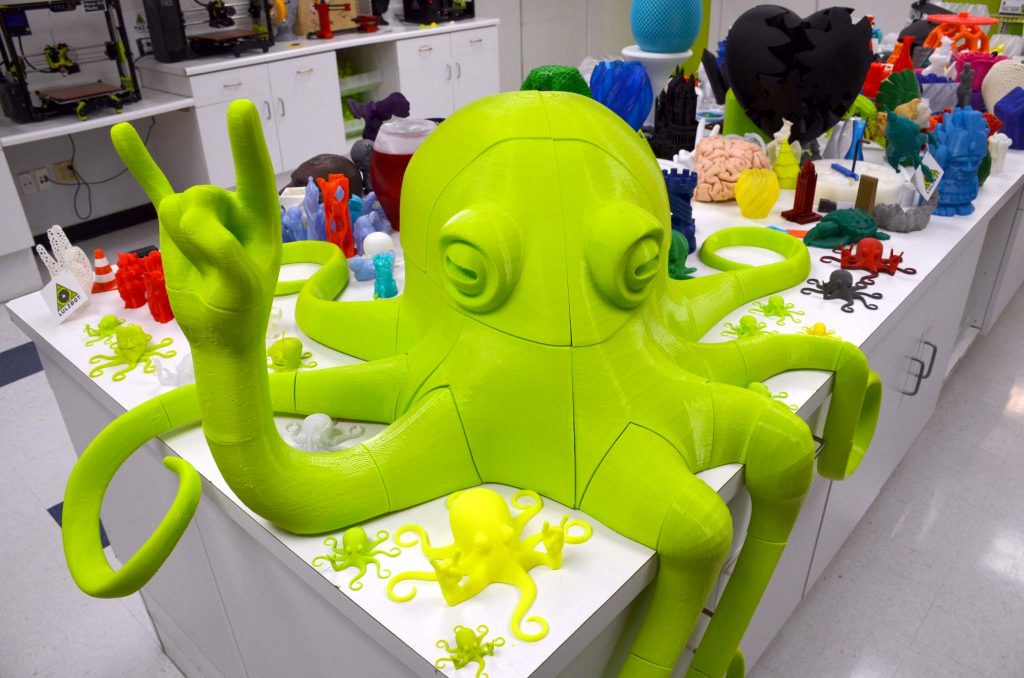 Industrial 3D printer of the year
Taking it up another notch to the Industrial 3D printer category, Mcor has nominations for their ARKe model, and Carbon for the M1 3D printer.
Additionally, the EOS M290, Stratasys Fortus 450 and Stratasys J750 enter the fray.
Other 3D printers with nominations are: 3D Systems ProJet MJP 2500, Sinterit Lisa, the EnvisionTEC Vector HiRes, DWS DW030X, HP MJF 3200 (MultiJet Fusion), Markforged Metal X, Optomec LENS® Hybrid Controlled Atmosphere System for 3D Printed Metals, EBAM System from Sciaky, Inc. and the full range of BigRep, Trumpf and Voxeljet 3D printers.
If you think we're missing anyone, make nominations here.
3D printing material of the year
The materials used can make the printer. Favorite filaments, resins, and metals have variously been put forward for their high-grade quality; as in Stratasys' ULTEM thermoplastic, and the raw materials they are made from; such as the algae-based PLA from ALGIX3D. 
High resolution DWS DL260, Formlabs Tough Resin and Carbon resins have all been nominated. Makerbot, EnvisionTEC and MeltInk all have 3D materials nominations too. The list continues with too many to name, including: Proto Pasta, ColorFabb, Taulman3D Nylon 910, Polymaker, Porcelite by Tethon3D, Treed filament and MatterHackers NylonX.
We're still looking for more materials that the 3D printing community use at home or at work, so put their names forward here.
3D printing company of the year
Split into separate categories for industrial and desktop companies, our nominations for 3D printing company of the year have hit on an international scale that reflects the 3D printing industry landscape in 2017.
Industrial 3D printing companies nominated include: Materialise, EnvisionTEC, BigREP, MCor, Stratasys, HP, WASP, Nano Dimension, Renishaw, Arcam, Concept Laser, Wolf Robotics, Sodick, EOS, Fabrisonic, Sciaky, Rize3D, Sculpteo, Autodesk, Dassault Systèmes, DMG Mori, SLM Solutions, Methods Machine Tools, ExOne, Sodick and a long list of other companies.
Some of the companies also feature in 3D printing for the desktop, but the new additions include: Hawk 3D, Robo 3D, ZMorph, Tevo, Prusa Research, Aleph Objects, BCN3D, Raise3D and Afina.
This is just a small sample of the number of companies, enterprises and individuals nominated so far. As mentioned we've really been impressed with the response so far and we're looking forward to bringing you more news about the 3D Printing Industry Awards soon.
Shortlist released mid-February
3D Printing Industry Awards nominations officially close at 10:00 PM ET Wednesday 15th February 2017.
We can't wait to celebrate with the community's best of the 3D printing industry at our event on the April 22nd 2017. Stay up to date on the nominations and sign-up to the 3D Printing Industry newsletter here. You can also follow 3D Printing Industry on Twitter, or like us on Facebook.
Make your nominations for the 1st Annual 3D Printing Industry Awards here.