Our series to celebrate the 10th Anniversary of RepRap continues with 3D printing insights from BCN3D Technologies.
Roger Uceda is the founder of BCN3D Technologies, a division of the non-profit CIM-UPC foundation. In 2010, work began on developing a 3D printer at the research lab of the Barcelona Tech university, this project would later grow into the venture known as BCN3D Technologies.
BCN3D has continued to adhere to Open Source principals by publishing design files for their 3D printers, most recently the BCN3D Sigmax. In this article Roger Uceda gives insights into the beginnings of BCN3D and the benefits of Open Source.
Michael Petch: How would you describe the importance of the RepRap project?
Roger Uceda: BCN3D Technologies was born in CIM-UPC, a technological center of the Technical University of Catalonia – Barcelona Tech. CIM-UPC has used SLA, FDM and SLS 3D printers since 1997 and provides 3D printing prototypes to industries across Europe. Before 2007, we had the feeling that the technology was stagnant. With the arrival of the RepRap project thanks to Dr. Adrian Bowyer, thousands of people were able to redefine the 3D printing technology from scratch, making it accessible to everyone.
With all the knowledge generated, companies such as MakerBot, Ultimaker and BCN3D Technologies were able to develop 3D printers with FFF technology. Working in isolation and with only their own resources, this wouldn't have been possible. Some companies, like BCN3D, have continued to respect the Open Source license because we believe in the advantages that it has, while others do not.
It was not until the explosion of the RepRap movement that other corporations saw the business possibilities that 3D Printing can provide. Whether in the field of thermoplastics, resins, metals, ceramics, bioprinting, etc.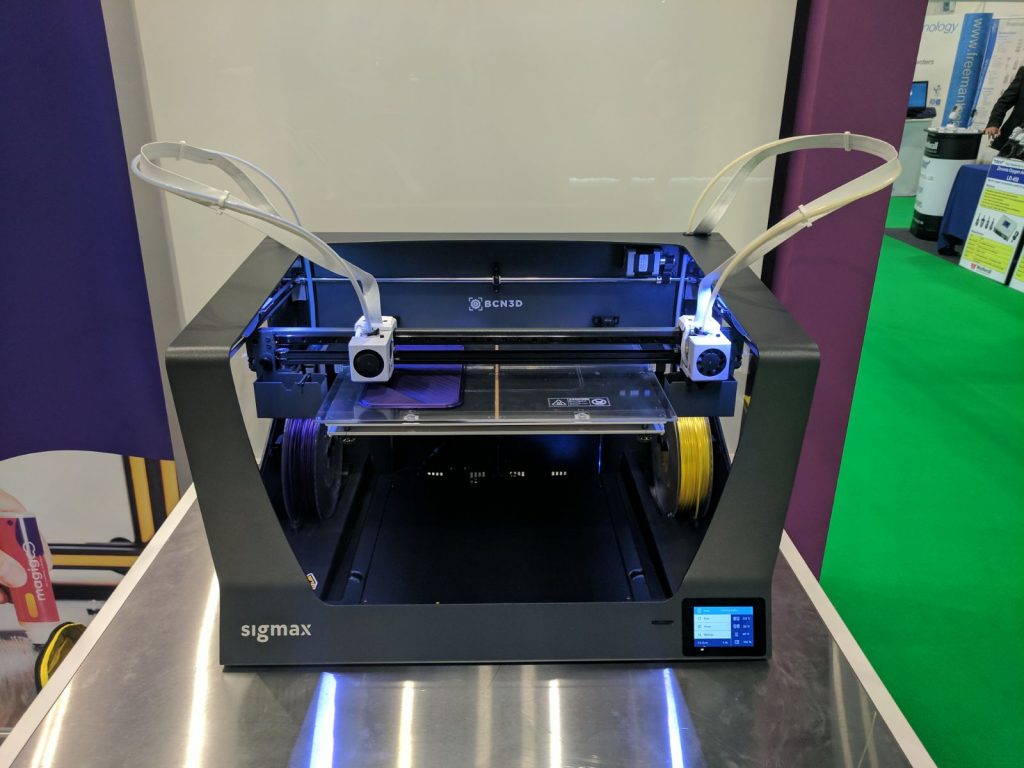 Michael Petch: How does RepRap relate to you now?
Roger Uceda: In 2010 we hosted a Portuguese student called José Miguel Abreu thanks to a Leonardo internship. He built the first Mendel 3D printer we had. Because CNC machines and industrial-grade 3D printers were available at CIM-UPC, in less than two weeks we had a functional 3D printer working at our facilities.
Although the print quality was very poor, compared to what our SLS or SLA machines could print, we believed that the project had a lot of potential and we adhered to it. It was then that we decided to create RepRapBCN, now BCN3D Technologies, with the aim of developing, manufacturing and commercializing Open Source 3D printers, and helping users to exploit their potential. Quickly, everything related to hardware, software and printing materials began to grow by leaps and bounds. For example at the beginning of 2012 we published a comparison between our EUR660 Mendel and the EUR500k 3D Systems SLA-7000 industrial 3D printer at our lab.
The 3D printing community was also evolving and proposing new innovations. In 2013, we saw the work of Buildrob, an Australian user of Thingiverse, who had developed a Dual X-Carriage for his Bukobot Duo printer. The advantages of this dual extrusion system were obvious from our point of view, so we decided to develop our BCN3D Sigma adopting this system and giving it the name of IDEX (Independent Dual Extruder). The success of BCN3D is largely due to the RepRap project, and to an anonymous user of the Open Source community. No matter how hard you work, being in an open source community multiplies your efforts exponentially.
Michael Petch: What is your perspective on the state of Open Source in 2018 and is there still a need for OS projects?
Roger Uceda: Although the explosion of new companies basing their business on cloning Open Source technology seems to jeopardize Open Source business models, we are seeing both the community and companies that practice open hardware are healthier than ever before.
In the imminent future we will see open hardware companies within the world of 3D printing, creating relationships, not only based on the exchange of knowledge but on strategies that go a step further. Such large partnership projects will take Open Source 3D printing a step further, being able to compete not only in the 3D printing desktop sector, but also in the professional 3D printing sector.
Finally, 3D printing is a tool. For the end user, it may be useful to know how a tool works, but what it really needs are Open Source projects related to what the tool can do. In recent years we have seen the birth of large Open Source projects that have definitely impacted the lives of many people: prostheses, custom insoles, robots, drones, etc. Beyond what the project provides, they are also a source of knowledge for future creators. Participating in any of these projects enables a person to apply open innovation in any other field.
Michael Petch: What are some of the key developments in 3D printing during the past decade?
Roger Uceda: We are currently working on different research projects at the CIM-UPC in the field of bioprinting and 3D printing of ceramic materials. All these systems, as well as the food printers that we can find today in the market, are based on a development made by Richard Horne, better known as RichRap.
In 2012, Richard developed an extrusion system for pasty materials in syringes and adapted them to be used in a RepRap type MendelMax printer.
Thanks to the impact of the article posted on his blog, several companies, individuals and research centers would adapt this innovation in fields as diverse as architecture or biology.
Michael Petch: What is 3D printing currently missing, what would you like to see?
Roger Uceda: During my industrial experience in the automotive world, I was able to verify that there is no magic process by which a piece can be manufactured, but a concatenation of manufacturing processes, which one by one give shape and properties to a or several pieces, which are finally assembled in a more complex final product.
The hype of 3D printing is based on the fact that in the future, it will become a unique manufacturing process that will respond to all the geometric and functional specifications of a product.
The 3D printing market needs to be more open the point of view and see what is the potential of 3D printing in combination with other manufacturing processes, whether additive, subtractive, thermal, chemical, etc.
I would like to see the integration of additive manufacturing processes in manufacturing lines coexisting in perfect harmony with other manufacturing processes. Personally, I do not believe in the technical and economic feasibility of a factory that only works with 3D printers, just as I do not want any factory without 3D printers.
3D Printing Industry celebrates the 10th Anniversary of RepRap
Our series to celebrate the 10th Anniversary of RepRap will continue with more interviews and insights from those involved in the early days of the project.
Make sure you don't miss the upcoming interviews with the RepRap pioneers, subscribe to the 3D Printing Industry newsletter and follow us on social media.
Want to work in additive manufacturing or looking for a 3D printing job? Sign up for our free jobs service now.
Featured image shows Roger Uceda BCN3D Technologies Founder. Photo via el Mundo.