May 17-19 marked 2017's Exponential Manufacturing Summit held in Boston, MA. As an event focused on the rapid progress of technology, 3D printing and additive manufacturing featured heavily in presentations, including seminars from representatives of Autodesk, America Makes, Carbon, Local Motors and GE.
In this article, 3D Printing Industry take a look at some of the highlights, including predictions from Ray Kurzweil, and views of the additive future from Leanne Gluck of America Makes.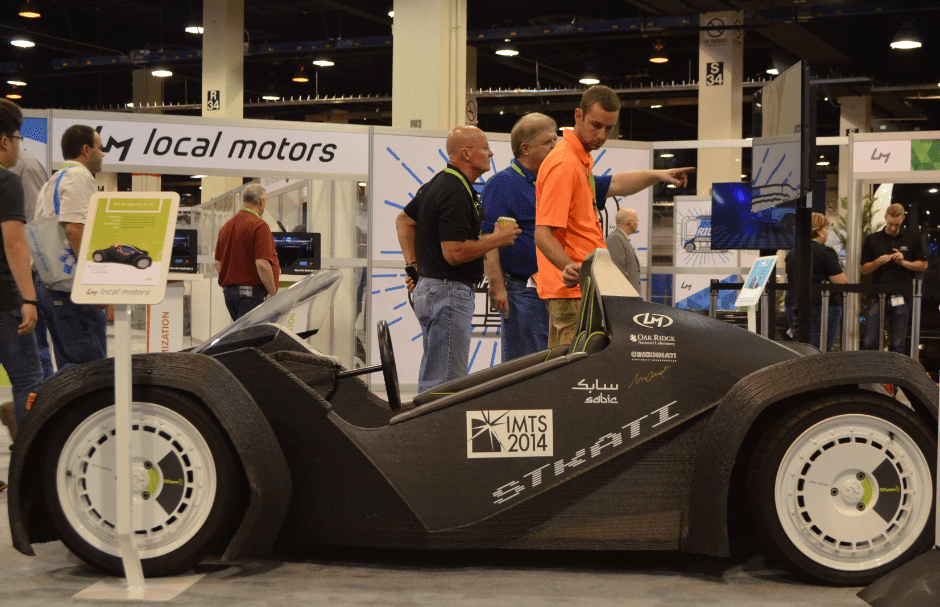 A silicon valley think tank
The Exponential Manufacturing Summit is an event held by Singularity University. Founded in 2008 at the NASA Research Park, CA, the university's aim is to inspire adoption of and innovation in new technologies such as artificial intelligence (AI), nanotechnology, robotics and 3D printing.
Futurist Ray Kurzweil is the co-founder and chancellor of the university and has authored a number of books on the subject of exponential technologies. This includes the title The Singularity Is Near that details Kurzweil's predictions on the future of AI. As previously reported on 3D Printing Industry, Kurzweil has also shared some of his visions for the future of 3D printing, such as,
By 2020 there will be a whole host of product available immediately to buy for pennies on the dollar and to print straight away. It will become the norm for people to have printers in their homes.
In his opening speech at Exponential Manufacturing, the chancellor spoke about how "health and medicine is transforming into an information technology" touching on stem cell research that can be used to fix the human heart and other organs.
"The true benefits of additive"
Leanne Gluck, Deputy Director of Workforce and Educational Outreach at America Makes, spoke specifically on the exponential quality of additive manufacturing.
Using a 3D printed chassis with computer generated design as an example, Gluck explains,
My theory is that the true benefits of additive will really happen when we start to design things that look radically different that things that we've ever created before.
Adding that,
When you think about how you might use additive in your companies, the first thing to think about is not about "What part am I going to produce?" Or "How am I going to produce this part?" It's about "What capabilities am I going to develop?"
Reebok, Autodesk, Local Motors and more
Other keynote speeches included Disrupting an Entire Industry from the CEO & co-founder of 3D printed car manufacturers Local Motors, The Liquid Factory from Bill McInnis VP Reebok Future for 3D printed sneakers, and a discussion on the topic of 'Attracting & Fostering Innovation' by a panel featuring Sarah Hodges, Director of Construction Business Line at Autodesk.
In addition to keynote speeches, the summit hosted an Innovation Lab as a networking opportunity between startups, investors and other visitors. Set up in partnership with GE Ventures, the lab saw the participation of companies such as Optomec, Tulip, Formlabs, and software company, PTC that has collaborated with 3D Systems to bring IoT intuitive controls to its machines.
For more of the latest 3D printing related events news sign up to the 3D Printing Industry newsletter, like us on Facebook and follow us on Twitter.
Featured image: Exponential Manufacturing Summit logo. Image via xmanufacturing on Facebook