3D printing retailer iMakr has announced the addition of OR Laser's ORLAS CREATOR to their growing range of additive manufacturing solutions.
The ORLAS CREATOR was first unveiled at Formnext 2016, and generated a substantial amount of interest – initially due to the low-price point when compared to existing metal 3D printing systems.
Eric Savant, iMakr CEO, said, "The ORLAS CREATOR is a disruptive technology that brings true metal 3D printing to wider audience."
"Adding metal to our portfolio is part of a concerted effort to meet the requirements of the professional and industrial users of 3D printing."
Affordable metal 3D printing
While OR Laser has 20 years of experience working with laser machines and professional laser equipment, the ORLAS CREATOR is their first SLM-based metal 3D printer.
The German engineering company says the "unique circular building platform design enables up to 30% faster production speeds compared with comparable platforms."
"These speeds are facilitated by a proprietary, rotation-led precision coater blade. A 250 W fibre laser provides exceptional beam quality and power stability. This guarantees optimum and consistent processing conditions in order to produce the highest quality parts."
Powered by a 250 W Yb fibre laser the ORLAS CREATOR can 3D print metals including stainless steel, tool steel, cobalt chrome, nickel based alloys, titanium and precious metals.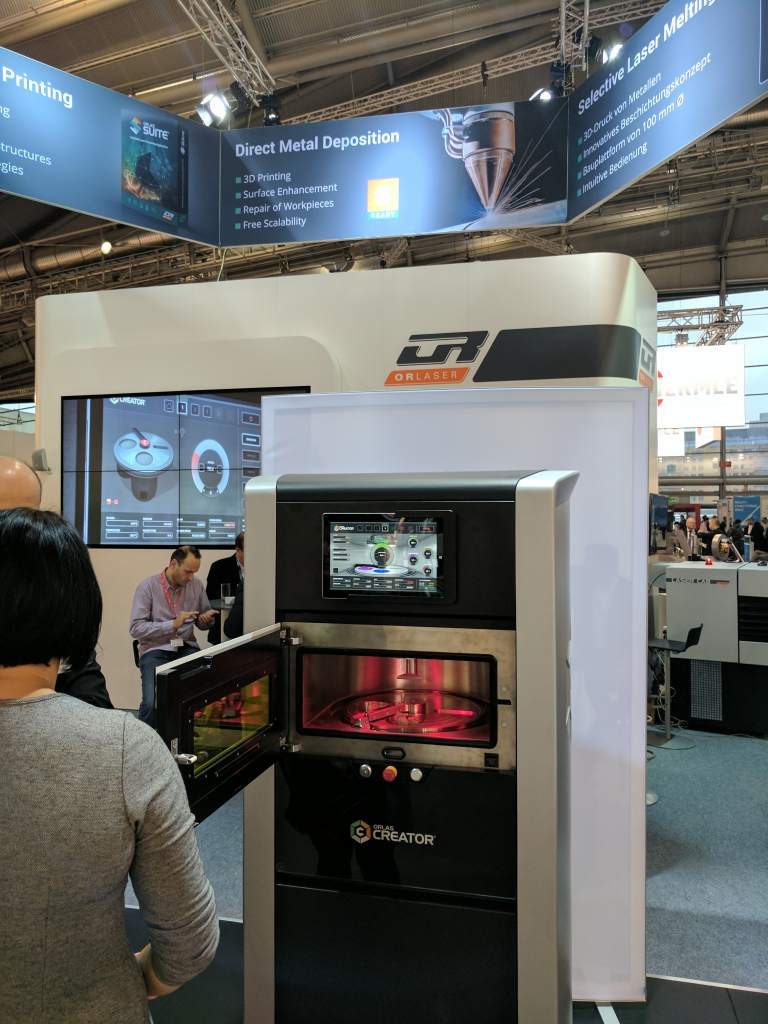 iMakr expands 3D printing solutions for end users
With this latest addition to the iMakr portfolio, the international reseller now offers clients 3D printing solutions for every material class – whether ceramic, polymer or metal. The company also offers all major 3D printing technologies with FDM, SLA, SLM and SLS available.
For engineering applications that require higher grade thermoplastics such as PEEK there is the INTAMSYS Funmat. 3D printing for dentistry is covered by Asiga, Miicraft and DWS. Professional FDM 3D printers include hardware from Raise 3D, Zortrax and BCN. For the jewelry market the B9 Core and XFAB SLA 3D printers are offered. 3D printing with ceramics can be done using the WASP Delta 3D printer. SLS 3D printers at iMakr include the recently added Sintratec SLS 3D printers.
3D scanning brands available include Faro, Artec and Shining. 3D printing materials include Verbatim, Floreon, ColorFabb, Formfutura, Ninjaflex and many more. Customers can shop online or collect orders at their 3D printing store locations in New York or London – where free training courses are also available.
Building this portfolio has understandably taken time. I asked CEO Eric Savant about this aspect. "Our engineering team at iMakr has probably tested the widest range of 3D printers in the world."
iMakr will present the ORLAS CREATOR at next week's World's Top 50 Innovators from the Industries of the Future event in Central London.
Speakers include the CTO of Artificial Intelligence at Intel, Rolls-Royce Head of Future Technologies and NASA's Chief Technologist. 3D Printing Industry is the official media partner and will be reporting from the event.
Technical specifications and pricing for the ORLAS CREATOR are available here.
For all the latest news, sign up to the 3D Printing Industry newsletter, and follow us on social media via Facebook or Twitter.