Texas 3D printing firm ICON has revealed plans to build what it claims will be the largest community of 3D printed homes to date in Austin, Texas.
Partnering with a leading US homebuilder Lennar and architecture firm BIG-Bjarke Ingels Group, ICON will deploy its 3D printing robotics technology, software, and advanced materials to construct the homes, which are slated to break ground next year.
The project comes off the back of Lennar's investment in ICON's recent $207 million financing round, in a bid to deliver more affordable, technology-driven homes to meet the region's rising housing demand.
"Labor and material shortages are two of the biggest factors pushing the dream of home ownership out of reach for many American families," said Eric Feder, President of LENX, the investing arm within Lennar. "Lennar has always expanded the boundaries of technological innovation to keep quality homes affordable and 3D printing is an immensely encouraging approach.
"We are excited to collaborate with ICON to develop solutions to emerging challenges in the coming years."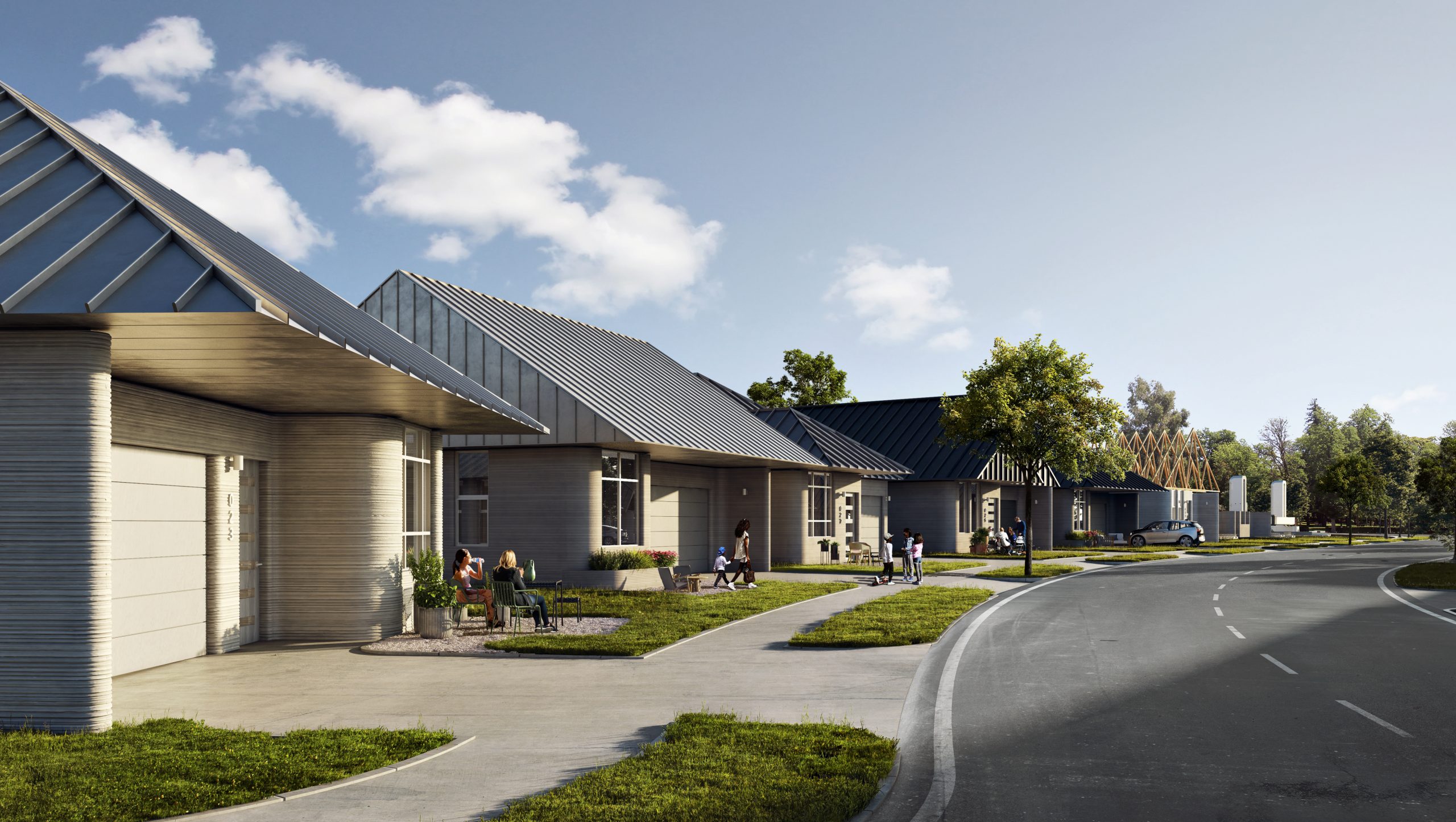 ICON's 3D printing construction technology
Using its proprietary Vulcan 3D printer, ICON has so far built more than two dozen homes in the US, and plenty more abroad. One such project includes partnering with non-profit New Story to build a Latin American community of 3D printed houses back in 2019.
The firm has also worked with the US military to demonstrate the military applications of 3D printing, having constructed a 3D printed barracks to house troops during training. ICON has found applications for its construction technology within aerospace, too, having produced the "world's first" 3D printed lunar launch pad earlier this year, alongside working with NASA to create a simulated martian environment and an off-world construction system leveraging its technology.
An upgraded "next-generation system" of the Vulcan was announced earlier this year, effectively enabling the faster and more flexible construction of homes compared to conventional building methods.
With a larger build volume and print speed of 5-10″ per second, ICON's new machine is twice as fast as its predecessor, and capable of printing structures up to 3,000 square foot in size. The machine's improved capabilities have allowed the firm to address more ambitious applications over the past few months, including the construction of four multi-storey buildings in East Austin which it has since listed on the US housing market.
From dozens to hundreds of homes
ICON's latest project, the 100-home community, will commence in 2022 with the goal of building the largest community of 3D printed homes to date.
BIG-Bjarke Ingels Group will co-design the homes, while ICON will 3D print the buildings' first floors using its Vulcan 3D printer and proprietary Lavacrete material, which combines typical Portland cement with advanced additives to help it survive extreme weather. The air space between the interior and exterior concrete 3D printed walls will be injected with spray foam insulation in order to provide a comfortable environment for residents.
Once ICON has 3D printed the first floor of a home, the finishes will be completed by Lennar using traditional wood-frame construction techniques. According to ICON Co-founder and CEO Jason Ballard, ICON is seeking to respond to the global housing crisis by increasing the supply of homes while improving sustainability within the construction sector.
"Construction-scale 3D printing not only delivers higher-quality homes faster and more affordably, but fleets of printers can change the way that entire communities are built for the better," he said. "The US faces a deficit of approximately five million new homes, so there is a profound need to swiftly increase supply without compromising quality, beauty, or sustainability, and that is exactly the strength of our technology."
ICON hopes that 3D printing will enable the new homes to be built cheaper and faster than conventional construction methods would allow. Currently, ICON can 3D print the first floor of one home in about a week.
"It is an honor and a huge milestone for ICON to partner with Lennar, an elite top-tier homebuilder with a commitment to innovation," Ballard continued. "We believe this will be a watershed moment in the history of community-scale development and the future breaking into the present."
Martin Voelkle, a Partner at BIG-Bjarke Ingels Group, also believes 3D printing has the potential to "revolutionize the built environment" as the construction sector continues to adopt the technology at scale.
"By partnering with ICON and Lennar, we are able to see this new technology roll out to the widest possible audience," he added. "The 3D printed architecture and the photovoltaic roofs are innovations that are significant steps towards reducing waste in the construction process, as well as towards making our homes more resilient, sustainable, and energy self-sufficient."
Subscribe to the 3D Printing Industry newsletter for the latest news in additive manufacturing. You can also stay connected by following us on Twitter and liking us on Facebook.
Looking for a career in additive manufacturing? Visit 3D Printing Jobs for a selection of roles in the industry.
Subscribe to our YouTube channel for the latest 3D printing video shorts, reviews and webinar replays.
Featured image shows a render of what the 100-home community will look like at street level. Image via ICON.