Texan construction company ICON has revealed that it's currently using a "next-generation" version of its Vulcan 3D printer to erect a three-bedroom house with unique ranch-like aesthetics.
Nicknamed 'House Zero,' the elegantly-appointed 2,350 sq. ft unit is being built as the first of a planned 'Exploration Series' of dwellings, which will act as a test bed for developing new design languages. Through the project, ICON aims to showcase the architectural potential unlocked by its machine, and construct a luxuriously-upholstered building that broadens the appeal of living in 3D printed homes.
"If people fall in love with what we're doing here, it turns out the Vulcan is the only construction system in the world capable of delivering this home and others like it," said Jason Ballard, Co-founder and CEO of ICON. "We're getting ready to stand up manufacturing in our new facilities and begin larger scale projects in anticipation of such a response."
"We are hopeful this catalyzes widespread enthusiasm and excitement for the future of construction and architecture."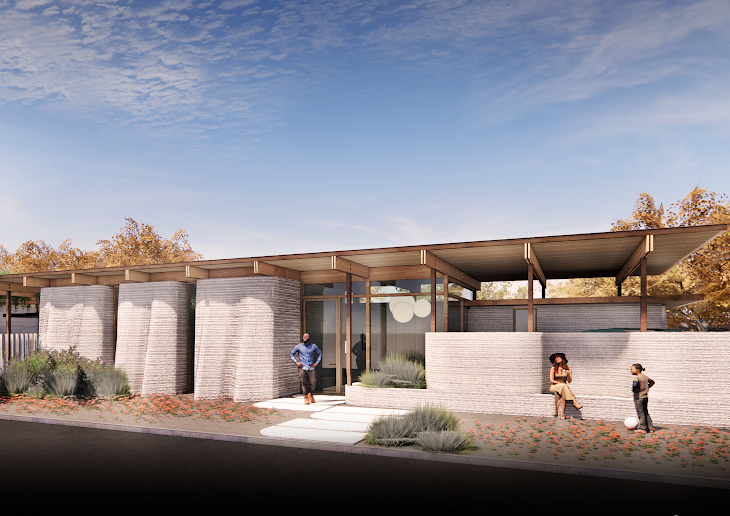 Vulcan 3D printing technology
ICON's construction capabilities revolve around its proprietary Vulcan platform, which enables the production of durable single-storey structures. Initially, the firm deployed its technology to build houses for low-income communities, but recently it has progressed onto 3D printing commercial homes, and now even NASA is working with the company to develop a means of creating off-world infrastructure.
Having successfully used its Vulcan system to construct two dozen structures across the U.S. and Mexico, ICON has now developed an upgraded machine that's capable of printing homes up to 3,000 sq. ft in size. With a print speed of 5-10″ per second and a weight of 9,500 lbs, the large-format system is twice as fast and 1.5 times bigger than its predecessor.
While the new Vulcan still functions using the same Magma mixing system and Lavacrete 3D printing material, ICON says that it has also been built with a "digitally native approach." As a result, the machine now includes an automated control system, which allows it to be operated remotely via the company's in-house app using everyday mobile devices.
According to ICON, its enhanced platform is ultimately capable of producing buildings up to 10.5 feet in height, 36.75 feet in width and that stretch for "infinite" lengths, and with the announcement of its Exploration Series, the firm has effectively outlined how it intends to put its new system to the test.
ICON's Exploration Series
In the course of building its Exploration Series of homes, ICON intends to act as an enabler, providing creatives with an enhanced 3D printing platform on which they can develop brand new architectural vernaculars, and the first build in this veritable construction trilogy has been designed by the award-winning Lake|Flato Architects.
Referred to only as 'House Zero,' the designers say that their three-bed home will feature an "elevated architectural and energy-efficient design." Just like ICON's previous builds, the architects expect their 3D printed house to reflect the technology's inherent sustainability and durability benefits, while also enabling them to accelerate what would normally be a lengthy production workflow.
"House Zero has allowed Lake|Flato to develop our ethos of human and nature-centric design with an entirely new framework," said Ashley Heeren, an Associate at Lake|Flato. "It's been a thrill for our team to design this home of the future and explore new ways to create high-performance shelter that celebrates craftsmanship, seeks increased efficiency and eliminates steps in the construction process."
"This welcoming, practical home design expands the performance capabilities of 3D printing technology and is unlike any other home we've designed to date."
Currently being built in East Austin, House Zero is set to feature a 'bath home' with over 2,000 sq. ft of living space, including three bedrooms, and a separate 350 sq. ft single-bed and bath accessory 'dwelling unit.' Describing the houses' aesthetics as similar to those of a "mid-century modernist ranch," ICON says that the attractively-upholstered property could represent "a major advancement in modern architecture."
"House Zero will be the most incredible 3D printed home in the world, because it was optimized and designed specifically to be 3D printed," concluded Ballard. "This is the moment when people around the world will see more of the architectural design freedom and benefits of a 3D printed house, and believe that they too would want to live in one."
Bringing printed homes to market
Although 3D printing has been used to construct proof-of-concept buildings in the past, the technology's now increasingly being deployed to create commercial accommodation. Earlier this year, Californian start-up Mighty Buildings announced plans to 3D print a fifteen-strong neighborhood of homes, which could be marketed at prices of up to $950,000.
Germany-based PERI Group is also aiming to enter the commercial construction space with its three-floor additive manufactured apartment building. Currently being built using COBOD's large-format 3D printing technology, the structure is set to be carved up and marketed as five rentable homes upon its completion.
Elsewhere, on a more experimental level, 3D printer manufacturer WASP has finished constructing its sustainably-sourced 3D printed 'TECLA' eco-habitat. Built entirely from recycled materials, TECLA is designed to represent a greener model for future house-building programs, that's better-equipped to deal with natural disasters.
To stay up to date with the latest 3D printing news, don't forget to subscribe to the 3D Printing Industry newsletter or follow us on Twitter or liking our page on Facebook.
For a deeper-dive into additive manufacturing, you can now subscribe to our Youtube channel, featuring discussion, de-briefs and shots of 3D printing in-action.
Are you looking for a job in the additive manufacturing industry? Visit 3D Printing Jobs for a selection of roles in the industry.
Featured image shows ICON's next-generation Vulcan 3D printer. Image via ICON.