German designer and architect Stephan Henrich has designed and fully 3D printed a uniquely-designed shoe based on the feet of mythical creatures.
Designed specifically for printing on an SLS S2 system from SLS 3D printer manufacturer Sintratec, the claw-like shoe will enable wearers to walk in the footsteps of so-called "Cryptids" such as Bigfoot or the Loch Ness monster and, "leave traces like a Cryptid would do," Henrich says.
A fully SLS printed shoe
The shoe was specially designed for printing on the Sintratec S2 SLS system, which is composed of a laser sintering station, material core unit, and a material handling station to enable users to seamlessly switch from one process step to another.
The system has previously been used within automotive applications, such as by Daimler for the 3D printing of bus and truck spare parts, and a student team at ETH Zurich who designed a functional electric motorbike using the system. Now, Henrich is utilizing the S2 to fully 3D print his unique shoe design in order to allow the shoe to be customized to an individual wearer's foot.
Specializing in design for additive manufacturing, Henrich describes his work as sitting "at the section of architecture, narration, design, and robotics." Having previously carried out numerous 3D printing and robotics design projects, he made the Community Advocate of the Year shortlist for the 2021 3D Printing Industry Awards last November.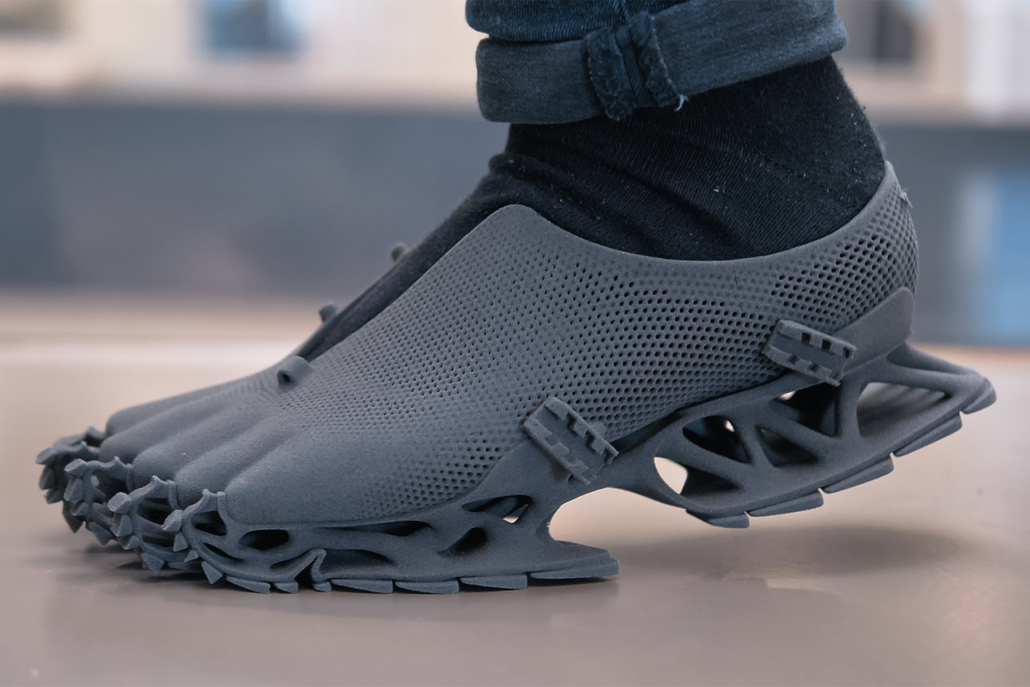 For his most recent project, Henrich leveraged Sintratec's S2 3D printer and flexible TPE material to create his unique mythical shoe design. The Cryptide sneaker consists of a sole with an open design which is 3D printed together with an upper shoe of a similar texture and fit to that of a sock. The shoe was printed in Sintratec's TPE elastomer material due to the material's superior flexible properties.
Using the S2, Henrich was able to vary the wall thickness of different elements of the Cryptide shoe, making some parts stiffer, such as the sole, while others remained soft and flexible. According to Henrich, this not only made the shoe ergonomic but also more comfortable to wear.
While Henrich has unveiled his completed creature-like Cryptide 3D printed shoe, it is unclear whether the sneaker will become available for purchase to the general public to "walk like a Cryptid" any time soon.
Novel 3D printed footwear
3D printing has been used for some time to realize various innovative footwear designs, both within sporting and fashion contexts. German sportswear giant Adidas, for example, has continued to work with 3D printer manufacturer Carbon to release new iterations of its 3D printed 4DFWD midsole, while CRP Technology has created a unique athletics track shoe using its 3D printing capabilities and Windform SP carbon fiber material.
Elsewhere Boston-based digital manufacturing firm Voxel8 has announced plans to 3D print insoles for Hush Puppies' upcoming range of designer footwear, and cycle shoe manufacturer Lore has begun the preorder of its customizable carbon fiber 3D printed cycle shoe, the LoreOne.
Most recently, German footwear firm Solebox and fashion designer Acronym teamed up to showcase a novel range of downloadable content for Nike trainers. The removable heel clips are designed to be 3D printed and fitted to special edition Nike Blazer Lows to provide the shoe with a visual flourish.
Subscribe to the 3D Printing Industry newsletter for the latest news in additive manufacturing. You can also stay connected by following us on Twitter and liking us on Facebook.
Looking for a career in additive manufacturing? Visit 3D Printing Jobs for a selection of roles in the industry.
Subscribe to our YouTube channel for the latest 3D printing video shorts, reviews and webinar replays.
Featured image shows Stephan Henrich's 3D printed Cryptide shoe. Photo via Sintratec.