Insiders and analysts predict the 3D printing trends to watch in our latest series of articles focused on the future of 3D printing.
YouTuber Austen Hartley has designed and 3D printed his own pair of custom, low-cost Crocs.
Armed with nothing but a run-of-the-mill desktop FFF 3D printer and flexible TPU filament, the mechanical engineer spent a few hours of his free time drafting the shoes up using Fusion 360 CAD software.
Since he didn't even own a pair of original Crocs, the 3D models Hartley designed were based on memories and photos of the real thing. However, this allowed him to integrate a number of custom design alterations such as embossed wording, a high-grip sole, and even a spoiler on the rear. Silly? I prefer revolutionary.
Hartley said, "I didn't spend copious amounts of time and energy in engineering school to not put those skills to good use. I usually make stuff that's boring but every now and then I like to actually come in and make something that's just fun."
3D printing the Crocs
As preposterous as the project may seem, there was actually a surprisingly high level of engineering knowledge that went into making the Crocs as comfortable as possible.
When it comes to wearables like shoes, rigid polymers like ABS or PETG aren't the best material of choice. Instead, Hartley opted for thermoplastic polyurethane (TPU), which is well-known for its flexibility and elasticity. This allows the polymer to morph under load and bounce back to its original shape when the load is taken off: just what you want from a pair of shoes.
To fine-tune the springiness of the 3D printed Crocs, Hartley also customized the thickness and density of the soles. The first iteration of the Crocs was printed with 40% infill, which is actually a relatively high density considering the application at hand. Upon testing the shoes, he found that 40% was far too rigid for comfortable long-term wear since the Crocs didn't offer enough flexibility to conform to the curvature of his feet. After much trial and error, he eventually settled on an infill of 25% for the soles, which translated to a much more comfortable walking experience.
Additionally, since the prints weren't completely solid, the build benefitted from less material usage and a shorter print time.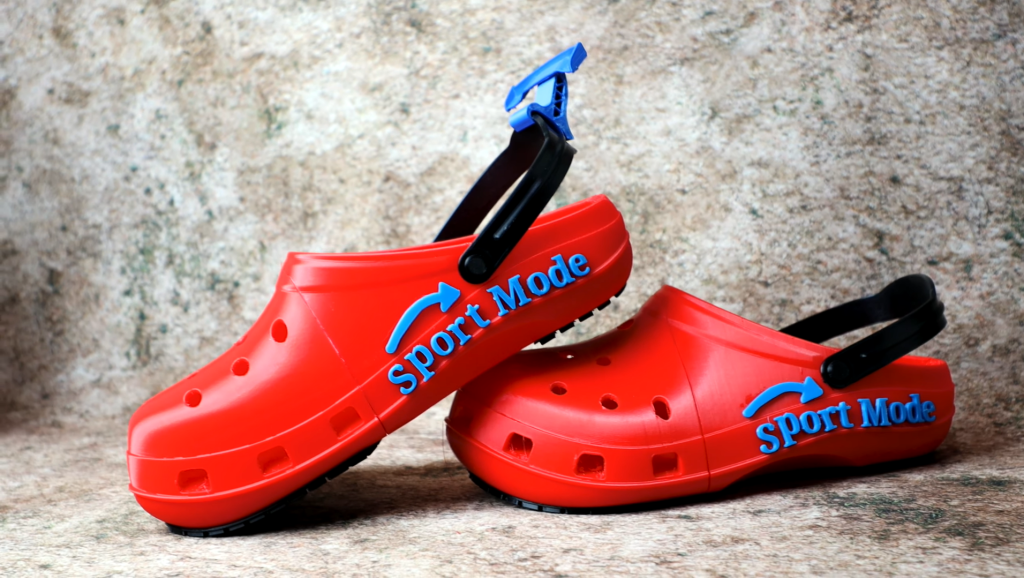 Adding a little flair into the mix
What's the point in designing a product from scratch if it's just going to be a direct copy of something that already exists? To personalize his Crocs, Hartley also 3D printed a few additional accessories to provide that much needed flair.
The first of the additions was a piece of text, 'Sport Mode', along with a hand drawn arrow element to let everyone know the Crocs meant business. He also glued textured grips onto the bottom of the soles for added traction, while clipping a 3D printed sports car spoiler onto the back for maneuverability. Clearly, speed is the name of the game.
Hartley concluded, "I could actually wear these around and I'm not just saying that. Are they the best? Absolutely not. Would they be that comfortable? Probably not after a long time, but they do serve the purpose of just being a shoe. I'm limited in the actual testing of these because it's basically -30°C outside here in Canada, but I'm surprised at the success of this project. I think it worked out really good."
It should be noted that a popular YouTuber by the name of Unnecessary Inventions actually created a pair of Croc gloves back in 2019. But he was quickly slapped with a cease and desist order from the footwear brand.
The YouTube community really is a great source of innovation when it comes to technologies such as 3D printing. Just this month, YouTuber Akaki Kuumeri created a 3D printed adapter for the PS5 DualSense controller that enables users to play games one-handed. The add-on can be applied non-destructively to game controllers in order to allow for non-standard hand positions and make playing video games more accessible to those with physical disabilities.
Elsewhere, YouTuber Integza has previously used 3D printing technology to develop a low-cost functional rocket engine inspired by an old, experimental Nazi design. Based on the engine of a 1930s German aircraft called the Heinkel He 176, the 3D printed rocket engine doesn't rely on burning fuel or combustion at all, instead generating its thrust via a volatile chemical reaction.
Subscribe to the 3D Printing Industry newsletter for the latest news in additive manufacturing. You can also stay connected by following us on Twitter, liking us on Facebook, and tuning into the 3D Printing Industry YouTube Channel.
Looking for a career in additive manufacturing? Visit 3D Printing Jobs for a selection of roles in the industry.
Featured image shows the 3D printed Crocs. Photo via Austen Hartley.