GE's wind turbine manufacturing division, GE Renewable Energy, has announced a "minority investment" in construction 3D printing specialist COBOD.
While the firms have worked together since 2019, GE Renewable Energy's decision to back COBOD is now set to bolster these ties, and provide it with greater access to the company's machines. By investing, Matteo Bellucci, a Technology Innovation Leader at GE Renewable Energy, says it's also further committing to an eco-friendly technology that unlocks "more sustainable, circular design strategies."
"This agreement is another sign of our commitment to help drive the energy transition," explains Bellucci. "Since we started cooperating with COBOD, the company has continued to improve their technical competence and innovative solutions, reinforcing the benefits of solidifying the relationship between our companies."
COBOD's construction capabilities
Over the last five years, COBOD has built up one of the emerging concrete 3D printing sector's most promising portfolios. The firm's construction capabilities largely revolve around the BOD2, a gantry-mounted machine composed of 2.5-meter modules, which can be stacked on its X, Y and Z axes to enable the erection of multi-storey structures, with floors up to 12m (W) x 27m (L) x 9m (H) in size.
In practice, the modular system has been applied to build various different structures, since COBOD announced the completion of its first habitable 3D printed building in 2017. While non-profit Habitat for Humanity has utilized the technology to 3D print a three-bed family home, the likes of LafargeHolcim and CDC Group venture 14Trees have used it to build the world's first 3D printed school in Malawi.
COBOD has also previously supplied one of its machines to Alquist 3D, which recently unveiled plans to 3D print 200 Virginian houses. However, the deal between them was said to have been invalidated, when the latter accepted Black Buffalo 3D as a minority shareholder, hence it no longer has access to its partners' technologies (bar those it already has).
Previous projects have seen COBOD work with its part-shareholder the PERI Group as well, to 3D print a three-storey apartment building, in addition to 3D printing a building extension in Bavaria. Although the financial terms of GE Renewable Energy's investment in the firm haven't been made public, it's possible that the deal will now see the businesses establish a similar investor/construction partner relationship.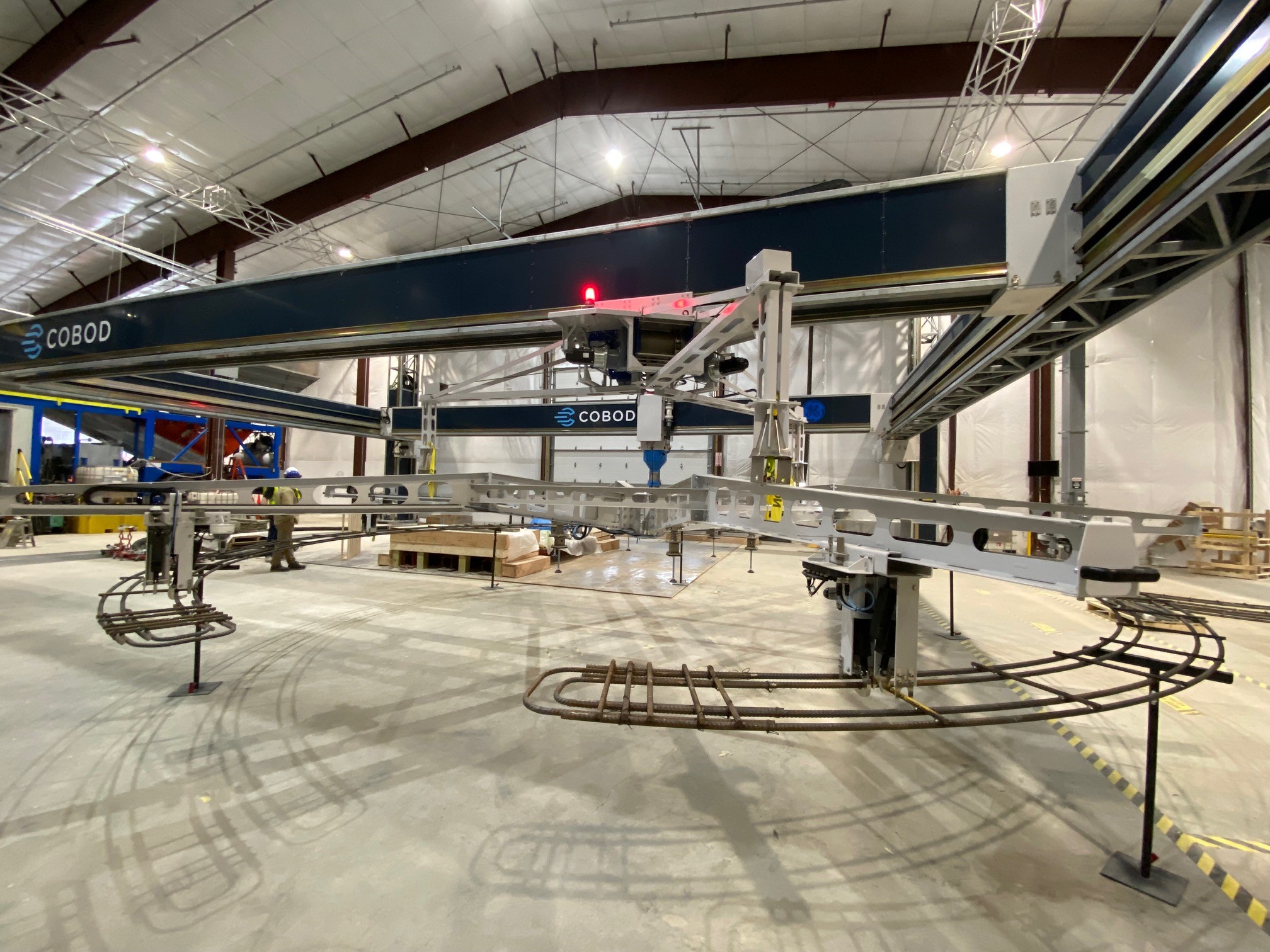 Driving the energy transition
Over the three years they've worked together thus far, COBOD and GE Renewable Energy have already made significant progress in their efforts to identify the potential of additive manufacturing within sustainable energy production. Back in June 2020, GE announced that it was partnering with COBOD and LafargeHolcim, with the aim of co-developing 3D printed "record tall" wind turbine towers.
At the time, it was anticipated that 3D printing the base on-site would allow for the creation of structures up to 200 meters tall, double the size of conventionally-built towers. This height advantage wouldn't just be for show either, as an 80 meter tall 5MW turbine typically generates around 15.1 GWh per year. Hike that same turbine up to a height of 160 meters and it generates 20.2 GWh – an extra 33%.
Since the project was announced, GE has opened a new wind turbine R&D facility designed to further these efforts, in Bergen, New York, at which one of COBOD's 3D printers is known to be installed. Through investing in its partner, GE Renewable Energy now stands to gain closer access to the technology used at the facility, in a way that could enhance how effectively it's able to deploy COBOD's system.
Having sold fifty machines to-date and achieved double-digit growth last year, the Danish 3D printer manufacturer is also one of the market's early leaders, making it an attractive proposition. For COBOD, meanwhile, working with GE Renewable Energy is already said to have enhanced its team's R&D and engineering skills, and GE's vast resources could soon see it make further technological advances.
"I am extremely proud that such an iconic and world class company like GE would like to partner with COBOD and help us deliver on the automated construction solutions of the future," adds COBOD Founder & GM Henrik Lund-Nielsen. "On behalf of the entire COBOD organization, I want to thank GE for their trust and support."
Construction AM's green credentials
One of concrete 3D printing's much-touted benefits over traditional construction technologies is its material efficiency, which could make it a less wasteful and more sustainable alternative. However, in many of the process' applications, ordinary building materials just won't cut it, therefore realizing its eco-friendly potential has become somewhat dependent on the R&D of new, more compatible cements.
This demand has seen the likes of CEMEX Ventures enter the industry, and it has already managed to work with COBOD to come up with a novel 3D printing concrete that gains shape instantaneously. Thus far, the firms have leveraged the material to build Angola's first 3D printed home, and they say it could yet have further construction applications.
Elsewhere, automation specialist ICE Industrial Services has also recently moved into the sector as part of its plans to rebuild Ukraine using 3D printing. Much like CEMEX Ventures, which has come up with a printable material by adding its D.fab admixture, ICE's R&D has seen it utilize additives to develop a more economical cement, a process its CEO Tomáš Vránek describes as a "game-changer."
To stay up to date with the latest 3D printing news, don't forget to subscribe to the 3D Printing Industry newsletter or follow us on Twitter or liking our page on Facebook.
For a deeper dive into additive manufacturing, you can now subscribe to our Youtube channel, featuring discussion, debriefs, and shots of 3D printing in-action.
Are you looking for a job in the additive manufacturing industry? Visit 3D Printing Jobs for a selection of roles in the industry.
Featured image shows GE's new state-of-the-art concrete 3D printing system from COBOD. Photo via GE Renewable Energy.