The nominations for the 2021 3D Printing Industry Awards are now open. Who do you think should make the shortlists for this year's show? Have your say now.
German construction firm PERI Group has revealed that it's using 3D printing to renovate an existing building for the very first time.
In what PERI describes as a "world's first," its engineers are deploying a COBOD 3D printer to add an entirely new floor to a family home in the Bavarian town of Lindau. According to Dr. Fabian Meyer-Broetz, head of the firm's construction 3D printing division, the project will see it break new ground, while exhibiting the technology's potential for addressing applications other than erecting buildings from scratch.
"Once again, we are entering new territory here with our construction 3D printing technology," explained Meyer-Broetz. "Technologically, the setup of the printer in particular has been a new challenge due to the slope of the site. The project in Lindau shows once again how flexible and versatile this new technology is."
PERI's next-level renovation
Designed by fellow German construction firm BODENSEE ARCHITEKTUR, PERI's home extension is being carried out alongside BALDAUF GEBÄUDEDRUCK, on the house of its owner André Baldauf. Already, the companies' engineers have removed the building's old roof and laid down a concrete ceiling, providing the basis for a new 3D printed floor.
Once finished, the extension will measure some 120 square meters across and reach a height of 3.7 meters, but according to Baldauf, the project's unique approach to construction could represent a breakthrough in itself. "The most important topics of our time are the careful use of our earth and the digitalization of all areas. The building industry has had few answers to these so far," said Baldauf.
"[By] mixing highly CO2-binding neptune grass insulation, a folding wooden roof and a 3D printed load-bearing structure, we have been able to construct the building extension in a nearly CO2-neutral way," he added. "The walls were planned and printed in 3D, and the wooden roof was tied down ready for assembly according to 3D plans. That's how we plan and build today."
In practise, PERI is constructing its extension using HeidelbergCement's 'i.tech 3D' material, which is custom-made for 3D printing, along with COBOD's BOD2 machine. During the build so far, the system has reportedly shown the flexibility to print on uneven surfaces in existing structures, effectively proving it's capable of creating more than just standalone buildings.
Unleashing the BOD2
PERI's Bavarian renovation project marks the latest in a string of collaborations with COBOD, a company in which it has been a shareholder since 2018. Over the last three years, the BOD2 has consistently proven itself to be a highly-adept house building tool, particularly given that it's able to move into any position across three axes, without needing recalibration.
With a print speed of 1 m/s, the BOD2 is also one of the fastest construction 3D printers on the market, and it's reportedly capable of creating 1 m2 of double-skin wall every five minutes, while its safety certification allows engineers to complete manual tasks like pipework around it, expediting the house building process.
Earlier this year, PERI finished using the BOD2 to 3D print a three-storey apartment building in Wallenhausen, Germany, which is now expected to be rented out on the domestic market there. However, COBOD's technology hasn't been deployed exclusively by its part owner, rather it continues to be used extensively in construction projects around the globe.
U.S. non-profit Habitat for Humanity is currently utilizing the BOD2 to 3D print affordable housing of its own in Tempe, Arizona, which it intends to award to a family in need. Meanwhile, in a similarly charitable project in Malawi, 14Trees has opted to leverage COBOD's technology to build a 3D printed school, doing so inside 18 hours, before opening it to students.
Beyond housing, the BOD2 has also found energy applications in the past, with COBOD, GE Renewable Energy and LafargeHolcim working to 3D print 'record-tall' turbine towers last year. The project was set up to boost renewable energy production and lower its levelized cost, while exhibiting the BOD2's capabilities, which LafargeHolcim has said "expand the realm of construction possibilities."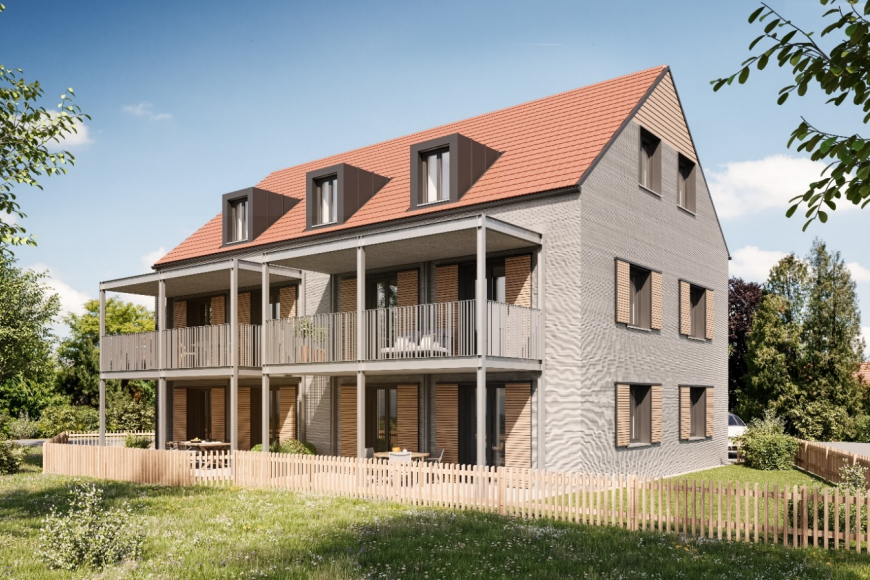 Advances in 3D printed homes
Although COBOD has managed to establish itself as one of the leaders in the emerging construction 3D printing sector, it's now beginning to face some stiff competition. ICON has also become one of the industry's early front runners, and it deployed its Vulcan 3D printing technology to build four multi-storey houses in East Austin earlier this year.
Likewise, Mighty Buildings has now raised over $100 million to fund the continued roll-out of its proprietary extrusion-based construction technology. In March 2021, the firm unveiled plans of its own to 3D print a fifteen-strong neighborhood of homes near Coachella Valley, which it aims to list on the U.S. market for between $595,000 and $950,000 each.
On a more experimental level, firms like WASP are also developing biomaterial-based construction approaches that could form the basis of a new eco-friendly house building model. The Italian 3D printer manufacturer finished building an organic 'TECLA' house from clay in January, although it hasn't yet been opened to members of the public.
The nominations for the 2021 3D Printing Industry Awards are now open. Who do you think should make the shortlists for this year's show? Have your say now.
To stay up to date with the latest 3D printing news, don't forget to subscribe to the 3D Printing Industry newsletter or follow us on Twitter or liking our page on Facebook.
For a deeper dive into additive manufacturing, you can now subscribe to our Youtube channel, featuring discussion, debriefs, and shots of 3D printing in-action.
Are you looking for a job in the additive manufacturing industry? Visit 3D Printing Jobs for a selection of roles in the industry.
Featured image shows COBOD's BOD2 3D printer on-site in Lindau. Photo via PERI AG.