Nominations for the 2022 3D Printing Industry Awards are now open. Who do you think should make the shortlists for this year's show? Let us know by casting your vote now.
GE Additive, the industrial 3D printing division of US energy multinational GE, has announced the commercial launch of its Series 3 binder jet platform.
Based on the technology behind its alpha and beta predecessors, the Series 3 is capable of rapidly depositing a proprietary binder into parts up to 25-kilos in size, with wall thicknesses of less than 500µm. Using the machines, which can be chained into automated production lines, Josh Mook, an Innovation Leader at GE Additive, says it's possible to create metal parts like castings on an industrial scale.
"We remain focused on only bringing technology solutions to market when they are ready, and can help our customers demonstrate return on investment and total cost of ownership," explained Mook. "That is certainly the case with our new Binder Jet Line and the Series 3, which is reliable, safe, and meets their needs today and tomorrow."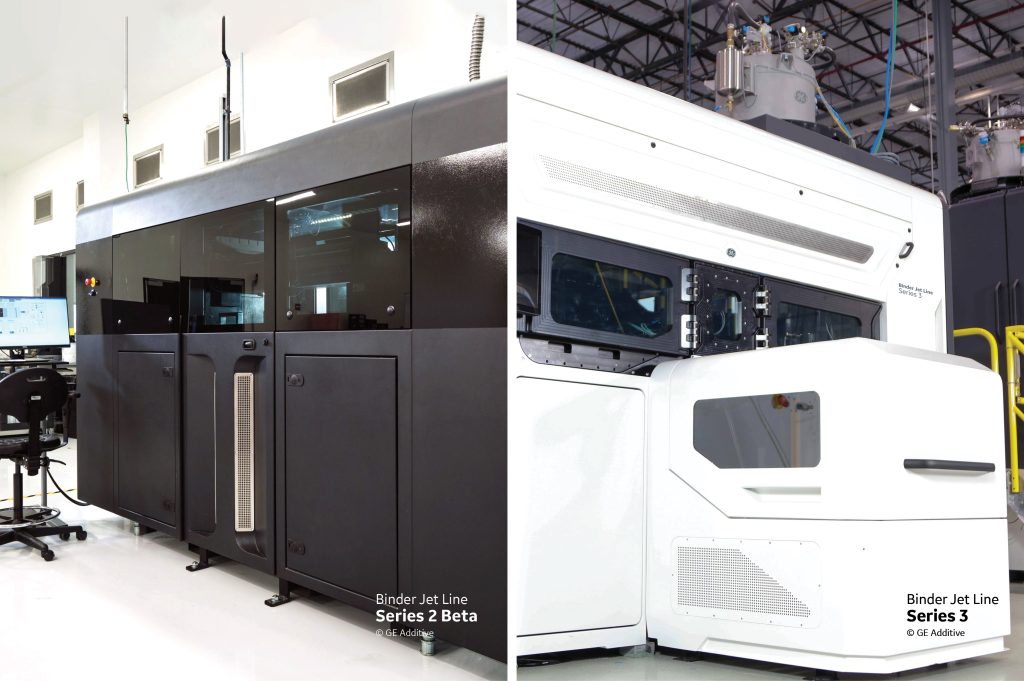 GE in the 3D printing industry
Over the last ten years, GE has gradually established a foothold in the 3D printing sector, initially doing so via the acquisitions of Arcam, Concept Laser and Morris Technologies. As well as continuing to sell the machines of the former two firms, GE has utilized them to innovate within its GE Additive and GE Aerospace businesses.
In practice, this has seen the company's engineers work to identify areas of its engines that could benefit from being additive manufactured, culminating in parts like the GE 3D printed fuel nozzle tip. As revealed in 3D Printing Industry's recent tour of GE's 3D printing facilities, the multinational has manufactured over 140,000 of these components, which are said to be 15% more fuel efficient than standard.
GE's GE90, GE9X and Catalyst engines now also feature 3D printed elements ranging from sensor mounts to more structural, flight-critical components such as planetary gearbox (PGB) parts, reflecting the continued progress of its R&D efforts.
Elsewhere, GE has sought to develop its own binder jet technology since 2016, partnering with the likes of Cummins, Wabtec and Sandvik to hone its capabilities. According to the company, this ongoing work has allowed it to "identify, design and productionize" certain applications, at a "cost and quality needed to scale safely" and meet industrial, serial manufacturing needs.
"We sought out customers who could give us honest, real-world insights from their high-volume manufacturing environments," added Brian Birkmeyer, Product Line Leader for Binder Jet at GE Additive. "We have taken their insights to complement our hands-on knowledge and experience of scaling additive production. The result is a modern, modular industrialized additive system – developed by additive users for additive users – that delivers quality parts, at cost, at scale and safely."
"Fast-tracking solutions and bringing them to market too soon is not a sound strategy and is often the reason machines end up gathering dust in R&D labs."
Bringing the Series 3 to market
Building on the learnings of its H1 Alpha and H2 Beta R&D, GE Additive's Series 3 is designed to enable the reliable, repeatable production of parts that exceed the quality of their casting equivalents. At the core of the machine is a water-based binder, which is deposited layer-by-layer onto a powder bed. The material's water content is then evaporated, leaving behind a green part.
During the process, GE's machine is fed powder via an Arcam-like system, which then moves the material onto a motorized helical pusher that refills the bed. This accelerated redosing workflow is supplemented by the Series 3's internal conveyor system, on which build boxes can be loaded, have parts printed within them, and be automatically moved into post-processing, in a way that drives full utilization.
Alongside the Series 3, GE Additive has also launched its Binder Jet Line of ancillaries, including powder and liquid handling stations, as well as a depowdering system. These accessories can be connected via a series of tubes, capable of carrying material via nitrogen from chamber-to-chamber. This not only keeps each system's atmosphere inert, but allows for quick, safe powder recycling.
While the Series 3 was initially developed to meet GE's internal casting production needs, the firm's collaborative R&D has uncovered opportunities for it in demanding applications like automotive as well. As such, the system is now being made available for wider adoption, with production deliveries set to begin in 2023.
Technical specifications and pricing
Below are the technical specifications for GE Additive's Series 3 3D printer. Those interested in buying the machine can request a quote from GE Additive directly, with shipments set to begin in H2 2023.
| | |
| --- | --- |
| Technology | Binder Jetting |
| Binder | Water-based (Customizable to Application) |
| Build Volume | 500 x 500 x 500mm |
| Feature Accuracy | Less than 500µm |
| Capacity | Prints Parts >25kg in Weight |
| Monitoring | Independent Real-time Monitoring System |
| Software | GE Additive Amp |
To stay up to date with the latest 3D printing news, don't forget to subscribe to the 3D Printing Industry newsletter or follow us on Twitter or liking our page on Facebook.
While you're here, why not subscribe to our Youtube channel? featuring discussion, debriefs, video shorts and webinar replays.
Are you looking for a job in the additive manufacturing industry? Visit 3D Printing Jobs for a selection of roles in the industry.
Featured image shows a GE Additive Series 3 binder jet 3D printer. Photo via GE Additive, GEADPR068.