With consumers increasingly turning to online shopping to meet their clothing and fashion needs, retailers are looking for new ways to draw customers back into their brick-and-mortar stores. Innovation Lab ECCO (ILE) and their Quant-U shoe is the latest entry in the growing 3D printed footwear trend. Offering in-store scans to custom-fit shoes to customers's feet, Quant-U is the perfect example of the "Reinventing retail" trend.
You can't out-Amazon Amazon
"Reinventing retail" is a term used to describe the ways in which physical stores are adapting and innovating in response to shoppers turning online. Simply trying to match the price or convenience of online retailers like Amazon is not going to work. Retailers that can provide unique or enjoyable in-store experiences are thriving in this new arena.
ILE's Quant-u features 3D printed midsoles. Creation of a Quant-U midsole is a three step process, each step implemented in collaboration with key industry partners, including, the Cambridge Design Partnership, Dassault Systèmes' FashionLab, German RepRap and The Dow Chemical Company.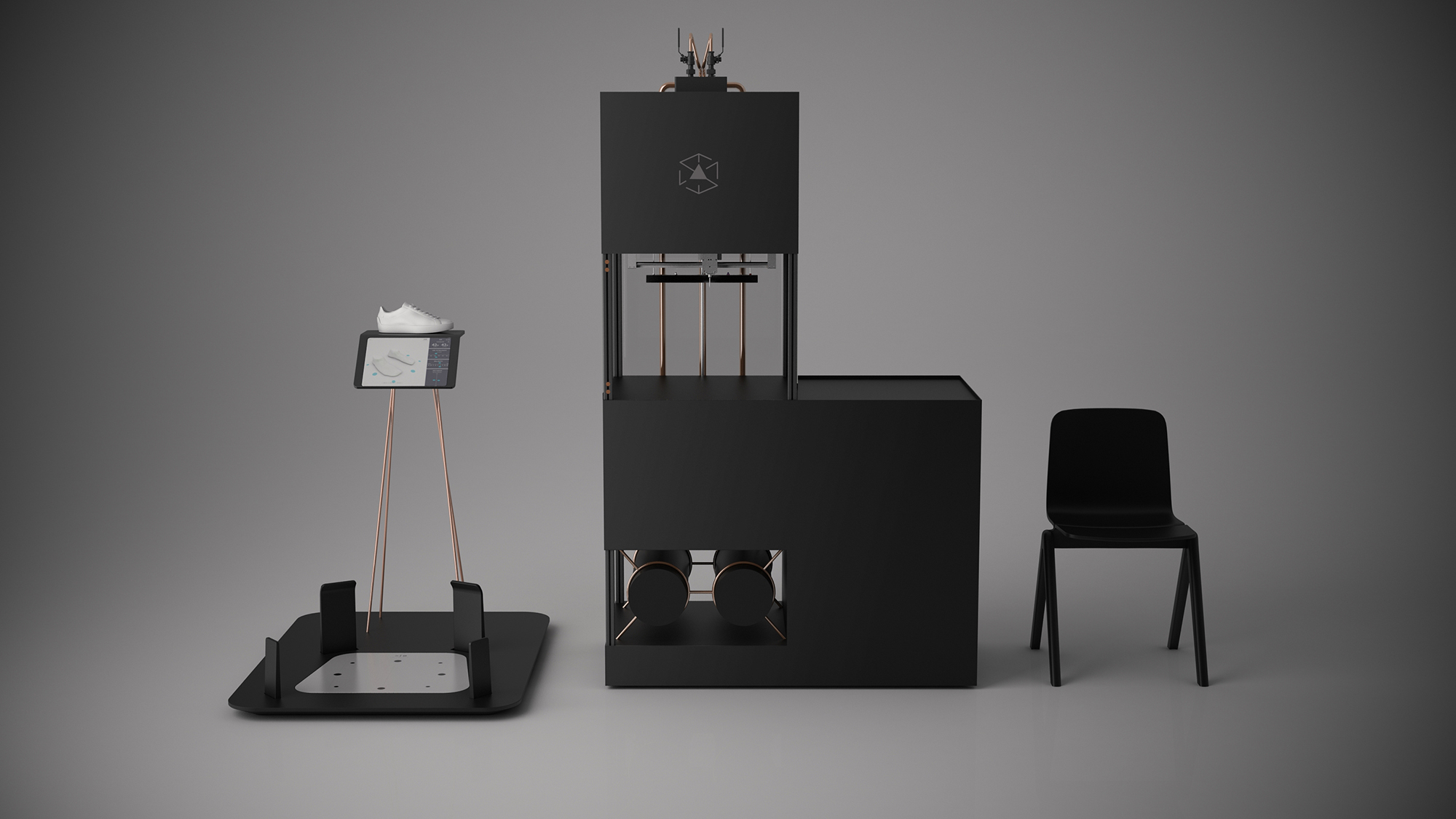 More than a sole effort
In the first step, real time data is compiled from wearable sensors embedded in the soles of a customers' shoes. A 3D scan of the customer's feet is also taken, a process that takes only 30 seconds.
Sensors used in this proceed were developed in collaboration with Cambridge Design Partnership, a technology and design consultancy based in the UK. The range of data collected builds an image of how the wearer walks through the use of gyroscopes, pressure sensors, accelerometers and temperature and humidity monitors.
In the second step, machine learning and algorithms developed by Dassault Systèmes' FashionLab, a 3D design and technology incubator, process the sensor data into a 3D model that ILE calls "an augmented pattern," for 3D printing.
Finally, the midsoles are printed on 3D printers modified by German RepRap for the unique safety and usage requirements of an in-store 3D printer.
Made from Dow silicone
The final product is made of silicone developed and provided by The Dow Chemical Company.
The silicone is the result of two years of research, which has tuned the "inherent properties [of silicone]; viscoelasticity, durability and temperature stability" for midsoles.
ILE says the entire process takes place in-store "within a few hours," though customers are only required to be in store for the 10 minute 3D "fitting" session.
Available in ECCO's Flexure shoe range, the shoe and insoles are expected to cost between €350-400.
Honing in on the novelty of the custom 3D printed midsoles, ILE's Quant-U shoes are available exclusively at ECCO's Amsterdam W-21 concept store for a limited time in April 2018.
Perfect fit, perfect dynamics and ultimate performance, with 3D printing
ILE Head, Patrizio Carlucci said "Throughout my experience in footwear design and engineering, the concept of perfect fit, perfect dynamics and ultimate performance has long been an obsession. With QUANT-U we are now combining future technologies in order to customise footwear functionality and comfort without interfering with its aesthetics."
It is evident that the market for 3D printed shoes and wearables is heating up. Adidas is opening a new factory which will rely on 3D printing to produce around 500,000 pairs of shoes annually. Shenzhen Resun Healthcare Technology Co. have developed kiosks utilizing 3D scanning to to produce insoles with a bespoke fit. And players in the NFL are also receiving 3D printed personalised cleat shoes through the FitStation platform.
Keep up to date with the latest consumer trends in 3D printing. Subscribe to the 3D Printing Industry newsletter, follow us on Twitter, and like us on Facebook.
Vote now in the 2018 3D Printing Industry Awards.
Interested in working in the 3D printing industry? The3D Printing Industry Jobs is live. Discover your next career move now.
Protolabs is sponsoring the 2018 3D Printing Industry Awards design competition. Submit your entries now with the chance of winning a 3D printer.
Featured image shows ECCO's Flexure shoe, available with 3D printed midsole. Photo via ECCO.