HEXR helmets, the custom 3D printed bicycle helmets formerly known as HEXO, has now begun shipping to customers. Developed by London-based technology startup Hexr, Ltd., the helmet underwent final safety testing and design changes over the last six months, as well as a name change due to trademark issues behind the original HEXO title with an unnamed sports company. 
The HEXR helmet features a 3D printed honeycomb core, produced using SLS 3D printing technology and Polyamide 11 from leading industrial 3D printer manufacturer EOS. Each helmet is 3D printed according to the measurements of the user, acquired through a 3D scanning app,  in order to create a lightweight and protective headgear solution catered to the customer. The helmets are now available to order on the HEXR website at a price of £349, which includes the 3D scanning process.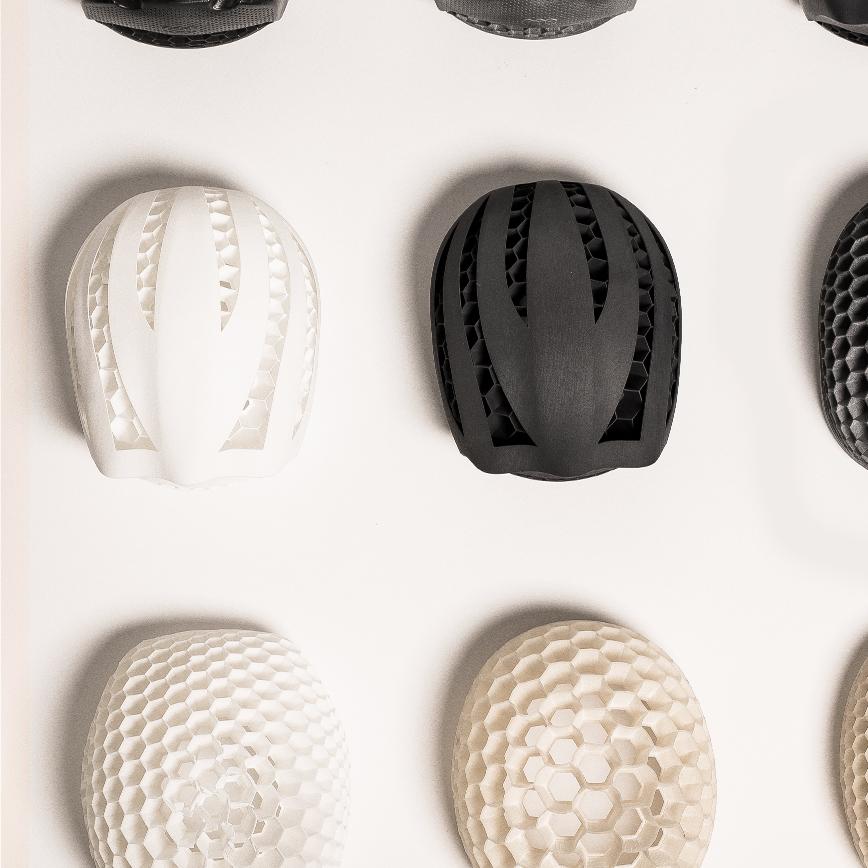 3D printing honeycomb structures for improved protection
Founded by Jamie Cook, HEXR helmets aims to revolutionize the standard protection equipped on traditional cycle helmets, which "hasn't been innovated for 60 years" according to Cook. Originally beginning research during his time at University College London (UCL), Cook identified that most design methods for energy absorption are based on a flat contact area, rather than a curved surface area reflecting the shape of our heads. Cook continued his research at the University of Oxford, where he utilized 3D printing to produce insulated curved honeycomb structures in Polyamide 11, forming the basis of the HEXR helmet.
Since then, Cook has worked towards launching the HEXR helmets and making it commercially available. A key element of the helmet is its customizability, enabled by 3D printing. Using HEXR's bespoke 3D scanning software, customers can gain an 'exact fit' using a 30,000-point 3D mesh of their head. After purchasing a HEXR helmet from the website, customers can either book an appointment at HEXR's London HQ, or receive a 3D scanner via post, in order to get their headscan. Once Hexr has a customer's measurements, the company takes 2-4 weeks to 3D print it, before shipping it directly to the buyer. 
As well as offering a personalized experience, the HEXR helmet also provides increased protection compared to traditional bicycle helmets, according to the company. Furthermore, the outer shell, which is the only part of the helmet that isn't 3D printed, is produced with TotalSim, a company specializing in Computational Fluid Dynamics, for improved aerodynamic performance. The HEXR helmet can also be shipped with additional features, including custom engraving, an inbuilt sunglasses holder, removable lid for alternative designs and an optional ratchet system to provide extra adjustments. 
3D printed helmets
3D Printing Industry was at the launch event of the HEXR helmet in London, which was also attended by Markus Glasser, SVP of EOS, in February 2019. In an interview, Glasser discussed EOS' collaboration with HEXR, the future of consumer 3D printing, and the use of Polyamide 11 in particular: "The benefit of 3D printing, in general, is that you can integrate functionality into the piece," stated Glasser. 
"P11 offers a certain practicality. [HEXR] asked that the part should never ever break or splinter, and for this P11 is very good."
Other 3D printed helmets include the SpeedFlex Precision Diamond football helmet, created by Carbon's L1 printer. The helmet incorporates an aerodynamic cell-like structure for impact resistance. Prior to this, researchers from the Lawrence Livermore National Laboratory began exploring additively manufactured microstructures capable of unique physical properties to produce a new type of helmet as well.
Subscribe to the 3D Printing Industry newsletter for the latest news in additive manufacturing. You can also keep connected by following us on Twitter and liking us on Facebook.
Looking for a career in additive manufacturing? Visit 3D Printing Jobs for a selection of roles in the industry. 
Featured image shows model wearing 3D printed HEXR helmet. Photo via Hexr.