3D Printing Industry are at the 3D Medical Expo in Maastricht. We met up with two of the additive manufacturing pioneers using 3D printing for dental and healthcare: 3D Systems and Renishaw.
At the 3D Dental conference metal additive manufacturing is demonstrated in two main ways: first of all for implants, and secondly to make the medical-grade tools needed for dental (and also surgical) operations.
Titanium teeth
In the first instance, for implants, titanium and cobalt chromium alloys are the proprietary metals used for the process. Both alloys are selected for their strength-to-weight ratio and biocompatibility.

In comparison to cobalt chromium, titanium is advantageous as a biocompatible material. It is already widely used in traditional medical device manufacturing processes to produce metal plates and screws for bones.
The Leuven based section of U.S. 3D Systems healthcare division are exhibiting at the 3D Medical Expo. I spent some time speaking with the team to understand how they use titanium in their 3D printed dental implants. Based in the Leuven Center of Excellence in the Netherlands, this team at 3D Systems specializes in manufacturing spinal supports in titanium.
UK-based Renishaw on the other hand use cobalt chromium for dental applications.
As additive manufactured dentures, bridges, and copings don't have contact with the soft tissue inside the tooth, Jan Solc, product manager for medical dental products at Renishaw, explains that the biocompatibility of these 3D printed parts becomes irrelevant.
Renishaw have developed the material with a very low percentage of heavy metal (i.e. Beryllium) content, giving the cobalt chromium improved purity.
Surgical tools
Another aspect of 3D dentistry demonstrated by 3D Systems is the ability the additive manufacture medical-grade tools for surgery.
As these medical tools have to withstand vigorous sterilization processes throughout their lifetime, they are generally produced in stainless steel. Outside of additive manufacturing though, the design of these tools is somewhat restricted.
To this end, 3D Systems are introducing a 3D printable 17 – 4 PH stainless steel in 2017.
What does this mean for the wider industry? 
It has been suggested that 3D printing, and supporting 3D scanning processes could replace traditional modes of creating dental impressions, i.e. using plaster. But from speaking to industry experts at the 3D Medical Expo, it seems more likely that the methods are designed to co-exist with each other to support advances – as also suggested in the first review of the conference from 31st January.
Furthermore, the manufacture of dental models using processes such as SLA is becoming increasingly widespread and affordable. We'll be looking at this in more detail later.
CAD for 3D printing can help to improve the functionality of a surgical instrument. There's the potential that new tools could be developed with in-built/adjustable guides for use in operations.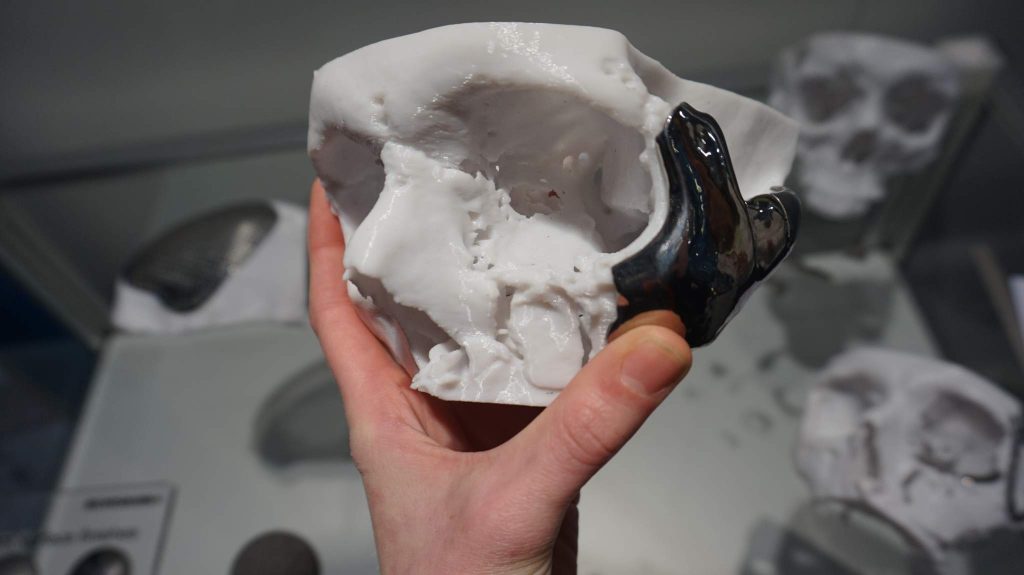 Amy Davey, reconstructive scientist for medical dental products at Renishaw, explains how 3D scanning for dentistry is moving towards cone beam CT scanning of the head and neck, rather than being just located to the mouth. Davey also adds as an aside that "It would be great if everyone had a full CT scan of their body" as it would provide more reliable research data, and also improve the personalization of implant technology.
The creation of a digital patient is an area several leading 3D printing and 3D scanning enterprises are focused on. Yesterday we reported how academics are looking at using Black Bone MRI scanning as a novel technique to create medical models and implants for 3D printing.
We'll have more insight about the medical and dental application of 3D technologies with further reports on the 3D MedTech and 3D Medicine printing conferences later today. Be sure to sign up to our newsletter to be the first with the news, and follow 3D Printing Industry on Twitter for more to-the-minute photos.
Let us know if these applications of 3D printing for healthcare and dental are your choice in the first annual 3D Printing Industry Awards. Nominations are now open.