At CES 2017 in Las Vegas the international XYZ Printing company, owned by Taiwanese electronics manufacturers New Kinpo Group, share three new 3D printers designed for use in the home. The FFF da Vinci Nano, Junior 2.0 Mix and SLA Nobel 1.0A are priced below the cost of competitor models, and each fit into desirable niches within the 3D printer market.
The da Vinci Nano – pint-sized 3D printer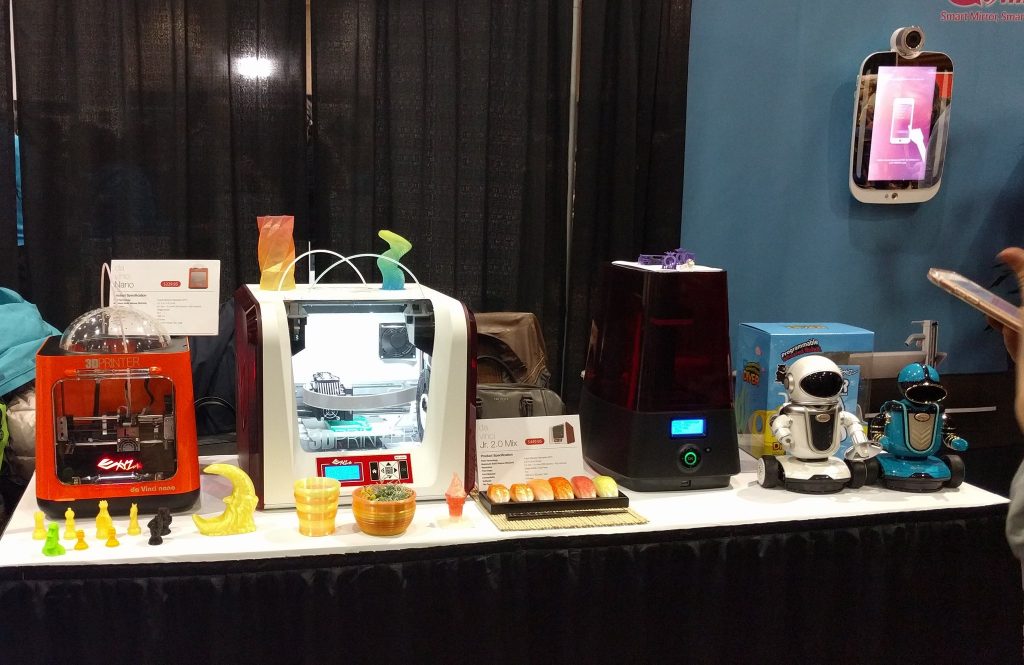 Pictured above on the left, the da Vinci Nano is made to conveniently fit into small spaces around the house. It's about the average size, if not smaller than, a paper printer. Like XYZ's existing da Vinci range it is aimed at first time Makers, particularly children who are probably some of 3D printing's biggest fans. The Nano prints objects at a maximum size of 12 x 12 x 12 cm in plastic PLA, and is expected to retail at $229.95.
da Vinci Junior 2.0 Mix – a splash of color
Multicolored plastic prints continue to be one of the most sought after features of a 3D printer. Feeding two filaments through one extruder, the da Vinci Junior 2.0 Mix promises to do color for $449.95 – which is impressive considering the price of some dual extruders alone (without the printer) is over $500.
The color mixing again goes for simplicity, giving Makers the ability to print gradients into their objects through 'Multicolor' and 'Mixer' modes in XYZ's specially designed software.
Nobel 1.0A – High definition resin printing at relatively low-cost
Going in particularly ambitiously on cost is the Nobel 1.0A SLA printer with a recommended price of $1,999.95. This model is a refined version of the Nobel 1.0 from 2015, and is a buffer before the Nobel Superfine (MRRP $2699.95) which is XYZ's high-definition answer to 3D printing things like jewelry and dental models.
From this sneak peek at CES we're certainly hoping to get our hands on XYZ Printing's new 3D printers to put them to the test. The main 3 models will start becoming available later in January 2017, with the Nobel Superfine expected in Q2.
3D Printing Industry will be bringing you all the latest news from CES 2017, so if you want to be first to find out whats new then subscribe to our newsletter.
If any of our readers have an XYZ 3D printer and are happy with the way they print, we'd also like to remind you that you can now nominate them for the 3D Printing Awards 2017 here.
Featured image shows 4 resin models of the Statue of Liberty with a cent for size printed on the Nobel series of 3D printers. Image via: XYZ Printing.