Carbon, based in Silicon Valley, has partnered with Shapeways, a 3D printing marketplace and service bureau, expanding access to its Digital Light Synthesis (DLS) additive manufacturing technology and materials.
Remarking on the collaboration, Greg Kress, CEO of Shapeways said, "Shapeways is on a mission to make 3D printing technology accessible to every entrepreneur who strives to bring their innovations to life and build a business."
"The partnership with Carbon will enable us to support our customers better in their mission to push the boundaries of their industries."
Redefining product creation
With an ethos to "redefine product creation", Shapeways' platform offers a wide range of 3D printing manufacturing services to its creators – which amount to over one million. Currently, such customers span across 140 countries.
Its 3D printing manufacturing services enabled the use of more than 60 materials, with metallic finishes suited to applications such as jewelry, automotive parts, and games miniatures.
As a result of this partnership, Shapeways has now made available three of Carbon's 3D printable resins.  The first, Elastomeric polyurethane (EPU 40), is a highly tear resistant and resilient material, which works well in 3D printing foam-like products. Rigid polyurethane (RPU 70), is the second material. It properties resemble ABS as it is both rigid and flame-resistant.
Finally, Urethane methacrylate (UMA 90), a tough, rigid resin, is accessible on the Shapeways platform. This material is well suited for producing manufacturing jigs, fixtures, and prototypes.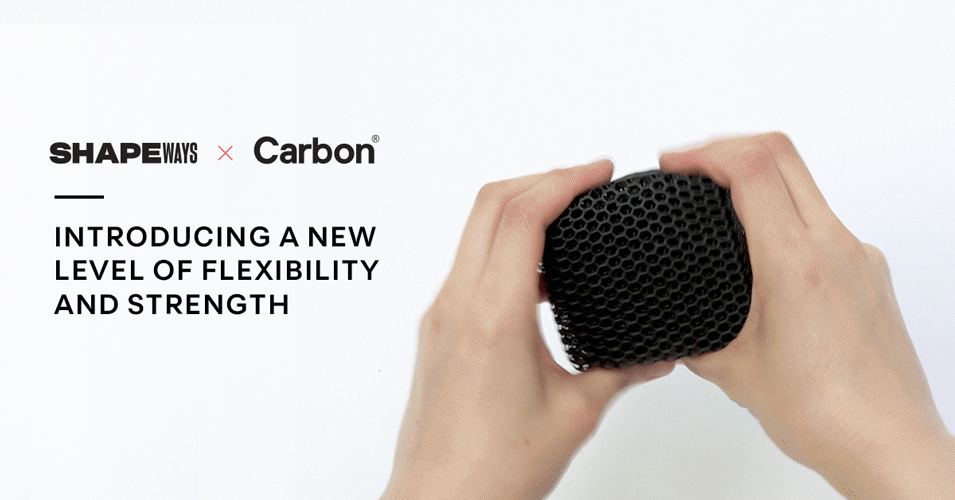 Carbon Digitial Light Synthesis
Carbon's 3D printing technology, which is now available through the partnership, uses Continuous Liquid Interface Production (CLIP) technology and DLS. This process uses digital light projection, oxygen permeable optics, and resins to produce high-quality parts.
As a result of its technology, Carbon has developed sports helmet lining for American football equipment provider Riddell,  3D printed Futurecraft 4D shoes in collaboration with Adidas, and dental models, casting and implant guides through its FDA-approved 3D printable DENTCA resins and M2 3D printers.
"We are thrilled that through our partnership with Shapeways, we can make the Carbon Platform accessible to more businesses around the world," added Dana McCallum, Head of Production Partners for Carbon.
It's your last chance to nominate Carbon, Shapeways, and others, for the upcoming 2019 3D Printing Industry Awards.
For the latest 3D printing news subscribe to the 3D Printing Industry newsletter, follow us on Facebook and like us on Twitter, for live coverage of the AMUG Conference next month.
Seeking 3D Printing Jobs? Join and advertise on our dedicated site now to reach professionals in this industry.
Featured image shows a 3D printed part from Carbon. Clip via Shapeways.