Today at TCT 2017 in Birmingham, UK, Barcelona's open source 3D printer manufacturer BCN3D Technologies has announced the launch of the new BCN3D Sigmax FFF 3D printer. Designed as a complementary product to the BCN3D Sigma, the new Sigmax has an increased build volume, and dual extrusion capabilities, unlocking a number of new features to give BCN3D the edge.
According to Roger Uceda, CEO of BCN3D Technologies, "This product release will allow our partners and us to easily meet the customer's needs, providing more accurate solutions for each vertical market."
"Our goal is to defy the current manufacturing status quo and, thanks to the BCN3D Sigmax and its highly productive features, we are convinced we've taken a new step in the right direction."
Dual extrusion – double the capacity 
The build volume of the BCN3D Sigmax is 420 x 297 x 210mm (X x Y x Z) doubling the size of the Sigma's X axis. With this, BCN3D are fulfilling a demand for larger scale 3D printing on the desktop.
Inside is an Independent Dual Extruder (IDEX) system, with Bondtech dual drive gears providing enhanced performance. The IDEX system allows users the freedom of two new print modes: Duplication Mode and Mirror Mode.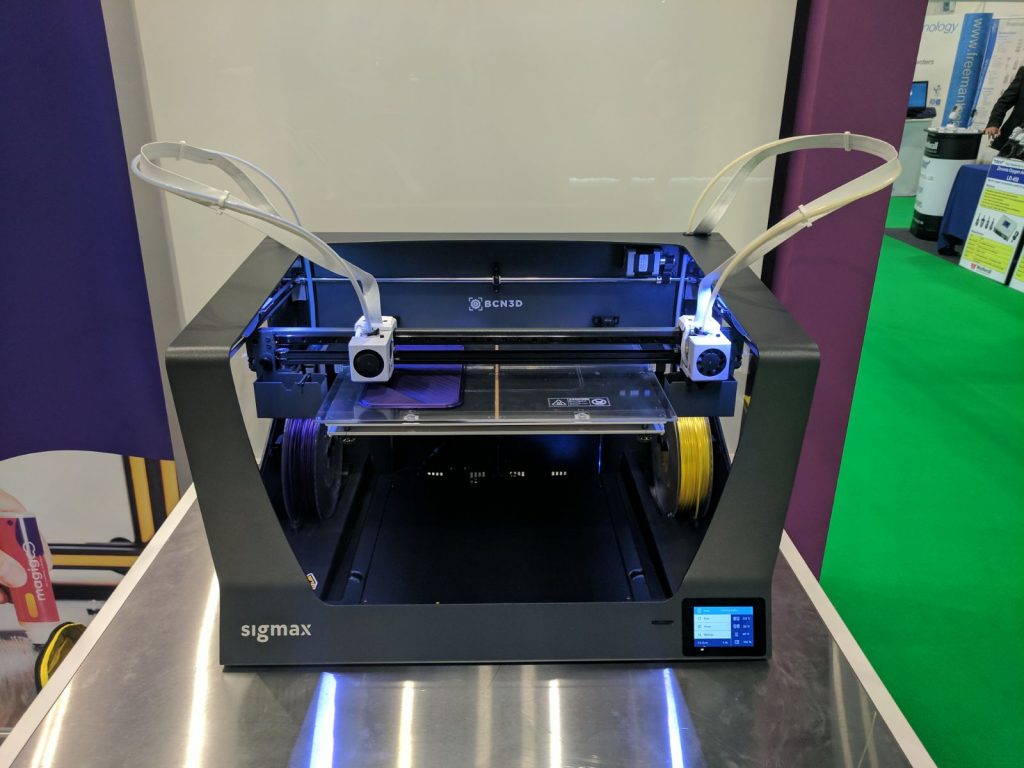 In Duplication Mode, the dual toolheads can be used to print multiples of the same model in a single print. Not only is this faster if printing objects at volume, but it also of course offers double the printing capacity, and is a good way to test repeatability of a design.
Mirror Mode offers users the option to 3D print a part and its symmetrical counterpart, cutting down time taken in iteration and design of the mirror image.
Both dual extrusion modes are supported by an updated to BCN3D's Cura slicing software, that also has added profiles for nozzle and material parameters.
Material specs and pricing
For flexibility, the BCN3D Sigmax has interchangeable toolheads, ranging in six degrees from 0.3mm nozzles to 1.0mm. With these options, BCN3D states "It is possible to print more detailed models, fabricate more resistant parts in much less time or even use technical and advanced abrasive materials."
Complimenting this move, the firm has also developed an industrial-grade materials portfolio, currently including PLA, ABS, Nylon, PET-G, PVA, TPU and CF. This range will be added to later in November, after shipping of the first round of Sigmax 3D printers which is due to start November 2nd.
Sigmax pre-orders are available directly from the BCN3D website at prices starting at €4,470 ($5,280.90).
Throughout this week 3D Printing Industry will be covering the latest releases live, as they happen, from TCT 2017 in Birmingham. To be the first with the news, get updates via our Twitter, Facebook and in our regular newsletter.
Featured image shows the new BCN3D Sigmax FFF 3D printer at TCT 2017. Photo by Michael Petch for 3D Printing Industry