An Apple 3D printer in 2018?
Apple has been granted a US patent for a full-color 3D printing system. The successful application for a "method and apparatus for three-dimensional printing of colored objects" was one of 44 US patents granted to the technology company on 16 January.
In 2015, 3D Printing Industry reported that Apple had filed a patent application for a full-color FDM/FFF 3D printer. While no announcement about an Apple 3D printer under development has been made, the granting of a patent means Apple will be able to manufacture a system if it chooses to do so. So, could an Apple 3D printer be on the way?
A patent application for full-color 3D printing
Apple commenced its patent application in May 2014. The application describes a dual printhead mechanism, one depositing a printable material, the other coloring that material.
Two ways were proposed for coloring this material, one applying color to the material during 3D printing, the other coloring the object after manufacturing.
In both iterations, the color application would be encoded within the original 3D information file with a machine-readable code sequence and performed by a rotatable nozzle.
Apple also stipulates that the 3D information file could originate from a computer, tablet, mobile phone or server, suggesting potential compatibility with Apple's other products.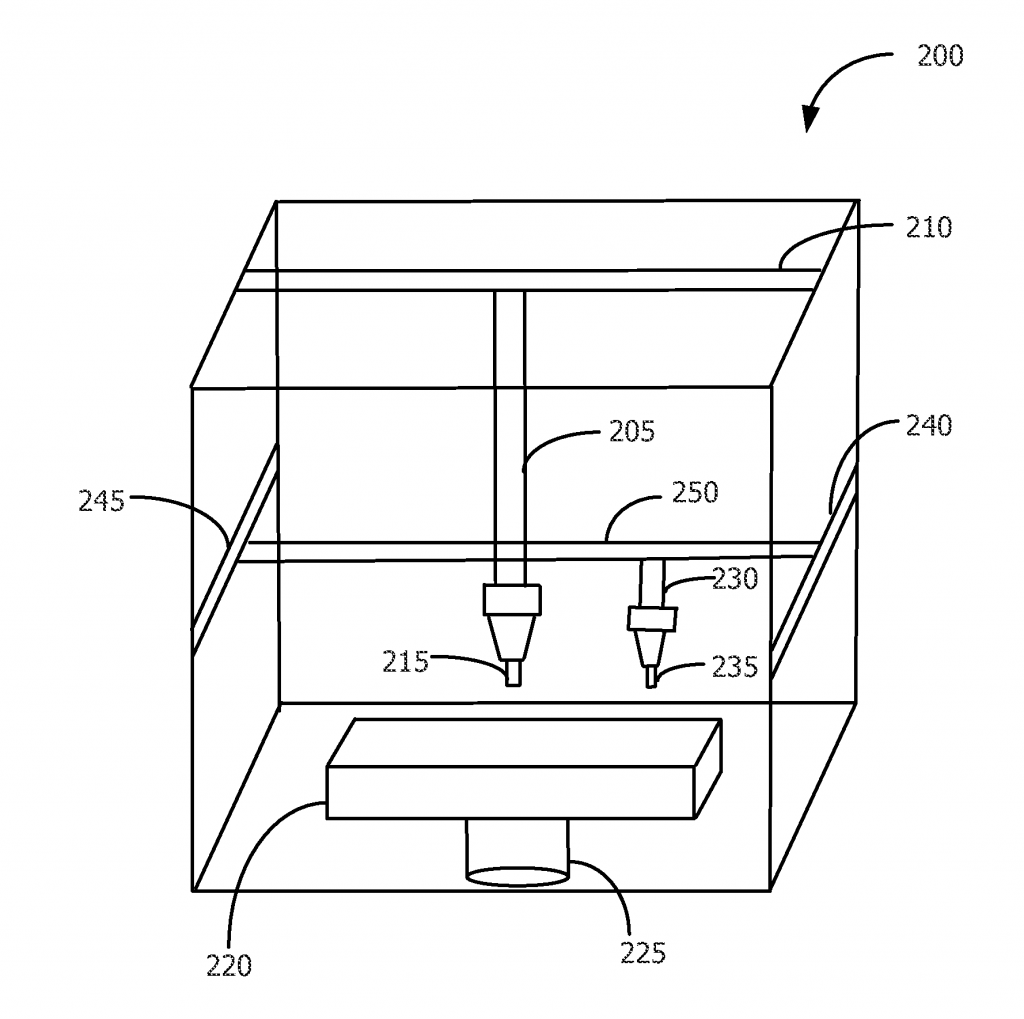 Apple's ongoing 3D technology tease
Since the patent application was filed for a full-color 3D printer, Apple has been granted patents for a method for instructing a 3D printing system comprising a 3D printer and 3D printing system, and a system of scanning projections and image capture modules for 3D mapping.
In the absence of a 3D printer, the attention turns to Apple's move into AI and 3D scanning. Users of the iPhone X will have already a taste for this in the form of the FaceID security, which combines deep learning with a depth map to compare the face before it with a photo of the user on file.
In a somewhat ironic twist of fate, FaceID was apparently tricked within a month of its release by a mask from Vietnamese tech security firm Bkav. To make the mask, Bkav used none other than 3D printing.
US patent no. 9,868,294, "Method and apparatus for three–dimensional printing of colored objects," credited to inventors Geoffrey Stahl and Howard A. Miller can be read online.
Make your nominations for the 3D Printing Industry Awards 2018 now.
To hear more about Apple's potential foray into 3D printing, subscribe to our free 3D Printing Industry newsletter, follow us on Twitter, and like us on Facebook.
Featured image shows a rendering of what an Apple desktop 3D printer might look like, by designer Martin Hajek. Image via Martin Hajek.