The annual 3D Printing Industry review of the year has more insights from additive manufacturing and 3D printing experts than ever.
We invited the leaders in our industry to tell us about the most important issues, events, and trends of 2018. 
Arno Held, Chief Venture Officer, AM Ventures
Next to being awarded Investor of the Year 2018 by 3D Printing Industry readers, for AM Ventures, the most important event clearly was FormNext in Frankfurt. Gigantic booths, more big names entering the industry, the shifting focus towards large scale manufacturing of applications showed impressively how our industry has matured. This, of course also sets high expectations for the coming years.
Vyomesh Joshi, President & CEO, 3D Systems
For me, it's amazing to look back at more than a generation of manufacturing to see the value 3D printing delivers to the manufacturing process. What started as an enabler for prototyping is now finding its place in production environments. 3D production is truly real. Today millions of "invisible" parts are printed: sacrificial tools that never see the light of day. Hundreds of thousands of dental models are produced yearly.
There are countless wax casting patterns for jewelry, engine parts, and other metal parts in many industries. 3D printed clips, jigs, and fixtures are used in factories around the world. We are seeing additive manufacturing produce parts with excellent properties from metal alloys or industrial plastics in volume. The progress of the past year is positioning the 3D printing industry for incremental, intentional digital innovation, based on the four pillars of progress: productivity, durability, repeatability, and total cost of operation.
Kevin McAlea, Executive Vice President, General Manager, Metals & Healthcare, 3D Systems
The significant advancements in direct metal printing this year have redefined how manufacturers think about and operate their manufacturing environments. We've reached a point where manufacturers can confidently produce 3D printed parts with excellent properties from traditional metal alloys that are better or as good as conventionally manufactured parts. New innovations through integrated technologies have led to faster print speeds, optimized workflows supported by unprecedented automation and the ability to create larger, custom metal parts that industries like Aerospace require. Additionally, the ability now exists to certify and validate parts and printers in regulated industries. This is a major breakthrough allowing AM to not only enter advanced manufacturing segments, but to be very successful.
Alex Ziff, CEO, 3D Compare
2018 has been a great year for 3dcompare.com even though we are still in the early stages we have seen a great increase in our on-demand manufacturing platform. In 2019 we see that on-demand manufacturing will increase due to new technologies and development in this area. We cannot disclose much of our behind the scenes work with our customers and manufactures but we believe 2019 is when the mass public will be able to join the on-demand manufacturing era. 
Atha Ur Rahman Khan, Program Manager Entrepreneur for Additive Manufacturing, and Dr.Jan Radtke, VP of New Business Accelerator, Cyient
Some of the key challenges in 2018 were the high cost of 3D printing machines, lack of standards for design and qualification and the shortage of trained talent but we have seen that there is progress made on all these 3 fronts to address the challenges.
The cost of 3D printers still remains high which is the largest component of an additively manufactured product. But the dynamics are rapidly changing, with new players entering the market and existing players launching more competitive offerings, we believe the cost of 3D printers will come down.
On the standards for 3D printing, tremendous progress has already been made in establishing standards by agencies such as ASTM and ASME. We hope to have official standards released within the next couple of years.
Lastly, leading research universities are coming out with courses in additive manufacturing for students as well as professionals. In addition, there are several consortia are being established to promote industry academia partnership. Cyient is also a part of Carnegie Mellon's Next Manufacturing Consortium. We hope these joint efforts would help accelerate the adoption of additive manufacturing technology.
Phil Schultz – Senior Vice President, General Manager, On Demand & Plastics, 3D Systems
Across the plastic 3D printing industry, we've seen a tremendous number of advancements in production applications of the technology. Digital Factory solutions now exist which enable manufacturers to accomplish the entire product development process – from prototyping to production – on one platform. And these same solutions rival injection molding, with the ability to build in surface texturing with improved accuracy and repeatability, faster time-to-part and overall lower total cost of operation.
There have also been tremendous advancements in the Digital Foundry. Additive manufacturing solutions are now available that enable investment casting professionals to produce patterns in a fraction of the time and cost compared to traditional pattern production. Typical production time for a 3D printed wax pattern is a few hours or less; no time or money is wasted on an injection molding process for traditional pattern tools. The potential also exists for significant cost reductions for initial patterns when the cost of traditional injection molding tooling is taken into account. It's one more example of the transformative power of additive manufacturing.
Rik Jacobs, Vice President, General Manager, Dental, 3D Systems
Over the past several years, dental professionals have been watching and evaluating 3D printing technologies, determining when the right time would be to integrate them into their workflow. In 2018, we reached that tipping point and have seen how additive manufacturing is redefining digital dentistry. Many early adopters have embraced production 3D printing solutions that combine materials, technology, software and services that offer compelling benefits in terms of time and cost efficiency, better accuracy over conventional methods, and high predictability of results. One such example is 3D Systems' NextDent 5100™ that addresses the largest number of indications from one platform, with the industry's broadest material portfolio and unprecedented ease-of-use. Additionally, we've seen partnerships among solution providers that integrates technology seamlessly into existing dental workflows. These advancements are enabling dental labs and clinics to produce dental devices faster and more economically with lower total cost of operation.
Romain Kidd, CEO, MyMiniFactory
Sub-$1k full colour 3D printing (xyz), first year with 1m+ desktop 3D printers sold, the Google Trends curve for Ender 3, over $100k redistributed to independent designers on MyMiniFactory.
Jon Bruner, Director of Digital Factory, Formlabs
2018 has been a very active year for 3D printing. While the underlying technologies have been stable, the field of potential applications has grown thanks to innovation in materials, software, and surrounding business models. We've seen several completely new mass customization applications in medical, dental and consumer packaged goods, with big brands like Gillette creating new product lines driven by personalization. We're particularly excited about the continued quickening pace of material improvements that enable end-use 3D printing as well as a wide variety of hybrid processes like investment casting, injection molding, vacuum forming.
Neil Hopkinson, Director of Technology, Xaar 3D
The festive period is one in which many take the opportunity to reflect and to be thankful for what we have and to ensure we don't take things for granted.
It is therefore rather timely to note that the most significant trend that I noticed in 2018 was one that many of us in this community have started to take as a given – namely the unabated growth of the industry. There are many barometers for this growth such as the annual revenues for products and service that once again grew by over 20% year on year or the impressive number of new entrants from start-ups to well established global corporations that have entered the market with serious levels of commitment.  
Beyond these measurable aspects, this year in particular I sensed a feeling of industry growth when attending some of the industry events (AMUG, 3D Printing Industry Awards, Formnext as some examples) where the level of attendance, deep engagement and "the buzz" were at a palpably elevated level compared with previous years.
Michael Seal, Business Development Manager for Advanced Manufacturing and 3D printheads, Xaar Plc.
What has struck me the most over the course of 2018 is the creativity to solving Additive Manufacturing problems. Where originally there were several core 3D printing and Additive Manufacturing solutions and derivatives thereof, rather than follow the "me too" trends so often commonly found in other industries, the sector continues to create novel methods to address the market.
formnext 2018 was one of the most interesting, engaging and busy shows I've attended in a very long time. The level of enthusiasm in this sector shown by the show visitors was infectious.   
André Thiemann, Global Head of Applications, SLM Solutions Group AG
2018 was the year of change in the AM industry as we truly start to see developments mature from prototyping into serial production. Only a few years ago we were starting with select applications, but we are crossing the threshold into scaling to serial production. This trend was apparent at formnext as we presented more complete solutions realizing that machine performance is not the only consideration in the market anymore, rather the rate of integration. The question moving forward is how we integrate AM into the current process chain, which requires considerations from both the software and hardware side.
Greg Mark, CEO, Markforged
Manufacturers are increasingly finding places where 3D printing has a positive ROI — today — in parts of their business that matter. Many used Markforged this year to prove out that ROI in creating tools and fixtures. Other companies had success in other pockets of value. It's no longer an exploration of emerging technology. Now it's simply about applying 3D printing in places where it saves manufacturers money and enables them to move faster.
Dr. Kaj Fuehrer, CEO, enter2net.com AG
After increasing the machine based productivity and bringing more and more materials for industrial usage into the machines (like PA12 and Ti64) one trend is the integration of additive manufacturing in the company processes. This includes the implementation of automatized production concepts and their integration by new software solutions in the overall digital process chain. These software solutions need to address productivity, reproducibility and security.
Joseph Crabtree, CEO, AM Technologies
The most import trend for the industry was the increasing aggressive demand for speed, cost reduction, and performance of end-use parts.  A lot more attention is finally being placed on the unlocking potential that post-processing innovation has on the adoption of 3D printing and its transition to industrial production.  
For an industry that calls itself disruptive we are post processing parts the same way we did 100 years ago. At AMT we find that to be insulting. In 2019, we are poised to set the industry's gold standard on sustainable post-processing solutions and challenge other companies that call themselves innovative to change their methods of make.
Dayton Horvath, Principal, NewCap Partners
2018 saw some trends mature and some kick-off despite long delivery horizons. High performance thermoplastics are now a competitive printable materials segment in material extrusion, and notably faster digital light projection systems have been demonstrated. New announcements have focused on metal 3D printers, whether it is continued advancement in direct energy deposition, or the latest printer announcements from HP and Stratasys. A production focus was set in 2018. It's up to the next three years and the leading additive companies to deliver on their promises.
Sascha F. Wenzler, Vice President, Mesago Messe Frankfurt GmbH
The intensive days of Formnext are my highlight in 2018 – what else can I say? 632 exhibitors on more than 37,000 square meters in a full and buzzing Hall 3 where around 27,000 visitors from all over the world and we as organizers experienced incredible progress and innovations that additive manufacturing is currently achieving in industrial applications.
The future of manufacturing was literally palpable on the two levels of the hall. My personal highlight at Formnext is the growing and interacting community, this special feeling of immersing yourself in the world of AM when you enter the hall and have contributed a part to it.
This sense of togetherness and the desire of everyone in this industry to carry on and develop AM as a Life Changing Technology is simply indescribably good and motivating for everyone involved.
Dean Franks, Head of Global Sales, Additive Manufacturing, Autodesk
In 2018, we saw more focus on software tools that enable greater speed, reliability, efficiency and quality, as well as an increased collaboration between software and hardware. At Autodesk, our Netfabb software saw improvements to simulation and latticing, cloud storage and new machine workspaces, and 2018 saw the deepening integration of generative design into the AM Workflow with our in-canvas Fusion 360 Experience.
Aleksander Ciszek, cofounder and CEO, 3YOURMIND
If there's one take-away from Formnext 2018, it's that the entire industry wants to move to serial additive manufacturing. And the first stones have been laid: with the announcement of BMW producing AM-serial metal brackets for the I8 Roadster in 60-70,000 parts, it's clear that businesses will soon be producing items in the thousands rather than focusing on prototyping. .
Machine operators are opening up their machines and making their APIs available. There is an increasing focus on quality instead of quantity. EOS's stand was a good example of how production speed is not the only thing manufacturers are looking for – reliability and repeatability are actually the major tests for successful AM series production.
Having anticipated this shift for some time, our software infrastructure provides automatic production scheduling, repeatable order sequences, direct connections for ordering and tracking with ERP systems, and direct machine integrations. The market is ripe for a seismic shift, and our software systems for series additive manufacturing are already in place for this new era of manufacturing.
Xavier Martínez Faneca, CEO, BCN3D Technologies
In 2018 we've seen a clear standardization of dual extrusion technology for professional desktop machines. We've been working with dual extrusion since 2015 thanks to the innovative IDEX system and this year, thanks to the feedback received by our users, we've taken the technology to the next level with the new Sigma & Sigmax R19 models.
For the first time, our products allow printing with both heads simultaneously, and consequently, double production capacity. We've also equipped the new models with leading components in the industry, creating an even more reliable product.
Finally, all this is not enough without taking into account a basic pillar and in which we've worked substantially this year: offering the best possible technical service. We know that AM is still being established and many customers are using 3D printers for the first time, which supposes many doubts and uncertainties in the user. Our goal is clear: be there to help and advise our customers with human and top-grade technical support.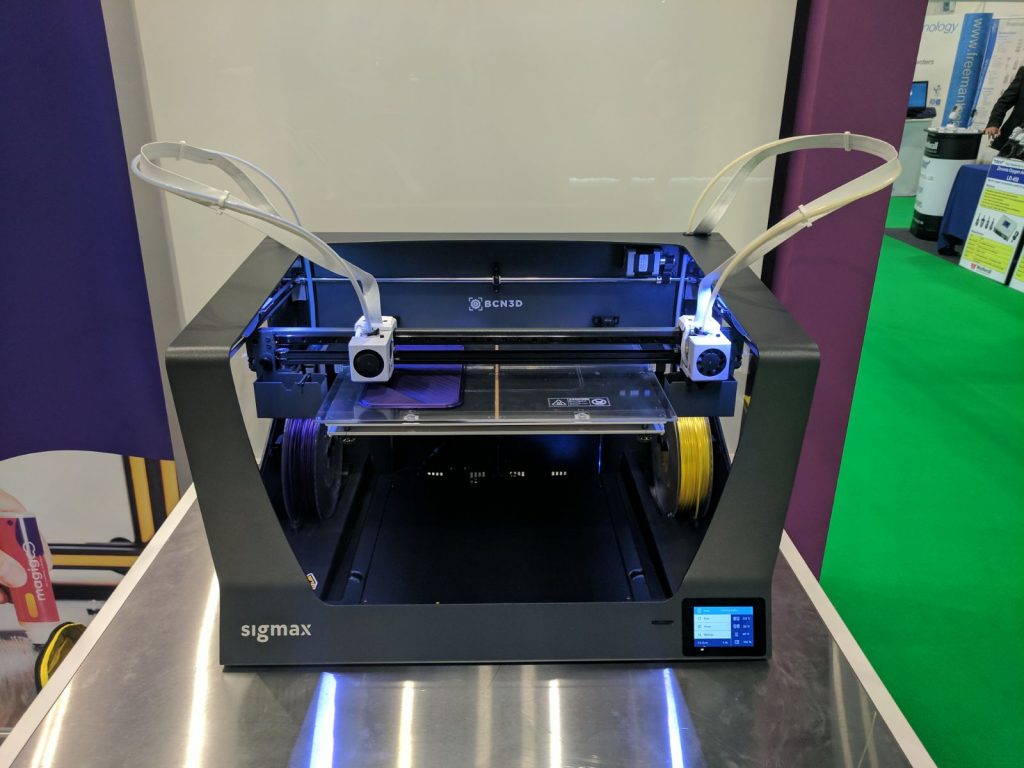 Rush LaSelle, Senior Director of Digital Manufacturing, Jabil
In 2018, the cost to make production parts on industrial platforms continued to decline, primarily across discrete areas in the value chain, including materials, machinery, and operations. This decline was matched with a spike in the number of companies that embraced additive manufacturing to produce parts and develop 3D printing programs as part of their manufacturing processes.
As greater volumes of materials for Additive Manufacturing were consumed, the industry experienced increased participation from large materials companies to scale the sector, causing reductions in powder, filament and resin while improving assurance of supply. At each of the major industry conferences, upstream companies, such as BASF, announced new ecosystem partnerships to increase the portfolio of available materials at lower price points. Solution providers, like Carbon, also announced significant material price reductions, which have driven volumes and new applications.
Increased volume not only helps the materials value-chain, it increases the availability of platforms from companies like EOS to continue driving better economies of scale in the production of their systems.  In turn, this will help equipment providers reduce machine costs, decrease support cost and total operating costs while increasing critical mass in the channel.
Lastly, manufacturers have continued to build competencies around additive to implement the technologies in similar fashion to more traditional production techniques. As we toured factories, we noted great progress around production and quality systems that permit additive to operate in production environments governed by ISO and more stringent regulations, especially those imposed by transportation, aerospace and medical. While serving these high-value markets are not new, the number of new projects that can be cost justified has accelerated adoption.
In 2018, we saw the industrial additive manufacturing market accelerate by fueling the sale of materials and machines while further driving down cost-curves and enabling more programs.
Shon Anderson, CEO, B9Creations
In 2018, customers demanded more from providers than printers, resin, or accessories. They began to push applications beyond 3D printing and into additive manufacturing. This emerging trend surfaced in the form of solutions that were easier to use and faster. Simply being able to print a shape isn't good enough. The technology needs to mature in serving as an enabler of customers' businesses.
Sylvia Monsheimer, Head of the Market Segment New 3D Technologies, Evonik
We are seeing a major shift toward real production. Looking deeper into this, we notice a significant advance in post processing of components like dyeing, smoothing, automation and professionalization which will enable the 3d printing industry to really take off by closing the gap in the production process chain.
Evonik is well prepared to supply customized high performance polymer materials and additives to the market. In early 2018, the specialty chemicals company opened another production line for specialty polyamide powders of its VESTOSINT® brand which have been used in powder bed 3D printing technologies for years. In mid-2018, Evonik opened its first research hub for resource efficiency topics in Singapore, internationalizing its research into the areas of functional surfaces and additive manufacturing.
In the Direct Manufacturing Innovation Field, Creavis—Evonik's strategic innovation unit—is looking for evolving technologies and is developing new material systems that make 3D printing suitable for producing industrial parts. Evonik is willing to support the market growth actively.
Greg Thompson, Global Product Manager, 3D Printing, Protolabs
2018 was another very exciting year in 3D Printing.  Engineers' overall comfort of how to successfully incorporate 3D printing into their designs further advanced, showing how far we've come with adoption of 3D printing as a manufacturing option for both prototypes and end-use production.  Notably in 2018, generative design tools have now become a standard feature in CAD software.
That customer interest, in turn, enticed continued momentum for innovation. 2018 proved to be another year of massive investment in both machine performance and material chemistry, as large companies in both spheres are committing substantial resources behind metals and a renewed energy in polymers.
Beyond the printer, 2018 saw significant activity in both software systems and post-processing automation to address some of the efficiency and labor challenges throughout manufacturing.
All of these trends have helped 3D printing become even more viable and cost-effective for an ever-growing group of applications.
Chris Connery, vice president of Global Analysis, CONTEXT
2018 was all about the Industrial side of Additive Manufacturing. On the metals side, the industry saw shipments of new, lower priced multi-ASTM process printer technologies like Material Extrusion solutions from Markforged and Desktop Metal.
Interest also gathered around forthcoming alternative multi-process metal technologies like the various Binder Jetting solutions from HP (Metal Jet) and Desktop Metal and for Stratasys' LPM. "Green part" was indeed the phrase-du-jour at many a trade event this year as metal printer vendors explained the steps by which they envision lower priced metal parts being cost effectively mass produced in the not too distant future.
In the world of Polymer printers, vendors like Carbon and HP continued to see strong shipments and share gains as Vat Photopolymerization and Powder Bed Fusion technologies took center stage.
Not to be outdone by these "new kids on the 3D Printing block", the once again market leader 3D Systems charged ahead with a host of new products in 2018 including first deliveries of its Figure-4 platform.
Simon Fried, President, Nano Dimension USA, Inc
2018 has been a phenomenal year for additive manufacturing with many new players, technologies and new applications arriving on the scene.
In terms of new players and technologies, polymer 3D printing is witnessing wider adoption of high-performance engineering plastics such as PEEK, PEK and ULTEM. This is being driven by end-use parts becoming a more common implementation. At the same time part sizes and speed of printing are reaching new heights with larger systems from the likes of BigRep and exciting high-speed systems such as Nexa3D. The more professional desktop FDM systems such as Ultimaker and MakerBot are also making great strides to print more reliable and higher resolution parts.
At the other end of the size spectrum researchers at MIT and start-ups like Nano Fabrica are paying attention to printing very small parts. This can be expected to usher in new micromanufacturing capabilities.
Poymer 3D printing is not resting on its laurels. This has been the year where it has become clear that polymers are now a solid part of manufacturing, as announcements from the likes of Volkswagen and BMW can confirm.
While polymer 3D printing has been stepping up anyone keeping abreast of the burgeoning 3D printed metal space cannot help but be awed by the feverish activity. Companies both large and small have announced new metal systems and the range of deposition technologies and materials on offer is astonishing. Announcements have included very large systems as well as some entirely new deposition approaches.
Perhaps the most noticeable area of growth has been the arrival of MIM and PIM material compatible systems such as those from HP, DesktopMetal and others such as Sicnova. The majority of this metal printing activity goes beyond enabling prototyping and tooling, the focus is on additive manufacturing, high-strength and high-throughput production is the goal.
In Nano Dimension's space of additive manufacturing of electronics there is also strong growth. We have announced several industry sectors coming to us for novel solutions to meet the needs of electrical engineers. Electrification's impact will be felt across products, production systems and manufacturers of all stripes. With the inexorable growth of digital technologies electrical and mechanical design are getting ever more co-dependent.
An example of this is the SolidWorks PCB product which combines electrical and mechanical design. This convergence is leading to digitization mega-trends powered by AI, ML, autonomous systems and the soon to be omnipresent, sensing and reporting. The future of the electronics sector is looking very rosy indeed.
3D printing tradeshows in 2018 have been booming. Larger spaces have been filled and introductions to an ever-growing ecosystem of materials and software developers have been made.
Additive manufacturing is far from a scrappy upstart technology trying to prove itself, the confidence is palpable and production is pushing things ahead. This wouldn't be happening without the growing engagement of very large companies such as HP, GE, Dassault and Siemens and will no doubt be further accelerated as generative design solutions from AutoDesk, SolidWorks and ParaMatters take the inherent advantages of additive manufacturing to new heights.
Scott Sevcik, Vice President of Manufacturing Solutions, Stratasys
We're finally seeing the evolution of additive manufacturing beyond rapid prototyping to serial production parts for the assembly line. Especially in automotive and aerospace production environments, additive is becoming a common fixture on the factory floor across the supply chain – for both custom tooling and final parts.
Gina Scala, Director of Global Education, Stratasys
STEM isn't just an educational buzzword, but core to how we're teaching students and planning curriculum. That means 3D Printing  is a more integral part of learning environments in CTE high schools, technical environments, and colleges/universities. With this technology driving our future, the shop floor is now a place of innovation – with additive manufacturing programs teaching innovative ways to approach jigs, fixtures, tooling and end-use parts.
Blake Courter, VP of Product, nTopology
The most important development of 2018 has been mainstream vendors delivering tools to design and produce functional additive parts. Before, the tools mostly supported prototyping and low volume production of CAD parts, and users had to take it upon themselves to produce advanced designs. For design, most CAD vendors have included topology optimization in their packages. Lattice and TPMS-based design has become standard for robust, lightweight parts and heat exchange applications.
Desktop Metal and Markforged both released metal filament printers with a practical application focus on tooling. Stratasys' new Jigs and Fixtures product set a new standard in how to produce functional models from CAD geometry.
Most importantly, I think that design engineers now see additive manufacturing as a design opportunity instead of a manufacturing convenience, and now they are trying to figure out how make the most of their hardware.
Martin Hermatschweiler, CEO, Nanoscribe
2018 was a very important year for ultra-precise 3D microfabrication. With the new Photonic Professional GT2 systems, Nanoscribe introduced a 3D printer that bridges the gap between micro- and macroscale fabrication in terms of build size and precision. These new capabilities open up a multitude of unprecedented applications, e.g., in biomedical engineering or micro-optics.
The extension of the maximum print volumes toward the macroscale was a great wish of our customers and project partners from industry. With the relaunch of our extremely successful generation of Photonic Professional devices, we have now succeeded in overcoming previous physical limitations and increasing the performance of the devices by a factor of up to 10 in terms of productivity and speed.
Joanot Martínez-Mora, Technical Manager, Ineo
I think the most important event in the 3DP European world is the Formnext exhibition. It has become the place where we all meet to see what's new and where is going to. I've seen many professional FDM machines, more metal "printers" using different technologies (some too young yet) and also accurate small machines. Is clear the 3DP is growing and taking its place in the manufacturing market. There's still a long way to run in the metal "printing" world; we will see this in the next years.
Jakub Rozpendowski, Business Executive, 3D-Lab.pl
Even though there were a lot of interesting local events targeted at different market sectors like aviation, healthcare, engineering or automotive, the most important event for us was Formnext 2018 in Frankfurt, Germany. We had a unique chance to present ATO device to the worldwide audience.
ATO Lab is a breakthrough solution for the quick production of free flowing spherical metal powder. I am proud to say that we, as a company are the pioneers of using ultrasonic technology in metal powder production. Due to the compact size of our device and the technology used in the machine, we managed to present the running system and produce the metal powder at the booth.

We generated a lot of buzz and interest not only from the side of our expected prospects but also from different markets like metal injection moulding, hot isostatic pressing and conventional powder metallurgy.

Thanks to our contribution, from now on, metal powder production is also possible for smaller laboratories.
Keyvan Karimi, CEO, AMFG
In 2018, we saw a renewed focus on additive manufacturing for production, demonstrating the increasing maturity of the industry and new developments with the technologies. With this focus has come a growing recognition of software as a vital part of managing the AM workflow – a critical first step if OEMs are to create a scalable production process.
Filemon Schoffer, Co-founder & CMO, 3D Hubs
A key theme for the 3D printing industry was "growing up", with an industry shift to professionalisation (B2B positioning).
It is now recognized by most businesses that the true potential for 3D printing is in the professional manufacturing realm. This is very typical in terms of Hype curve. Clearly true for 3D Hubs of course, but printer manufacturers have shown the same trend, with exclusively pro-machines from Ultimaker, Formlabs and the like. A good development for the industry as it attracts more capital which allows 3D printing to live up to its true potential.
This development also meant the fall of many of the (sometimes large) desktop 3D printer manufacturers. Something that was anticipated, but really struck in 2018.
Interesting examples of the intersection between 'benchtop' and industrial are Desktop Metal Studio System and Markforged Metal X printers that were shipped out in 2018. High potential to change the way businesses create metal prototypes.
Max Friefeld, CEO, Voodoo Manufacturing
The most exciting trend of 2018 is how auto manufacturers (Ford, VW) have started announcing they are going to integrate 3d printing into their supply chain. This is a huge step for 3D printed functional parts becoming more and more mass market.
We've been disappointed by the slow pace of roll-out in printers from companies like HP, Carbon, and Desktop Metal. Hardware is hard, and it turns out that launching a new piece of manufacturing hardware can take years to introduce.
3D printing on demand is starting to take Shopify by storm. Voodoo and Shapeways both launched Shopify apps in September and so far our stores have had a very successful holiday season.
Dr. Joseph DeSimone, CEO, Carbon
2018 was a big year for the 3DP/AM industry as the field showed signs of bifurcation to now include clear capabilities for digital manufacturing at scale. The powerful convergence of hardware, software, and molecular science is enabling production at a scale the industry hasn't seen before. At Carbon, we launched the largest digital fabrication example in history with the launch of the adidas Futurecraft 4D franchise. More than 100,000 pairs of 4D running shoes were fabricated and we are on track to manufacture into the millions in 2019. Other customers of ours also have examples of manufacturing with our Digital Light Synthesis™ technology, which will be announced in the first half of 2019. These production examples in the aggregate have triggered an important tipping point for the industry: we now see, for the first time, a cost-down curve with volume in the digital manufacturing world akin to the cost down-curve with volume that everyone relies on in the injection molding industry. As a result, Carbon was able to take the price of our large volume resins from $300/L to $150/L last year to an unprecedented $50/L here in 2018.
The competitiveness of our technology for manufacturing has driven adoption: we nearly doubled our network of global production partners, which now spans across four continents, fueled by continued pushes into verticals like dental, automotive and healthcare. Not only did we see growth in the market for mass manufacturing, but we also saw companies really start to rethink how they design their products and parts, opening up a whole new world of design freedom. One example of this was Carbon's work with Vitamix. Together with our production partner The Technology House, Carbon reimagined part design and production to develop an innovative micro-fluidic nozzle at mass scale that is 10 times more durable, uses 30 percent less material, and is 33 percent more economical, all while reducing the number of parts that needed to be produced from six to one. This is a truly remarkable time for Carbon and for the industry.
Christoph Schell, president of 3D printing and digital manufacturing, HP Inc.
Thanks to breakthrough technology in 2018 like HP's Multi Jet Fusion and Metal Jet platforms, we're now seeing more of the world's leading companies using industrial-grade 3D printing to speed up their own innovation cycles from design to production. The Jet Fusion 300 / 500 series introduced the industry's only 3D printed technology for engineering-grade, functional, full color parts and HP Metal Jet is bringing high volume manufacturing of production-grade metal parts to the industry for the first time.
Industrial 3D manufacturing enables organizations to innovate faster, more efficiently run operations and manage capital costs, reinvent supply chains, create new markets and produce previously inconceivable parts. This past year, major automotive manufacturers including BMW and Volkswagen shared how they are reaping the benefits of HP's industrial 3D printing technology and shared plans for building on this early success.
Specific examples worth highlighting this year include:
BMW recently reached its one-millionth 3D-printed part milestone. The part at hand was a window guide rail for the new BMW i8 Roadster which was produced using HP Multi Jet Fusion technology. This application reflects the increased speed 3D printing offers as HP's technology enables BMW to produce up to 100 window guide rails within 24 hours.
The introduction of HP Metal Jet at IMTS included an industry-first collaboration with GKN Powder Metallurgy to deploy HP Metal Jet in their factories to produce functional metal parts for auto and industrial leaders including Volkswagen and Wilo. GKN produces billions of metal parts per year and expects to print millions of production-grade HP Metal Jet parts for its customers across industries in the coming years.  HP Metal Jet technology delivers mechanically functional final parts with up to 50x more productivity than other 3D printing methods and at significantly lower cost compared to other binder jetting systems.
Volkswagen is taking advantage of HP's 3D printing technology for both metal and plastics applications. Volkswagen's multi-year plan to use HP Metal Jet also includes the production of higher performance functional parts with significant structural requirements, such as gearshift knobs and mirror mounts. As new platforms such as electric vehicles enter mass production, HP Metal Jet is expected to be leveraged for additional applications such as the light weighting of fully safety-certified metal parts.
Andy Kalambi, President and CEO, RIZE Inc.
Three key trends emerged in 2018. Additive manufacturing finally began to expand out of the lab and become more pervasive. We saw an increasing number of users with little or no 3D printing experience adopting the technology at every level. For example, our customer PSMI, a subtractive solutions provider, never had 3D printers before adopting RIZE. Yet, they had the courage and conviction to form an entirely new business based on additive manufacturing. Many of our resellers are also first-time entrants into 3D printing, diving in from a range of industries, including CAM software, CAD software, machine tools, banking and financial services. This is a very positive trend because it demonstrates that additive manufacturing is evolving from a niche industry into a mainstream industry, which will drive scale. This is just the beginning.
As 3D printed parts enter the supply chain and eventually end-use applications, there must be a high degree of trust in those parts. 3D printing is a technology that can replicate easily, so building trust into parts will be critical. We saw the start of this trend in 2018 with RIZE ONE, where users can 3D print authentication into parts with secure marking, such as a QR code – similar to the way we can embed digital rights management (DRM) into a document with a watermark. Building trusted parts and building trust into parts enables users to scale the use of 3D printed parts throughout the enterprise.
There was considerable discussion this year about multiple materials. Until now, 3D printed parts were based on existing materials and those materials had to be able to function in the 3D printer. Hybridization emerged in additive manufacturing, which is the ability to combine different materials in the 3D printer to create new digital materials. Hybridization enables us to engineer the materials to suit a specific purpose in additive manufacturing, such as eliminating VOCs. RIZE demonstrated this most recently by combining functional inks with new materials in the XRIZE 3D printer to create functional parts in full color. This was only previously available in select printers at a very high cost and with minimal capabilities.
Insights continue…
Alessio Lorusso, CEO & Founder, Roboze
I strongly believe that 2018 has experienced a deep change toward end users. On one hand manufacturers develop new machines and materials, on the other hand users are getting more aware of what they can produce and the advantages the can obtain. Thanks to manufacturers like Roboze, that have an informative/educational tendency in its communications, the market started a real industrial transformation, where operators are no more looking for a 3D printer, but a real solution, suitable for their needs.

Aerospace and motorsport are still the main industries that experience this transformation. Regarding the applications, tooling is the one that, more than others, stimulates end users to contact us. The availability of a solution for the production of ergonomically optimized parts, that are lighter and at the same time strong like metal, with advantages in terms of warehouse dematerialization, is a trend that is getting followed by all manufacturing industries, without any distinctions.

In terms of materials development, this 2018 saw a significant trend toward composite materials. Roboze has been one of the first providers and we are glad of paving the way for other competitors.  It's like what happened with PEEK, our leading material. For me this is a confirmation of Roboze's team intuition.
Andre Wegner, founder and CEO, Authentise
This year saw several other signs of industry maturing beyond new applications and machines, especially in our field (data-connected software).
MTConnect, the data standard for manufacturing, saw its initial release in additive and early adoption by stalwarts such as 3D Systems and Stratasys. This means 2-3 years data access to machines will be easy, commonplace and free. The value will be in what is being done with that data
OEMs started releasing software to industrialize the material characterization process. The solutions make it easier and faster to create parameter arrays, making it more efficient to test new materials across a range of settings to discover the ones that work.
Integrated workflows started appearing: GE's announcement with most major software players to enable integrated solutions, EOS's announcement with Siemens and many more – it's clear that the CAD->Product link is growing stronger.
Fried Vancraen, CEO, Materialise  
In 2018 we saw another year of increased awareness in the industrial segments of the different applications that additive manufacturing can support. The application-driven approach got more and more attention, also form the financial world.
Janet Kar, COO, Link3D
This year, we've seen a major shift across many Aerospace, Automotive and Industrial OEMs moving from prototyping to series production, namely organizations investing in new centers to push the boundaries of additive manufacturing. Prime examples include: Volkswagen that launched its new 3D Printing Center in Wolfsburg, BMW Group that invested in its New Additive Manufacturing Campus in Munich and Ford that opened up the new Advanced Manufacturing Center in Michigan.
As organizations move from prototyping to series production, leading players in the market are moving the needle by: introducing scalable production lines with GE's M Line Factory; increasing production speed and quality with EOS M 300 Quad-lasers and EOS LaserProFusion. Also important is the reduction of material cost, as we've seen with with Carbon EPX 82, EPU 41 and RPU 70. With clear advancements on machinery and materials, many organizations are now developing their digital strategy to automate additive manufacturing workflows at scale for series production.
As a result, additive MES solutions are becoming more important across upstream and downstream manufacturing processes. Today, machine manufacturers are becoming more open to software integrations as they understand the need to help OEMs scale their production capabilities. Link3D Additive MES is paving the way by collaborating with machine manufacturers to help OEMs achieve their digital strategy by integrating with existing software ecosystem, such as ERP / CAD / PLM / PDM connectivity for the Digital Twin. With a digital strategy in place, OEMs can take advantage of end-to-end traceability, yield management systems across 3D printing production, post-processing and quality inspection stages, and an integrated digital strategy to enforce industry standard requirements.
Lee-Bath Nelson, Co-Founder and VP Business at LEO Lane
2018 was a great year for additive manufacturing and the industrial possibilities have expanded and attracted large players. This was most evident at formnext that capped off a year full of activity and an increased emphasis on software.
2018 also saw a difference between companies that "think corporate grade" at the pilot stage and those that deploy it during production – after successful pilots. By corporate grade I mean pilots that include a platform for IP protection and consistency enforcement that works with existing corporate policies and procedures, without changing them. When these software considerations are included as part of the planning for the initial pilot program, the resulting pilot is more valuable and the move to production much smoother.
Submit your nominations now for the 3D Printing Industry Awards 2019.
Also, for the latest 3D Printing Industry news throughout 2019 subscribe to our newsletter, follow us on Twitter and like us on Facebook.
Looking for a fresh start in the new year? Visit 3D Printing Jobs to get a head start.