This is a guest post in our series looking at the future of 3D Printing. To celebrate 5 years of reporting on the 3D printing industry, we've invited industry leaders and 3D printing experts to give us their perspective and predictions for the next 5 years and insight into trends in additive manufacturing.
Jos Burger is the CEO of Ultimaker. Since 2011, Ultimaker has released a series of widely popular 3D printers, most recently the Ultimaker 3. The Netherlands based company now has production facilities in both Europe and the U.S., shipping 3D printers to over 50 countries worldwide.
3D Printing: The Next Five Years, by Jos Burger of Ultimaker

As more professionals gain experience with 3D printing, their demands and requirements are diversifying, and the specific needs of different market segments are becoming clearer. So what's ahead of us in the coming years?
Pushing Boundaries
Companies and institutions are starting to realize how much 3D printing can transform their businesses. Until recently, the technology focused on prototyping and creating mock-ups ─ now it produces tools and even manufactures customized goods.
Through our connections with companies and institutions such as Airbus, Google, Apple, Volkswagen, MIT, and Tesla, we gained insight into how our printers are being used and how the industry will change. The scope of the desktop 3D printer has broadened, delivering the same quality results as industrial printers (at far less cost and in a more accessible way for every professional). 3D printing is also likely to change additive manufacturing and supply chains. We can tell this from the number of companies that are introducing high-volume, quality 3D printing production – a development with staggering implications.
Desktop 3D Printing – Breakthroughs
Initially, they will be incremental – small improvements leading to big results in terms of time to market, customer satisfaction, design quality, and cost efficiency. This is due to accessible FFF (fused filament fabrication) machines. They make production tooling at a lower cost, use many materials and integrate workflows. This offers flexibility and less capital expenditure ─ a game changer for businesses.
Additive Manufacturing – Materials
There's now more choice in materials, not to mention significant software developments. We used to rely solely on PLA and ABS, but Ultimaker is now also offering Nylon, CPE+, PC, and TPU 95A, for even better printing results.
We're seeing more professional users implementing clusters of machines in their facilities. Software development is supporting this clustering, allowing for remote printing, material consumption tracking, printer time allocation, and remote management.
Production-Grade Desktop 3D Printing
For businesses, there are three big implications of the developments in 3D printing.
Faster time to market. The new process for introducing production is far quicker, and the technology can be extended to the full manufacturing process's release procedure – slashing the time to get a product to market. In the past, this was constrained by the development of assembly fixtures, manufacturing jigs, and tooling.
New design geometries. In the past, designers had to stick to designs that could be machined, molded, or stamped. High-quality desktop 3D printers offer them far greater freedom, especially the dual-extrusion models supporting Nylon-PVA combinations.
Cost-effective (low to mid-volume). Tooling and molding are expensive, with each part requiring its own custom equipment. Production-level 3D printing limits the need for tools or molding, which means a line can move from one task to the next, making completely different parts with every run. It's only the CAD file that needs to be changed, which means more low-volume flexibility.
The technology isn't just for established companies – it's invaluable for start-ups, too. Desktop 3D printing lets them test the potential of a new product with reduced financial risk.
Changing Demands
Reliability and consistency are important to 3D printer users. However, businesses now also focus on strength, durability, and surface finish. Customization is also desirable, and enterprises want 3D printers that can be tweaked to suit their needs.
The focus is on prototyping, tooling and low-volume manufacturing. 3D printing is versatile and can be integrated with other systems (e.g. ERP and PDM), improving the company's workflow.
3D Printing Clusters
More and more, design-orientated professional groups are exploring the opportunities of 3D printing in stand-alone and cluster environments. Architectural and product-development firms are moving past trial-run periods and scaling up their investments in the technology, buying numerous printers and installing them in clusters.
Print jobs can be sent to any printer in the network, depending on the job requirements. Larger jobs can be split between printers – a small price to pay for more flexibility. It's easy to scale up 3D printing capacity while still running older 3D printers. The incremental scaling means most design firms keep their 3D printers running at nearly full capacity.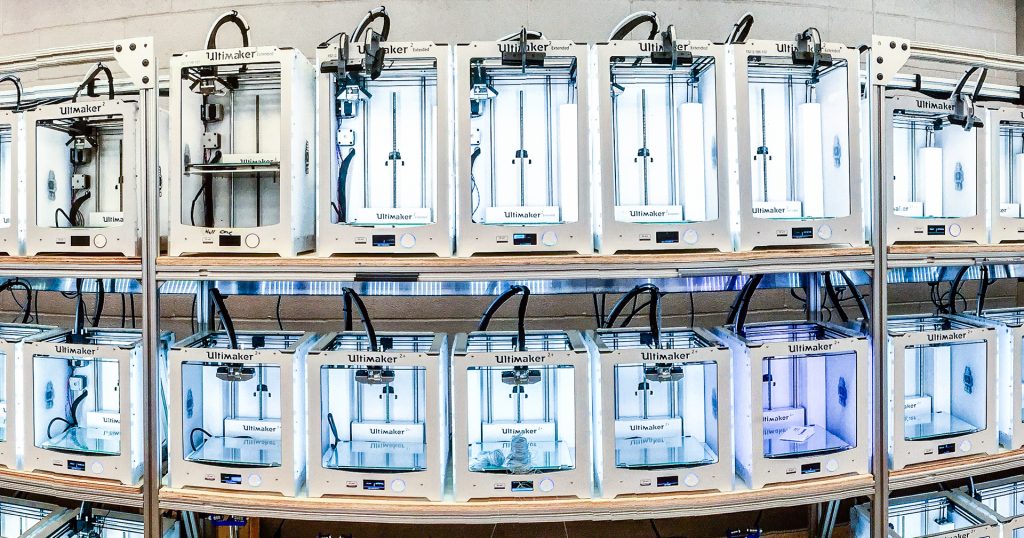 Benefits of 3D Printing Clusters
There are several advantages. Compact printers fit easily into existing facilities, so there's no need to invest in new space. Desktop 3D printers can be easily added to a workspace, rather than another room, floor, or building. The extension of clusters can go hand in hand with increasing demand for 3D printer capacity.
Coupled with reliable software solutions, clustering lets businesses of all sizes and industries access printers and manage their analytics, users, files, and 3D printers from a single interface. This makes the system scalable, more accessible, and secure, offering more flexibility.
Unlimited Potential
With desktop 3D printing, companies can streamline production and achieve greater manufacturing efficiency. It offers strategic implications for 3D printer manufacturers. For example, customers may prefer printers that offer better network connectivity or software compatibility, and design-oriented users will want compact printers that enhance the capabilities of their 3D printing clusters.
This is a guest post in our series looking at the future of 3D Printing, if you'd like to participate in this series then contact us for more information. For more insights into the 3D printing industry, sign up to our newsletter and follow our active social media channels.
Don't forget that you can vote now in the 1st annual 3D Printing Industry Awards.
More information about Ultimaker is available here.
Featured image shows Jos Burger the CEO of Ultimaker.

#futureof3Dprinting