Volumetric 3D printer developer Xolo has announced the successful completion of its latest Series A funding round, totaling €8 million ($8.6 million).
This follows a successful €2.5 million ($2.7 million) seed round in 2021, along with the introduction of its proprietary printer, Xube, and Xolography technology, a novel process for printing any design in seconds. The funds will aid Xolo's vision to "reshape the 3D printing industry by employing its revolutionary new Xolography process," which will be co-led by German and Austrian venture capital firms HZG Group and Onsight Ventures, Miami-based B2B tech investor SquareOne, and the newly launched German fund for deep tech and climate tech growth-stage companies, the DeepTech & Climate Fonds (DTCF). The funds will also guarantee that the startup is well-equipped to grow and serve more "cutting-edge" academic and industrial research and development groups in the near future, and also enter its first industrial market.
"Xolography significantly improves the resolution and volume generation rate of previous processes," said Frank Carsten Herzog, managing partner of the HZG Group. "This means that in the future, the process will be able to produce large numbers of highly detailed objects in a short time – the economic potential is enormous."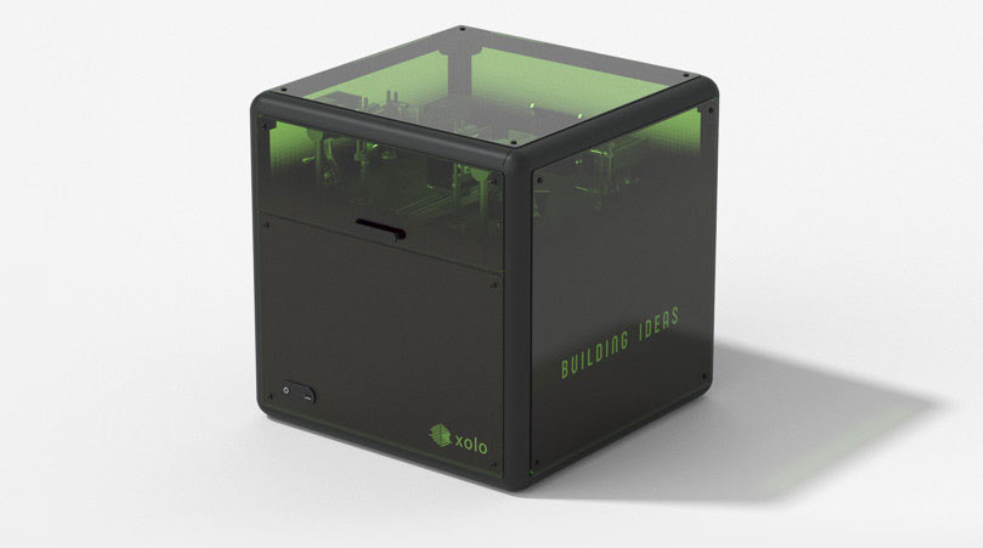 Xolo's volumetric 3D printer Xube and Xolography printing process
Xolo's 3D printer, named Xube, is an example of next-generation deep tech emerging to unlock the potential that borders on science fiction. The system is built around a cuvette filled with a liquid resin that is constantly absorbed by a light sheet within which extra light is channeled. To print smooth surfaces within an extremely short time, the resin is improved with photoactive specialty chemicals known as photoinitiators. Xolo claims that R&D teams from unidentified clients are already investigating ways to employ Xube technology in the biomaterials and optics industries.
Unlike traditional 3D printing processes, that employ layered generation techniques, Xolography is a volumetric printing process that does not require the concept of a layer at all. Furthermore, Xolo claims that its new method has ten times the resolution of computed axial lithography without feedback optimization. It also employs materials that were previously unavailable to the 3D printing industry.
Xolo is seeking a breakthrough with its novel Xolography technology, opening up completely novel fields of 3D printing applications, such as organ reproduction in medical technology and the creation of high-precision lenses for the optical industry, along with applications in other sectors such as dental and acoustics.
Scaling volumetric 3D printing
Previously, volumetric 3D printing company Vitro3D raised $1.3M in an oversubscribed seed round led by Buff Gold Ventures. The company claimed this funding will enable the development of prototype printers capable of producing complex 3D objects in seconds. This financing round was also attended by angel investors Deming Center Venture Fund, Caruso Ventures, and Rockies Venture Club. The primary focus of Vitro3D will be on creating novel methods for producing dental aligners, tissue engineering, and scaffolds for 3D cell culture. Vitro3D's sophisticated volumetric 3D printing technique overcomes the constraints of the photopolymer 3D printing sector by utilizing novel cartridge-based geometry, allowing for the rapid printing of bigger and more intricate objects.
Furthermore, Stanford and Harvard University researchers created a novel volumetric 3D printing method that can create resin components that do not require support structures. The method is based on a nanoparticle-laden resin material that stiffens only after being blasted by a highly focused laser spot. The researchers were able to print at any point in the pool of resin, including the surface layer, by differing the focus of the laser throughout the resin vat. Consequently, the novel 3D printer does not have to print objects layer by layer from the bottom up, opening up possibilities for abstract geometries which can be 'added to' from virtually any direction.
What does the future of 3D printing for the next ten years hold?
What engineering challenges will need to be tackled in the additive manufacturing sector in the coming decade?
To stay up to date with the latest 3D printing news, don't forget to subscribe to the 3D Printing Industry newsletter or follow us on Twitter, or like our page on Facebook.
While you're here, why not subscribe to our Youtube channel? Featuring discussion, debriefs, video shorts, and webinar replays.
Are you looking for a job in the additive manufacturing industry? Visit 3D Printing Jobs for a selection of roles in the industry.
Featured image shows Xube 3D printer. Image via Xolo.