Award winning desktop 3D printer provider Ultimaker has launched the Ultimaker S3. Part of the company's S-Line of systems, which also includes the S5, the S3 was selected to debut at this week's TCT Show in the UK. A new Ultimaker S5 Pro Bundle has been made available too, combining the S5 3D printer with the Ultimaker S5 Air Manager for filtration and build control, and the Ultimaker S5 Material Station for storing and feeding filaments.
Both releases enhance features of the existing Ultimaker range, with the S3 improving aspects such as build usage on the Ultimaker 3, and the S5 Pro Bundle enabling the S5 to produce 24.7 with minimal user input.
Ultimaker S3 technical specifications
The original Ultimaker 3 was released by the company in 2016 and has since become a corner piece for the company's 3D printer range. Application of the Ultimaker 3 (alongside its predecessor the 2+) is also what enabled Volkswagen Autoeuropa's 2018 3D Printing Industry Awards win. With the S3, Ultimaker provides a substantial updated on the original 3 model.
On a hardware level the build volume of the S3 is larger than the 3. This is partly due to optimization of the workable build space, though the overall dimensions are also slightly larger. Still dual extrusion, the build volume of the Ultimaker S3 is given as 230 x 190 x 200 mm compared to 197 x 215 x 200 mm in the original 3 model. Layer resolution (20 μm) is the same in both systems, as is build speed (< 24 mm³/s), the nozzle temperature range (180 – 280 °C) and other operation parameters such as ambient temperature, heated plate temperature, operating sound, and nozzle heat-time.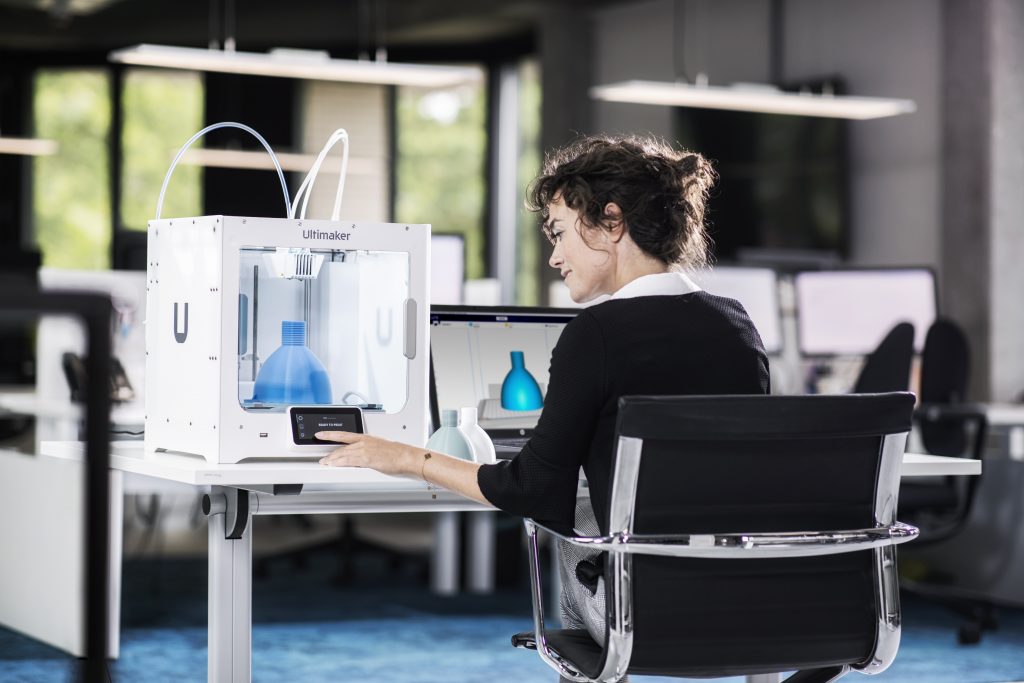 All of Ultimaker's 3D printers are part of the open materials ecosystem. For the 3 and S3 this means compatibility with most 2.85 mm diameter filaments. One notable enhancement for the Ultimaker S5 however, is that it has a reinforced nozzle making it capable of 3D printing abrasive composite materials.
The Ultimaker S3 has a touch screen interface, as well as advanced bed leveling (improving on Ultimaker's patent for the technology). Sensors have been added to the filament feed to notify the user in the event of empty filament spools, and it also has a stiffer build platform. In a finally update, when compared to the Ultimaker 3, the S3 has more accurate stepper drivers, providing higher quality results.
Available from 24 September 2019, the Ultimaker S3 has a retail price of $4,395 or €3,995. Full technical specification can be found below.
The Ultimaker S3
| | |
| --- | --- |
| Build volume | 330 x 240 x 300 mm (13 x 9.4 x 11.8 inches) |
| Assembled dimensions | 495 x 585 x 780 mm (19.5 x 23 x 30.7 inches) |
| Print technology | Fused filament fabrication (FFF) |
| Weight | 20.6 kg (45.4 lbs) |
| Maximum power output | 500 W |
| Layer Resolution | 0.25 mm nozzle: 150 – 60 micron, 0.4 mm nozzle: 200 – 20 micron, 0.6 mm nozzle: 300 – 20 micron, 0.8 mm nozzle: 600 – 20 micron |
| XYZ resolution | 6.9, 6.9, 2.5 micron |
| Feeder type | Dual-geared feeder, reinforced for composite materials |
| Display | 4.7-inch (11.9 cm) color touchscreen |
| Print core replacement | Swappable print cores |
| Print head | Dual extrusion print head with an auto-nozzle lifting system and swappable print cores |
| Nozzle diameters | 0.25 mm, 0.4 mm, 0.6 mm, 0.8 mm |
| Build speed | < 24 mm³/s |
| Nozzle temperature | 180 – 280 °C |
| Nozzle heat-up time | < 2 minutes |
| Operating sound | < 50 dBA |
| Build plate leveling | Advanced active leveling |
| Build plate | 20 – 140 °C heated glass build plate |
| Build plate heat-up time | < 4 minutes (from 20 to 60 °C) |
| Operating ambient temperature | 15 – 32 °C (59 – 90 °F) |
| Non-operating temperature | 0 – 32 °C (32 – 90 °F) |
The S5 Pro Bundle
Until the launch of the S3, the S5 was Ultimaker's latest 3D printer release, and was made in 2018. Operating 330 x 240 x 300 mm of build space, the Ultimaker S5 has the largest print volume of any of the company's machines to date. Maximizing the capabilities offered by the S5's size, the S5 Pro Bundle upgrade adds hardware to help manage the safety and material usage of the 3D printer.
Installed on top of the system, the Ultimaker S5 Air Manager works as print enclosure and filtration system. It supports the use of more materials, reduces risk of interruption, and filters out up to 95 percent of all particles created when 3D printing.
Located beneath the S5 3D printer, the Ultimaker S5 Material Station is a unit capable of storing up to six filament spools. Equipped with abrasive-resistant pre-feeders, the station is compatible with made standard 2.85 mm diameter filaments, including fiber-reinforced materials. Silica gel inside the station also extracts moisture and automatically regenerates, keeping materials at an appropriate humidity.
Combined, the S5 Pro Bundle facilitates continuous 3D printed on S5 models. According to Paul Heiden, Senior Vice President of Product Management at Ultimaker, "The Ultimaker S5 Pro Bundle truly embodies the meaning of hassle-free 3D printing. Our goal is to make 3D printing easy, reliable and accessible in order to accelerate the world's transition to digital distribution and local manufacturing."
The Ultimaker S5 Pro Bundle will be available from October 18, 2019, at a retail price of $9,100 or €8,685 (including an S5 3D printer).
Full technical specifications for the Ultimaker S5 can be found in our prior article on the machine from the time of release.
Ultimaker will be presenting the Ultimaker S3 and S5 Pro Bundles at TCT Show 2019 in Birmingham at stand C90 from September 24 through 26.
For more of the latest TCT Show news and coverage of other industry events subscribe to the 3D Printing Industry newsletter, follow us on Twitter and like us on Facebook. Seeking jobs in engineering? Make your profile on 3D Printing Jobs, or advertise to find experts in your area.
Featured image shows the Ultimaker S5 Pro Bundle. Photo via Ultimaker