News from two British manufacturers this week highlights the importance of 3D printing to UK industry.
Yorkshire-based steel firm William Cook received a Royal visit at its Precision Foundry from HRH Prince Andrew, while automotive and aerospace company GKN opened a new innovation center in Abingdon, Oxfordshire.
Both companies use 3D printing to transform production, tooling and prototyping at these purpose-built facilities.
William Cook steel the thunder
William Cook's new precision plant in Sheffield features a 3D printing facility for prototyping, producing end user parts, and in the rapid manufacture of complex components. Also pioneered at the plant is a combined 3D printing and investment casting process.
In 2016, William Cook joined the University of Sheffield Advanced Manufacturing Research Centre (AMRC). In 2017, the introduction of local 3D printing facilities saved  a significant number of jobs at the firm.
Speaking at the Royal visit, Sir Andrew Cook, chairman of William Cook said that "William Cook has been in this city since the late 19th century and our investment means we will have an important role to play in the city region's future as a high-value manufacturer of complex components for the energy, defence, rail and aerospace sectors".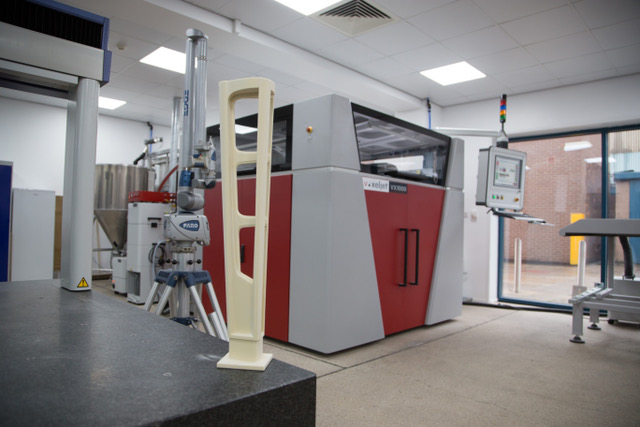 GKN bring 3D printing to Abingdon 
GKN's new Abingdon innovation center is dedicated to advanced technological developments for the company's automotive business and electric vehicle production. The focus is on electric motors, energy storage, and lightweight structures. Developing these components will go towards creating lighter, quieter and more efficient electric vehicles.
Research and development at GKN is going towards the use of 3D printed titanium in automotive vehicles, having already used it in its aerospace applications.
Phil Swash, CEO of GKN Driveline said, "our new UK Innovation Centre will develop an array of next-generation technologies that will deliver significant benefits to electric vehicle, motorsport and off-highway applications".
So far, GKN has already supplied the Jaguar I-TYPE 2 racing car with custom-built fluid ports made from laser-sintered steel. These 3D printed fluid ports have geometric freedom of design, greater durability and are much faster to build.
Sister company GKN Sinter Metals launched its InstAMetal platform for metal additive manufacturing earlier this year.
Additive manufacturing's power to transform 
Elsewhere, steelworks from Nigeria to the US have been adopting 3D technologies to help improve tooling and prototyping. Vehicle manufacturers Rolls Royce and Maclaren have enlisted the services of Renishaw and Stratasys to create aerodynamic vehicle structures and engine components.
The NPL and AMAZE are applying both destructive and non-destructive testing to 3D printed parts in order to improve the application of the technology in industry.
For more on 3D printing in UK industry, subscribe to our free 3D Printing Newsletter, like us on Facebook, and follow us on Twitter.
Featured image shows HRH Prince Edward, Duke of Kent touring Precision Foundry with Sir Andrew Cook. Photo via William Cook.