The votes for our annual awards ceremony are now in! Watch the 2022 3D Printing Industry Awards live on YouTube from 5pm GMT on December 13, 2022, to find out this year's winners.
Product design and manufacturing service provider SyBridge Technologies is set to acquire now-bankrupt 3D printing bureau Fast Radius' assets, it has been revealed.
With Sybridge Technologies' fully-owned affiliate, SyBridge Digital Solutions, having won the bid for Fast Radius' assets, it's expected to take control of them by the end of the year. In doing so, the firm anticipates being better able to support customers throughout their entire product lifecycle, from design, engineering and prototyping to production.
"I am thrilled to be bringing Fast Radius into the SyBridge family," said Byron J. Paul, CEO of SyBridge Technologies. "Combining Fast Radius' leading cloud manufacturing and AI platform with our global design, prototyping and manufacturing network materially accelerates our vision of being a leading global industrial technology company."
"We look forward to bringing the Fast Radius team onboard, and together, becoming the preferred design and manufacturing partner to our global customers."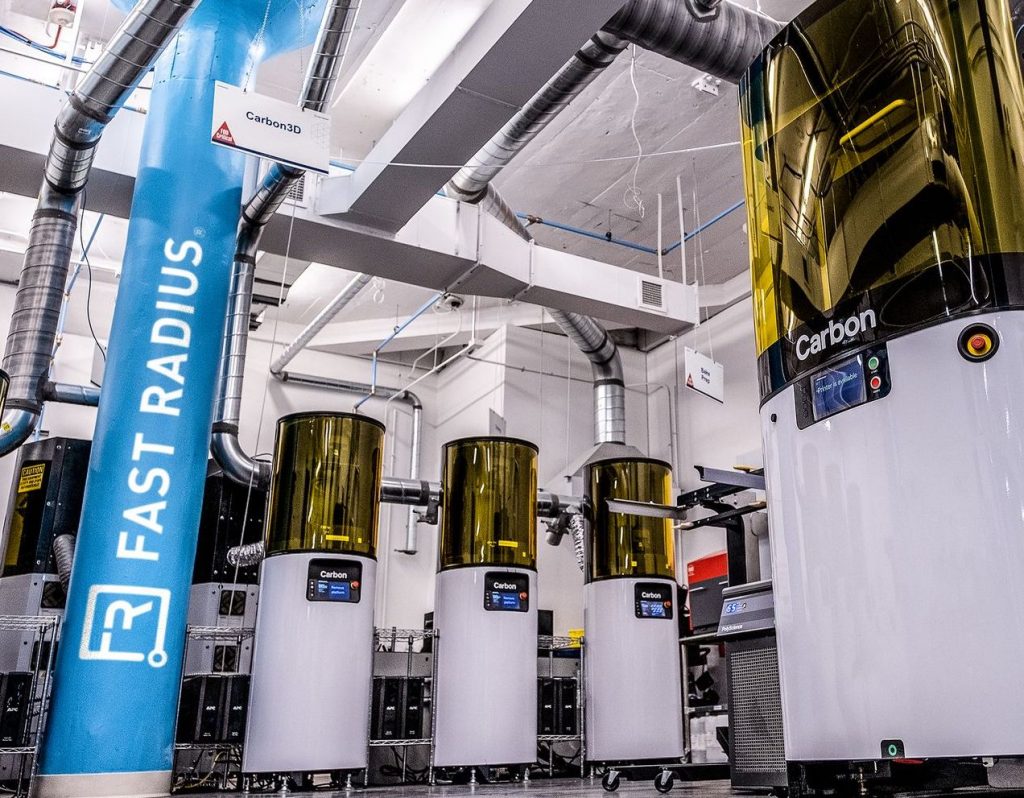 The decline of Fast Radius
Headquartered in Chicago, Fast Radius is best known for offering on-demand 3D printing, CNC machining, urethane casting and injection molding services. To date, the firm has produced over 15 million parts across more than 150,000 designs through its proprietary Cloud Manufacturing Platform, a system designed to simplify the product design, production and fulfillment process for customers.
Since it was established in 2017, Fast Radius has gradually scaled its production capacity, opening a new HQ and raising $48 million in investment, through a funding round led by UPS. Two years later, Fast Radius installed Desktop Metal's Production System, becoming one of the first to do so, before launching a 'DICOM-to-print' medical 3D printing service for its North American clientele with Axial3D.
With a view to expanding further, Fast Radius agreed to a $1.4 billion merger with Special Purpose Acquisition Company (SPAC) ECP Environmental Growth Opportunities in July 2021. Following the deal, which valued the combined firm at $995 million and saw it raise $445 million in cash, Fast Radius set a revenue target of $635 million by 2025, but it quickly became clear this would be a tall order.
Fast-forward 16 months to November 2022, and Fast Radius was filing for bankruptcy, citing "recent turbulence in the capital markets which severely hampered the company's ability to set up the required capital structure." Though the firm has been able to continue trading in the weeks since, its share price has nosedived to $0.024 amid its uncertain future.
SyBridge's $15.9M Fast Radius swoop
Subject to court approval, SyBridge Digital Solutions will acquire most of Fast Radius' operating assets, in a deal worth around $15.9 million. Once this has been wrapped up, the company intends to make offers of employment to a majority of Fast Radius' current employees, although the terms of these offers remain unclear.
SyBridge Digital Solutions says it also plans to continue operating and building on Fast Radius' digital manufacturing and software businesses, and to keep the brand alive by going to market under the same name.
The deal, in which SyBridge Digital Solutions was represented by Gibson Dunn & Crutcher and CMD Global Partners, sees it significantly expand its manufacturing capabilities. In fact, the company says it's now in a better position to meet client demand when it comes to tool production, supportive molding, and preventative maintenance and repair.
"We are very pleased to see Fast Radius become a part of SyBridge Technologies," added Patrick McCusker, current President & Interim CFO of Fast Radius. "Our parts and software capabilities align incredibly well with SyBridge's global manufacturing footprint and prototyping capabilities."
Has the SPAC bubble finally burst?
Over the last two years, numerous 3D printing firms have gone public via SPAC mergers, in deals raising them hundreds of millions of dollars. However, these haven't all gone to plan. In the aftermath of Desktop Metal's $2.5 billion SPAC merger in late-2020, it has struggled in its efforts to turn a profit, and in June 2022 it laid off 12% of its global workforce.
Similarly, in July 2021, Bright Machines' $1.6 billion SPAC merger with SCVX seemed like it had been agreed and was ready to go ahead, but timing issues scuppered the deal, with the firms citing a "low likelihood that the business combination agreement could be completed" prior to an agreed deadline, as the main reason behind it falling through.
A proposed merger between Essentium and Atlantic Coastal also collapsed earlier this year, with the former blaming market conditions. Had the deal proceeded, Essentium would have become publicly-listed and raised around $974 million.
To stay up to date with the latest 3D printing news, don't forget to subscribe to the 3D Printing Industry newsletter or follow us on Twitter or liking our page on Facebook.
While you're here, why not subscribe to our Youtube channel? featuring discussion, debriefs, video shorts and webinar replays.
Are you looking for a job in the additive manufacturing industry? Visit 3D Printing Jobs for a selection of roles in the industry.
Featured image shows Carbon 3D printers installed at Fast Radius. Photo via Fast Radius.