A 16-year-old swimmer who suffered a stroke and partial paralysis is now recovering thanks to an orthotic fin prototyped and 3D printed by two product design Master's students at Barcelona's Polytechnic University of Catalonia (UPC).
The fin, 3D printed on a dual-extrusion BCN3D Sigma R17 3D printer, has helped the swimmer, named Pedro, to improve his body positioning in the water, swim for longer without fatigue, and allowing him to build upper body muscle.
Swimming to recovery
Pedro suffered a ganglion basal hemorrhage in 2012, causing the right side of his body to become paralyzed. While he gradually recovered thanks to physiotherapy, the muscles in his right hand remained permanently contracted due to post-stroke spasticity, which affected his movement in the water.
This led his swimming club to contact the UPC's CIM center for a customized solution to help his right hand. The students, Marc Roca and Iñigo Martínez-Ayo, took on the project to design and manufacture a device within a short time, so as to allow Pedro to continue swimming.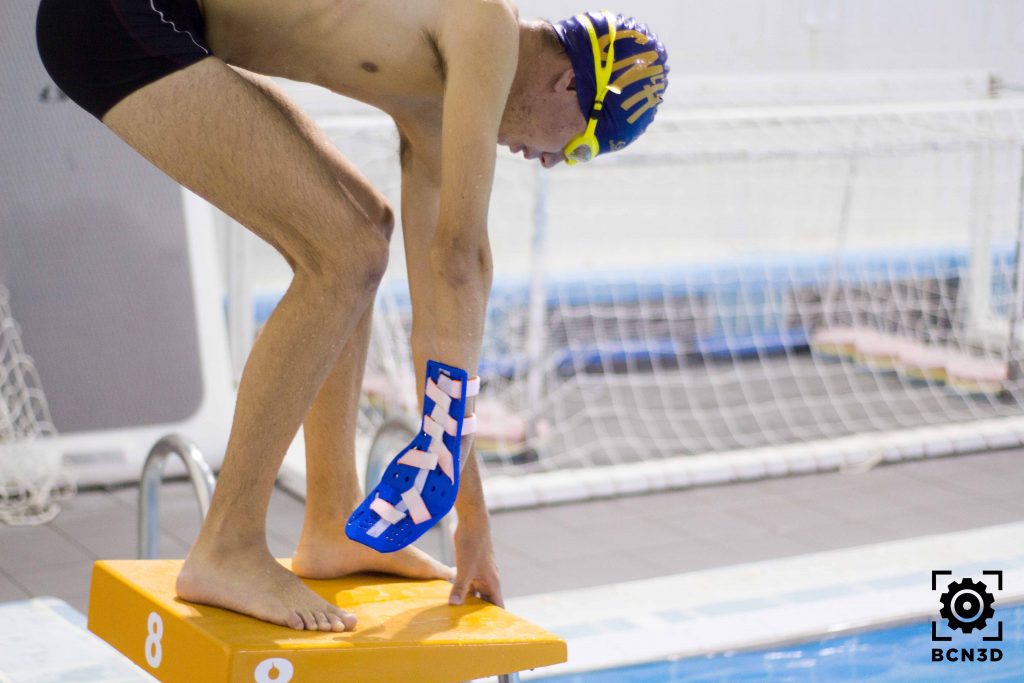 Ten prototypes for under €100
Having settled on an orthotic fin, Roca and Martínez-Ayo set about prototyping the product to ensure maximum efficiency and a comfortable fit, using a BCN3D Sigma R 17 3D printer.
By 3D printing the test designs, the designers were able to 3D print ten functional prototypes with different shapes and materials within their materials budget of €100.
Combining Nylon and PVA
The designers settled on manufacturing the fin using Nylon due to its relative durability, flexibility, and resistance to corrosion, especially when exposed to chlorinated water.
Thanks to the dual extrusion capability of the BCN3D Sigma R 17, the designers were able to 3D print the fin in Nylon whilst simultaneously printing supports out of water-soluble PVA material. This facilitated the printing of complex shapes and geometries without the need for extensive post-processing.
The entire product was developed within four weeks, allowing Pedro to return to the pool with only a short period away, an especially important consideration when designing for sports injuries.
Nominations for the second annual 3D Printing Industry Awards are now open. Make your selections now.
For more stories on 3D printing and medical product design, subscribe to our free 3D Printing Industry newsletter, follow us on Twitter, and like us on Facebook.
Featured image shows the 3D printed orthotic fin on Pedro's spasticity-affected hand. Photo via BCN3D.