Stratasys has launched its new J55 3D printer.
Aimed at professional designers and engineers, the PolyJet system looks to produce in-house 'enterprise-quality' prototypes at a third of the price of industrial-grade competitors. According to Stratasys, the J55 is a smaller but equally capable counterpart to the company's established J8 series of PolyJet machines. Full-color capabilities and intuitive operation could see the J55 setting the new benchmark for fast, high-fidelity part production.
Tim Greene, a 3D printing research director at research firm IDC, states: "We know that the risk and time involved with traditional prototyping simply doesn't work anymore, yet there's no room for compromise on design. Designers can and should do a lot more prototyping in-house, from initial concept modeling to highly realistic final prototypes. It's just been a matter of bringing enterprise quality to a design shop's price point and workspace. And now we're there."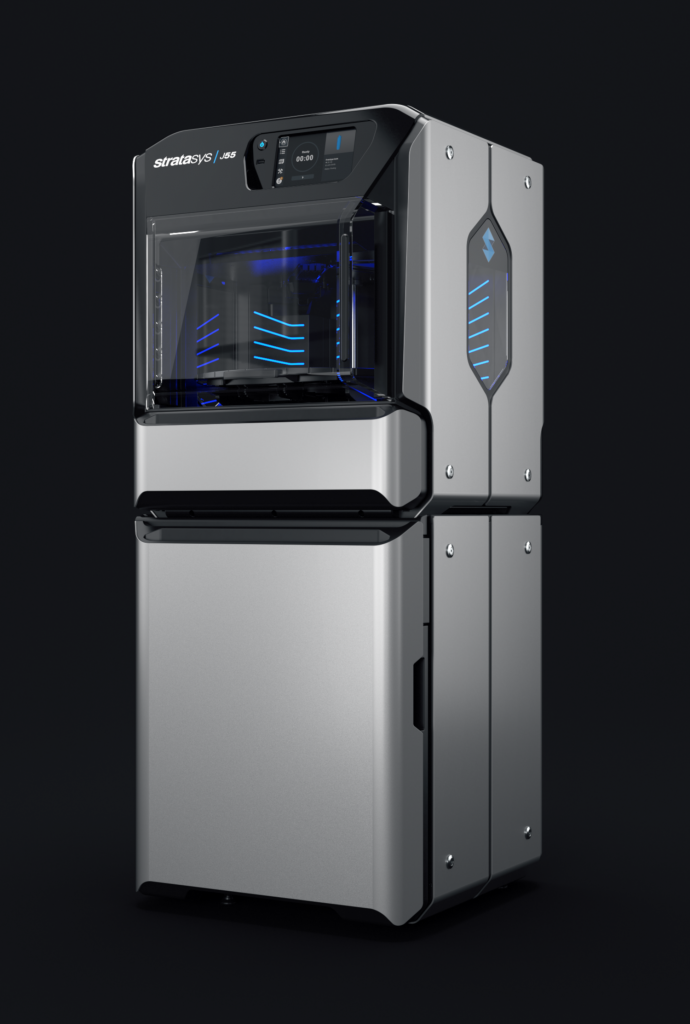 Stratasys' PolyJet 3D printers
Stratasys already has an extensive portfolio of PolyJet systems aimed at larger businesses with the budget and workspace to boot. The largest of the J8 series is the J850, with a maximum model size of 490 x 390 x 200mm. Designed for large part production, this system holds seven material color cartridges at once, giving designers access to hundreds of thousands of color combinations for their printed models.
The smallest and most accessible machine in the series is the J826, with a maximum model size of 255 x 252 x 200mm. Prioritizing detail and material flexibility, users of the J826 have the option to choose between rigid photopolymers, transparent materials, and tear-resistant materials capable of withstanding flexing and bending.
The J55
The J55 is able to print with five separate materials at once (plus a support material), enabling nearly 500,000 color mixtures. Additional Pantone validation inspires trust in the realistic textures and high resolution parts, giving designers a "best in class" tool to realize their models.
Stratasys' latest system prides itself on its ease of use, boasting a three-step color 3D printing workflow – design, import, print. Full support by GrabCAD Print software means users are able to import 3MF 3D files from common CAD software such as SolidWorks and Inventor with no hassle. Remote monitoring functionality also allows print jobs to be initiated and managed from home.
The J55's patented rotating build platform makes the machine extremely quiet, operating at under 53 decibels – comparable to a home refrigerator. The system's physical footprint is as small as its audial footprint, requiring just 4.6 square feet of floor space. This leaves the J55 with a large print tray to body ratio, maximizing yield while minimizing clutter. A ProAero Air Extractor is in place to effectively filter out printing fumes, making the machine odor-free and safer for indoor use.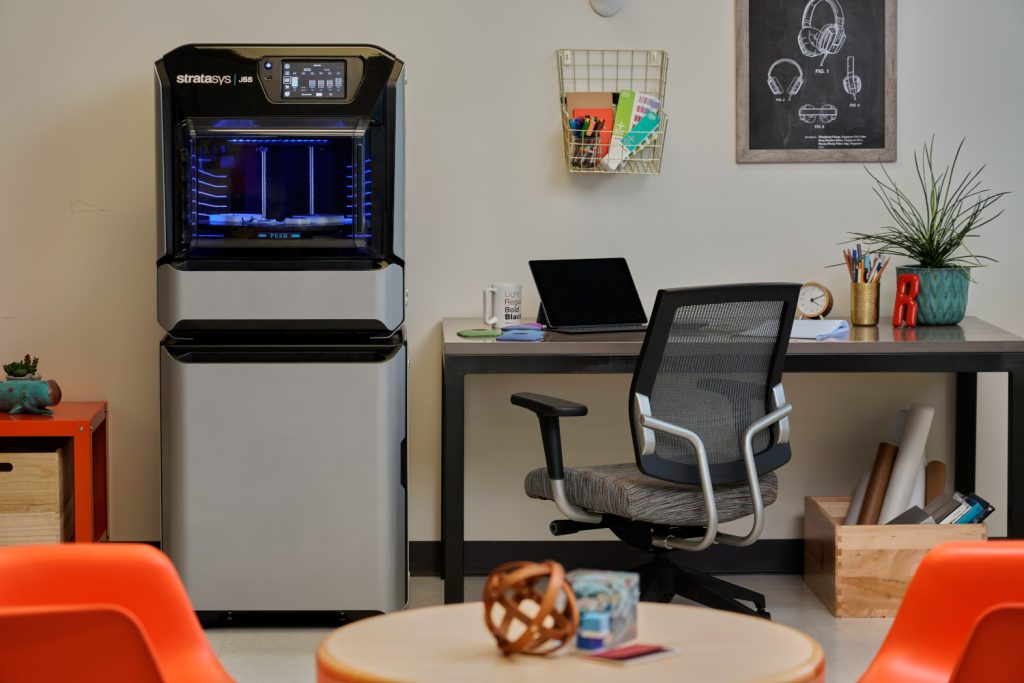 Technical specifications and pricing
Below are the technical specifications for the Stratasys J55. The system is priced around $99,000 and available to order now. The first batch of machines is expected to ship in July of 2020.
| | |
| --- | --- |
| Model materials | VeroCyanV, VeroMagentaV, VeroYellowV, VeroPureWhite, VeroBlackPlus, VeroClear, DraftGrey |
| Support materials | SUP710 |
| Material cartridge slots | 5 (+ support) |
| Build area | 71.6 inches² |
| Build volume | 1,340 inches³ |
| Layer thickness | 18 microns |
| Network connectivity | LAN – TCP/IP |
| System size | 651 x 661 x 1551mm |
| System weight | 228kg |
| Regulatory compliance | CE, FCC, EAC |
| Software | GrabCAD Print |
| Build modes | High Quality Speed – 18.75 microns |
| Accuracy | Deviation ±0.15 – 0.2% of part length |
The nominations for the 2020 3D Printing Industry Awards are now open. Who do you think should make the shortlists for this year's show? Have your say now. 
Subscribe to the 3D Printing Industry newsletter for the latest news in additive manufacturing. You can also stay connected by following us on Twitter and liking us on Facebook.
Looking for a career in additive manufacturing? Visit 3D Printing Jobs for a selection of roles in the industry.
Featured image shows the Stratasys J55. Photo via Stratasys.