British engineering firm and metal 3D printer manufacturer Renishaw has reported its preliminary financial results for fiscal 2019. Headline revenue has been reported at £574 million, 6 percent less, or 7 percent less at constant exchange rates, than the total for FY2018 which was £611.5 million.
Though the APAC region remains the company's strongest earner, this region experienced a 19 percent decrease in revenue across the year, from £289.2 million in FY2018 to £240.1 million for FY2019. The UK provided the company with its strongest year on year growth, increasing 11 percent to £34.1 million in FY2019 from £30.6 million in FY2018. The Americas also provided strong growth, with a revenue of £132.6 million in FY2019 compared to £126.6 million in FY2018.
Region
2019
£m
2018
£m
Change
%
Constant fx change %
APAC
240.1
289.2
-17
-19
EMEA
167.2
165.1
1
2
Americas
132.6
126.6
5
1
UK
34.1
30.6
11
11
Total Group revenue
574
611.5
-6
-7
In particular, the company has experienced strong growth in its Additive Manufacturing product line where its core Metrology business has reported a 7 percent decrease in revenue to £532.9 million, partly drive by the performance in the APAC region. Renishaw's Healthcare business has also experienced good growth, increasing 15 percent compared to FY2018 to £3.1 million for FY2019. Both Additive Manufacturing and Healthcare segments will be key areas of development for the company's future growth strategy.
Commenting on the results Will Lee, Renishaw's former Sales and marketing director who became company CEO in January 2018, said "From a positive point of view across the board, what we do see in all the regions there's no real erosion in our customer base and actually some good longer-term metrics that we're pleased with in terms of gaining market share increasing product fitment rate and the strength for the future."
The future of additive manufacturing at Renishaw
First and foremost a measuring and metrology specialist, Renishaw has leveraged this expertise to expand in a number of different markets. Its current product range encompasses several different lines including precision measurement and process control, position and motion control, healthcare, additive manufacturing and rapid prototyping.
In additive manufacturing, on the FY2019 conference call Lee explained that one of the things that is driving sales of its machines is productivity, "which comes through," he explains, "as making sure the cost of part is effective and really then the process stability and part quality."
"Numerous markets are opening up for this," Lee adds, identifying aerospace, healthcare and tooling as the most mature in the adoption of 3D printing. Enhacing machine productivity at Renishaw has been partly influenced by a movement from a single to a quad laser system, the 500Q, launched by the company in 2017. Looking to reduce the cost of producing a part via 3D printing, the company has also made upgrades to its InfiniAM Spectral software. The main goal of this upgrade, as outlined by Lee, is to integrate more certification into the additive manufacturing process itself instead of post build.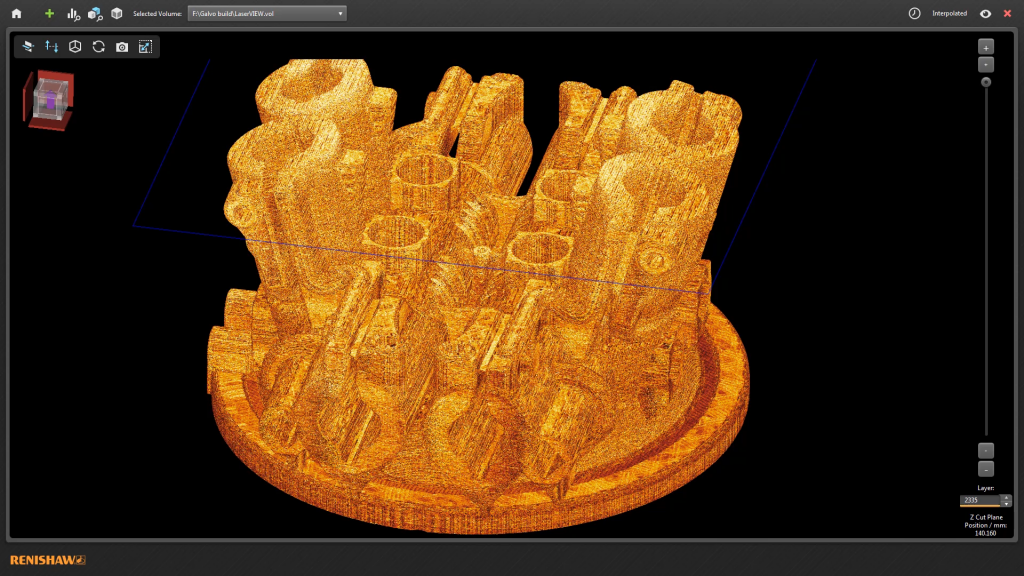 In the board's assessment of principal risks and uncertainties facing the business, it states that "The Group is applying its measurement expertise to grow its
healthcare and additive manufacturing business activities," a point built upon in a statement from Renishaw Executive Chairman David McMurtry:
"Innovation drives our business, from the generation of new technologies to new manufacturing processes. In my role as Executive Chairman, I have enjoyed the opportunity to focus on Group innovation and product strategy, supporting our talented engineering teams,"
"This has included our industrial metrology and additive manufacturing technologies, where there are exciting opportunities for future growth."
As a business headquartered in the UK, Renishaw is also taking strategic measures to ensure the company and its customers' safety in light of Britain's impending exit from the European Union. In FY2019, this activity has included establishing a new distribution warehouse in Ireland which, and a general increase in inventory held at sites in the EU and the UK.
Profits and cash at year end
Of the £574 million revenue generated by Renishaw in FY2019, the company made a gross profit of £284.1 million compared to £326.6 million in gross profit in FY2018. Operating profit for FY2019 was reported at £99.8 million for FY2019, compared to £153.2 million in FY2018. The company's total profit for the year after tax is $92.2 million.
The company ends FY2019 with £106.8 million in cash and cash equivalents, having started the year with £103.8 million.
Renishaw's full financial results for FY2019 can be accessed here.
Keep up to date with industry-relevant financial reports this season by subscribing to the 3D Printing Industry newsletter, following us on Twitter and liking us on Facebook. Seeking jobs in engineering? Make your profile on 3D Printing Jobs, or advertise to find experts in your area.
Featured image shows an aircraft assembly part from Kwikbolt. Photo via Renishaw.