3D printer manufacturer Prusa has announced the launch of its largest desktop 3D printer to date, the Original Prusa XL.
Showcased at Formnext 2021 last week, the FFF system offers a hefty build volume measuring 360 x 360 x 360mm, which is more than four times larger than the firm's flagship MK3S+ and eight times larger than the MINI+. The XL is also Prusa's first CoreXY 3D printer, a configuration designed to minimize vibrations for higher print qualities on larger format print jobs.
Additionally, the printer comes complete with an optional tool changer add-on, enabling users to integrate up to five independent tool heads at once. As such, the system is well-suited to fabricating multi-material prints with up to five different filaments simultaneously.
"The generous volume capacity of the Prusa XL is going to open up a lot of possibilities for users who want to create objects of bigger scale than our existing product line provided," said Josef Prusa, CEO of Prusa Research. "Nearly every aspect of the machine has been designed completely from scratch to ensure the Prusa XL is the 3D printing technology for an array of applications, including prototyping, architectural models, engineering, cosplay accessories, and more."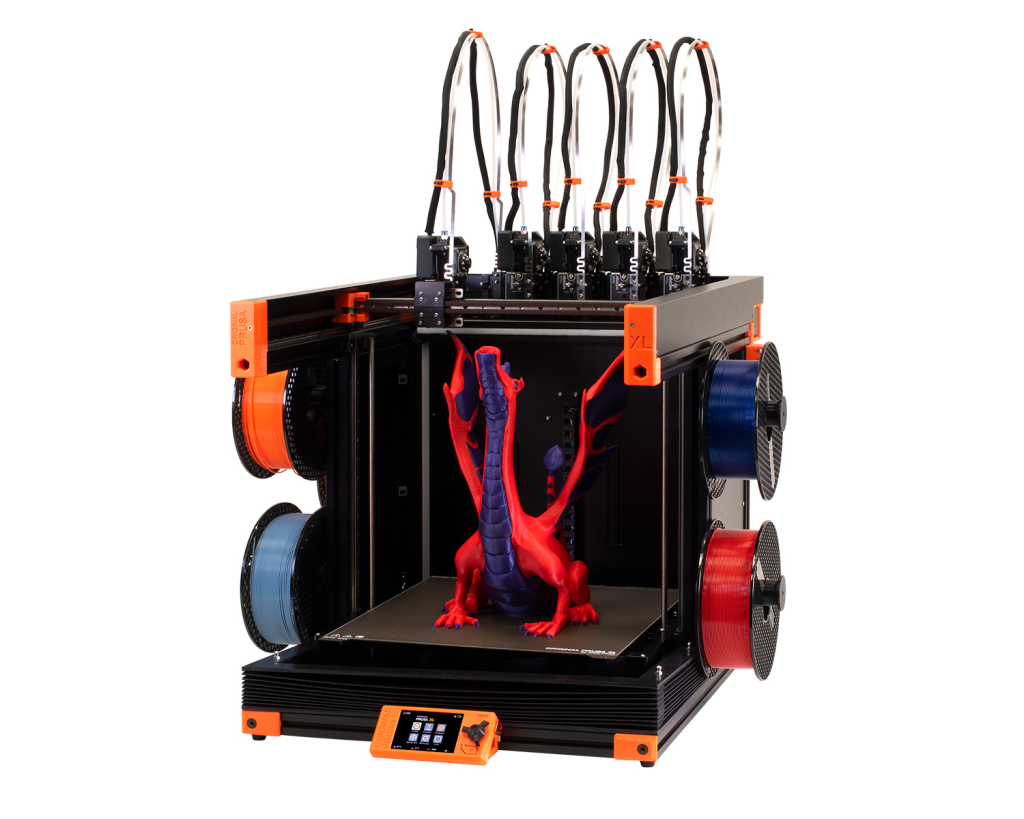 Desktop 3D printing with Prusa
Founded in 2012 by Josef Průša, Prusa Research is one of the most widely-known manufacturers in the 3D printing community, offering an extensive portfolio of desktop machines catering to both the hobbyist and professional markets.
The firm is best known for its i3 3D printer, which is currently on the MK3S+ model. The machine offers a build volume of 250 x 210 x 210mm and is available as both an assembly kit and a ready-to-use turnkey system.
Prusa has also tried its hand at the resin 3D printing markets in the past, with its original SL1 and SL1S Speed systems. The former features a build volume of 120 x 68 x 150mm and a high-precision 5.5″ 2K LCD screen. On the other hand, the latter sports a build area 25% larger and a print speed three times faster than its predecessor.
The new Original Prusa XL
Complete with a sturdy aluminum frame and a new custom 32-bit control board, the XL 3D printer houses a number of novel features that make it Prusa's most premium 3D printer.
The first of these features is the new Nextruder (next-generation extruder), an in-house developed printhead packed with a zero-backlash gearbox and a large no-slip drive gear. The design reportedly allows for greater control of the filament as it's being fed for improved print quality. Prusa has also implemented a quick-change nozzle design for easy maintenance and reduced downtime.
Furthermore, the XL offers a new load cell-based leveling system that claims to deliver a perfect first layer every time. The system is fully automatic so there won't be any need for manual calibrations or adjustments.
Looking at the build plate, Prusa has developed a new modular bed design, whereby the print surface is actually composed of several smaller segments (4×4 grid) that heat up individually. As well as mitigating the problem of bed warping, this innovation makes the XL more energy-efficient for smaller builds as only the necessary portions of the bed can be heated up.
Finally, the most noteworthy feature of the Prusa XL is its tool changing capabilities. Upgradable at any time, the printer is able to accommodate up to five different printheads for multi-material builds, including soluble supports. Each of the printheads is driven by its own electronics board, is water-resistant, and features an internally-developed kinematic coupler mechanism to guarantee millions of trouble-free tool changes.
Technical specifications and pricing
Below are the technical specifications for the Original Prusa XL 3D printer. The system is available to pre-order now, with deliveries set to begin by Q3 2022. Prusa will initially offer three versions of the 3D printer: single-head ($1,999), dual-head ($2,499), and full five-head ($3,499).
| | |
| --- | --- |
| Build volume | 360 x 360 x 360mm |
| Technology | CoreXY FFF |
| Filament diameter | 1,75mm |
| Extruders | Up to 5 |
| Bed | 16 segments |
| Print surface | Magnetic steel sheets, removable |
| Power loss recovery | Yes |
Subscribe to the 3D Printing Industry newsletter for the latest news in additive manufacturing. You can also stay connected by following us on Twitter, liking us on Facebook, and tuning into the 3D Printing Industry YouTube Channel.
Looking for a career in additive manufacturing? Visit 3D Printing Jobs for a selection of roles in the industry.
Featured image shows the Prusa XL 3D printer with five printheads. Photo via Prusa.