The 2021 3D Printing Industry Awards shortlists are now open for voting until the 20th of October. Cast your votes here.
3D printer manufacturer Phrozen has announced the launch of its new Sonic Mini 8K 3D printer.
According to Phrozen, the resin-based LCD system is the company's highest-resolution printer ever, featuring a 7.1" 8K LCD delivering resolutions of up to 22 microns and 1152 PPI. As such, the Sonic Mini 8K is designed for precision part production with the utmost fidelity, offering hobbyists, designers, and SMEs previously unseen feature details and surface qualities.
The firm is also launching a brand new resin alongside its latest printer: Phrozen Aqua-Gray 8K Resin. Specially formulated for use with the Sonic Mini 8K, the new material is designed to enable intricate 3D models printed at 8K resolutions.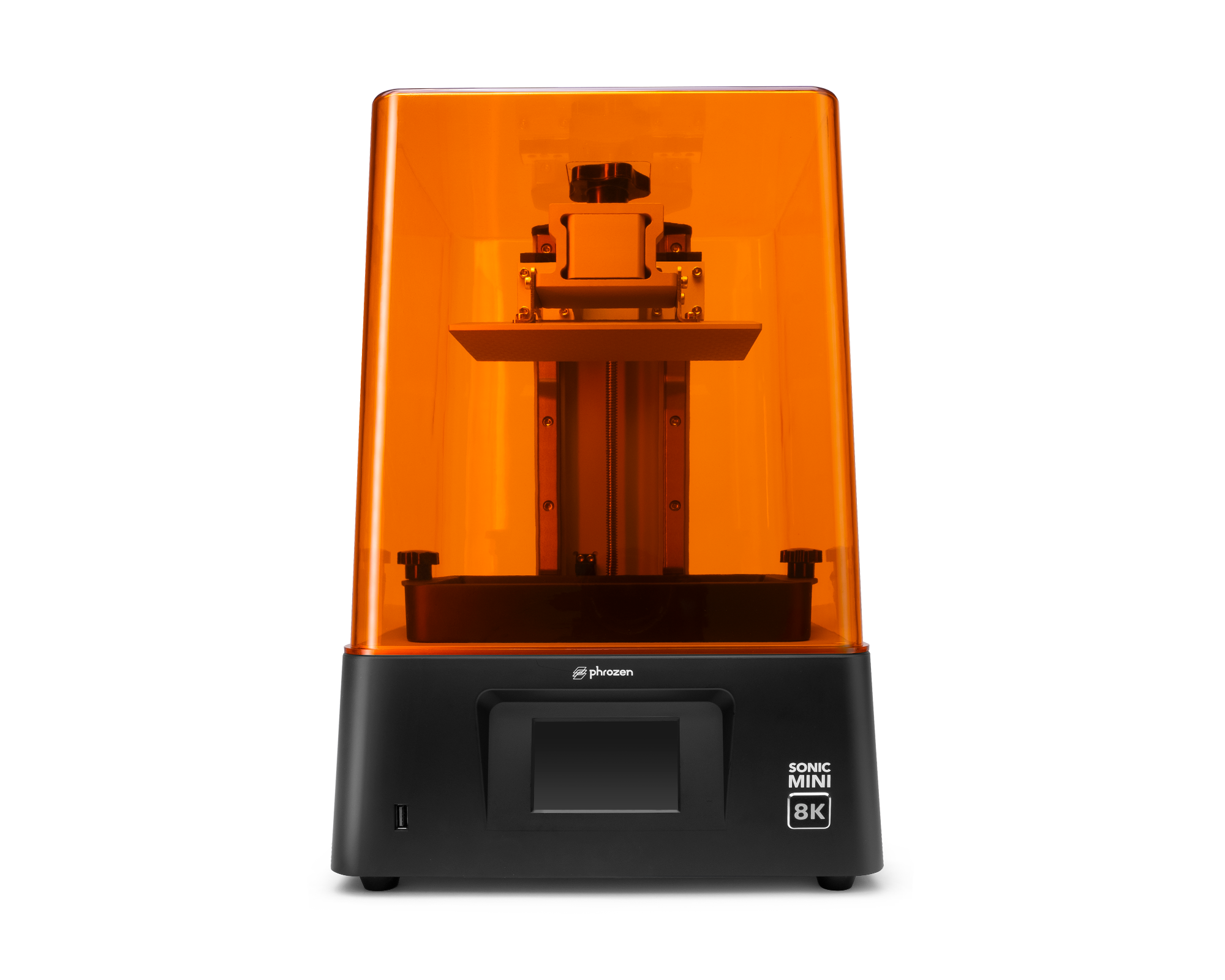 Resin 3D printing with Phrozen
Founded in 2016 and based in Taiwan, Phrozen is well known for its huge portfolio of both consumer and professional resin 3D printers. With its flagship Sonic series, the company mainly specializes in large-format systems, making it widely popular with everyone from hobbyists to jewelry and design professionals.
June of 2021 saw the launch of the company's first 8K system, the Sonic Mega 8K. Backed by over a year of research and development, the Sonic Mega 8K features Phrozen's largest XY print area to date, with a build volume measuring 330 x 185 x 400mm. The machine is also equipped with the firm's previously developed monochrome LCD technology, which only allows white light to pass as opposed to the standard RGB spectrum. This results in faster cure times and an average print speed of 70mm/hr.
Aimed at those on a budget, the Sonic Mini and Sonic Mini 4K are two of Phrozen's most accessible 3D printers, starting at just $239.99. Looking down the range, we also have the Sonic Mighty 4K, a mid-range system with a build volume of 200 x 125 x 220mm.
The Sonic XL 4K, on the other hand, is a higher-end machine characterized by its rapid print times. The system is capable of curing 50-micron layers in just one second, making it suitable for a wide variety of professional high-volume applications.
The Sonic Mini 8K
Phrozen's latest system, the Sonic Mini 8K, is marketed as the company's 'most precise' 3D printer yet. Sporting a modest build volume measuring 165 x 72 x 180mm, the machine features a 7.1" 8K LCD with an all-new LED light engine to back it up.
The system can manage layer heights down to 0.01mm and XY resolutions of just 22 microns. Owing to Phrozen's monochrome LCD technology, the Sonic Mini 8K also boasts rapid print speeds of up to 80mm/hr. Users can make use of a 3.5" touchscreen on the front and connectivity is limited to a USB slot.
"With the launch of Sonic Mini 8K, customers can now create extremely high-quality professional prints in 8K resolution effortlessly," says Ray Wu, CEO of Phrozen. "We aim to expand the accessibility of LCD 3D printing by continuing to create consumer-friendly and high-resolution 3D printers for the masses so that everyone can experience the joy of 3D printing."
Technical specifications and pricing
Below are the technical specifications for the Sonic Mini 8K 3D printer. The system is priced at $349.99 (soon rising to $599.99) and is available to pre-order now.
| | |
| --- | --- |
| Build volume | 165 x 72 x 180mm – 7.1″ LCD |
| XY resolution | 22 microns |
| Layer thickness | 0.01 – 0.3mm |
| Print speed | Up to 80mm/hr |
| Dimensions | 290 x 290 x 420mm |
| Weight | 15kg |
| Touchscreen | 3.5″ |
| Connectivity | USB |
Subscribe to the 3D Printing Industry newsletter for the latest news in additive manufacturing. You can also stay connected by following us on Twitter, liking us on Facebook, and tuning into the 3D Printing Industry YouTube Channel.
Looking for a career in additive manufacturing? Visit 3D Printing Jobs for a selection of roles in the industry.
Featured image shows the Sonic Mini 8K 3D printer. Photo via Phrozen.